Sega's Shining role-playing series has at long last got a western release as Shining Resonance Refrain hits shelves this week. The title is a remaster of the 2014 Japan-only Shining Resonance and will be the first Shining installment to grace our consoles in over ten years.
Read the Shining Resonance Review.

The revamped real-time action game follows the story of Yuma Ilvern, a young man who also just so happens to be an incarnation of the Shining Dragon, the last survivor and most powerful member of a long-thought-extinct race of dragons. Early in the game Yuma is imprisoned by an invading empire desperate to claim his power for their own, but his captivity is eventually ended by what Sega describes as a "gallant girl determined to break him out." (Yeah, strong female characters!)
Combat promises to be a treat and will occur in real time using the action-oriented B.A.N.D system, which in typical Shining fashion, combines music and old fashioned violence, to crush enemies. Now fully rendered in 1080p goodness, players can use an arsenal of instrument-like weapons, magic, and even transform into the Shining Dragon himself to overcome the challenges that relentlessly hunt Yuma.
Shining Resonance Refrain – Seamless Battles
Battle is seamless. The party will encounter roaming enemies on the map and the struggle starts then and there. Alas, it appears the screen melting battle transitions of Final Fantasy old are gone for good. And you know what? I am not ashamed to admit the most enjoyable part of combat looks to be B.A.N.D sessions, where the party builds up a BPM (battle performance mana, heh) gauge and then unleashes it in a full blown musical performance mid-battle.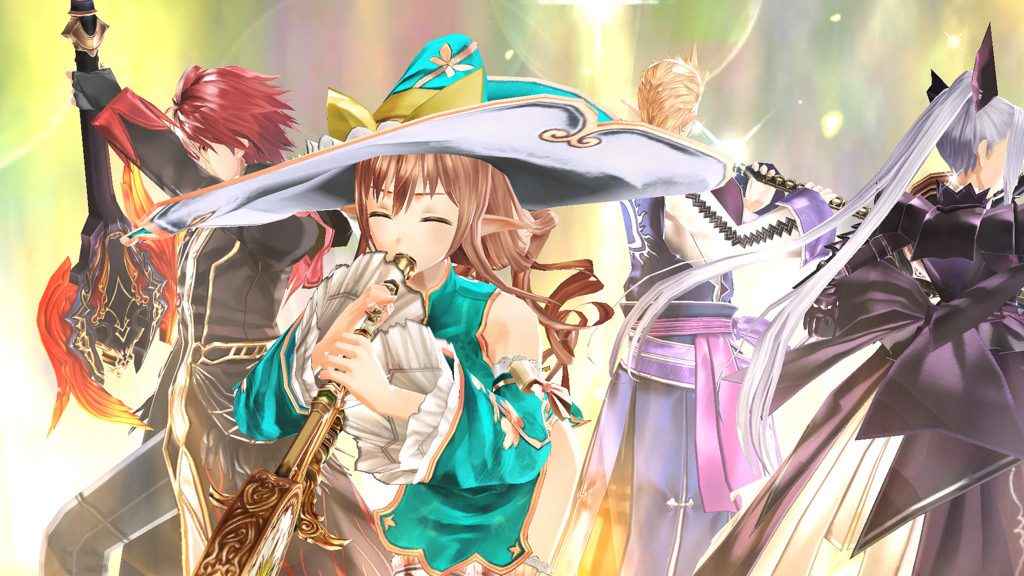 The remaster improves on the original in a number of ways. Players will be free to choose and switch between Japanese and English audio at any point, and all previous DLC is included in the release.
Additionally two fan-favorite characters, the Imperial Dragon Princess Excella and Lone Dragonslayer Jinas, are now playable in Refrain mode, charting untold paths through the exciting story, opening new party dialogue, and even the opportunity to go on dates with them.
That said, Sega recommends playing Original mode before attempting Refrain mode so you don't spoil the experience for yourself. In refrain mode, these new characters are playable from the very beginning which could be a little immersion breaking to the uninitiated or plot purists.
Shining Resonance Refrain promises a a deep and engaging experience for both long time Shining fans as well as players new to the series, even if it's not exactly innovating or relies a bit heavily on cookie-cutter JRPG tropes. The release will most definitely scratch a "classic JRPG" itch that has been building for quite some time.

Shining Resonance Refrain is now available for PS4 priced $49.99.