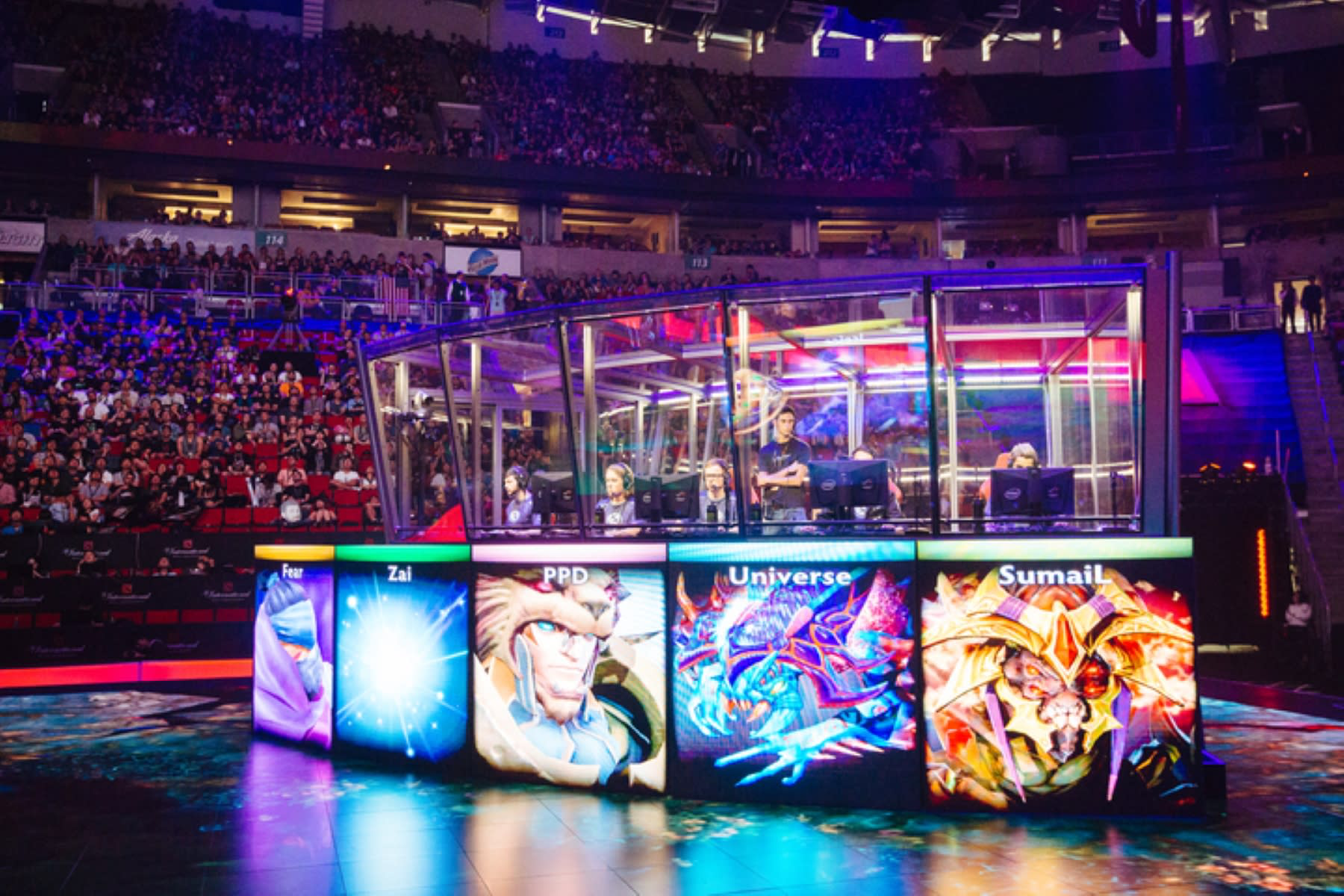 Valve Software opted not to utilize the renowned isolation rooms for The International in 2022, citing both their significant cost and the logistical complexities associated with their installation. However, as The International 2023 approaches, Valve has revealed its intention to bring back these far-famed isolation booths for the event. Dota 2's yearly world championship, which will take place in less than a month, is now getting more details from Valve. One noteworthy revelation is the revival of the isolation booths for the main stage of TI 2023.
In a blog post titled 'Between the Lanes: The Sound (Proof Booths) of Silence,' Valve announced their intention to reintroduce isolation booths for TI 2023. They expressed their contentment in bringing back the "traditional" soundproof booths that were initially used during TI5 and had been stored in Kent, WA, specifically for this year's tournament. Since The International's beginning in 2011, these isolation booths have been essential to maintaining fair competition by preventing participants from potentially gaining an advantage by listening in on audience or caster conversations.
Contrastingly, during the tournament held in Singapore last year, Valve chose not to employ soundproof booths and instead opted for a more open setup. The procedure of getting ready for matches for participants was made simpler by this solution. That is why professional players really appreciated this modification.
Valve's decision to forego the use of isolation booths in 2022 was rooted in their confidence in their ability to manage sound dampening effectively, drawing from a decade of experience. To solve sound problems and ensure that the competition is fair, they introduced quieting earbuds, headphones and adjusted acoustics.
Summing up, after the isolation booths were absent from the previous International championship, Valve decided to bring them back. These booths play an important role since they guarantee that Dota 2's most significant events are fairly conducted. Valve's decision to forgo the use of isolation rooms in TI 2022 was likely influenced by the considerable expenses and logistical complexities linked to shipping them from the United States to Singapore.
Additionally, it took a lot of time to set up them between games and matches. These booths necessitated not only soundproofing but also amenities such as air conditioning for player comfort, appropriate lighting, and transparency to allow the audience and cameras to observe the players inside.
The isolation booths have improved over time and incorporate fancy designs and numerous layers of premium glass filled with argon gas. This heightened complexity resulted in a significant cost of over $200,000 for each booth by the time of TI 2015. However, these booths presented challenges when it came to international shipping, which ultimately led to their absence in TI 2022.
Valve admitted that they had undervalued the trouble of maintaining their sound-dampening standards without the use of these booths during TI 2022. While they were open to the idea of hosting an event without the booths, they acknowledged the paramount importance of sound dampening and the formidable hurdles they faced in achieving it without these specialized structures.
Valve's decision to reintroduce isolation booths for TI 2023 is a positive step, even though they haven't disclosed the tournament's prize pool or the specific setup details yet. In the past, Valve has contributed a base sum to the prize pool, which is then increased by community fundraising via the Battle Pass system. However, Valve has changed its strategy for TI 2023 and will make use of a TI-themed update for the prize pool's fundraising.
TI 2023 is scheduled to be held in Seattle, United States, spanning from October 12 to 29. Twenty of the best Dota 2 teams in the world will compete for the desired Aegis of Champions. Among the participating teams, 12 received direct invitations, while the remaining eight secured their spots through regional qualifiers. The event will be held according to a renewed format and will comprise two distinct phases: 'The Road to The International' and 'The International' itself.
If you want to turn your hobby of Dota 2 tournaments into a profitable business,you can bet online with GGBet on all Dota 2 tournaments. They also offer free broadcasts of every Dota event. The odds offered by this resource are accessible high, so the bet will definitely be profitable, especially if you bet live. In addition, the Esports Betting Bro team makes reviews on popular bookmakers, thanks to which, you can be sure that you are using first-class eSports betting sites. Learn about the key benefits of each platform, and get up-to-date information on its current bonus programs. With this website at your fingertips, you'll be able to bet not only on current, but also future Dota 2 matches.