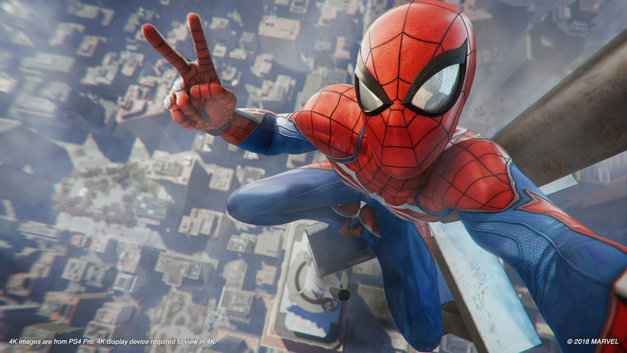 Over the weekend, Insomniac Games Community Director James Stevenson was asked a number of questions relating to the studio's upcoming super hero epic over on Twitter. With the Spider-Man game length chief among them.
And, though careful not to reveal too much, his answers continue to bode well for the highly-anticipated PS4 exclusive.
Spider-Man Game Length, File Size, and Accessibility Options
First things first, Spider-Man will take approximately 20 hours to complete on the default difficulty, according to Stevenson. That number increasing dramatically for those who intend to complete Spider-Man's various side-quests and optional objectives during their playthrough.
In terms of file size, meanwhile, it seems a minimum of 45GB will be required to accommodate the game. With a day one patch adding an as yet unspecified quantity of gigabytes to this already hefty installation.
Speaking of the game's day one patch, Stevenson reassured fans there will be a range of accessibility options included. The precise details of which are still being worked out by the team at Insomniac.
Spider-Man Release Date and Pre-Orders
Marvel's Spider-Man releases in just a few days' time on the 7th September.
Exclusive to the PS4, players who want a little extra bang for their buck can choose between an array of special edition versions of the game. Including the Digital Deluxe and Collector's Editions.
My personal favourite, however, has to be the Limited Edition Amazing Red PS4 Pro bundle. Which, along with the game itself, comes bundled with a specially-designed, 1TB PS4 Pro console.
Seriously, to quote Bobby Roode, it looks absolutely glorious.