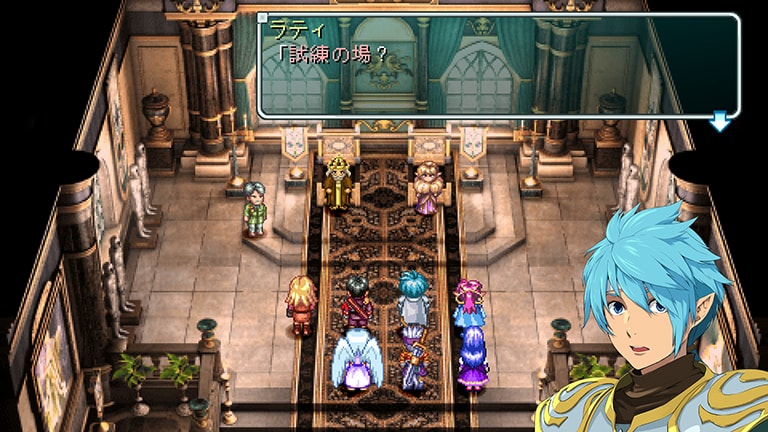 Star Ocean First Departure R will launch for PlayStation 4 and Nintendo Switch on December 5, Square Enix has announced. In addition, if you pre-order the game for Sony's console, you'll receive a commemorative PS4 Theme and a digital mini-soundtrack taken from the Star Ocean Live 2019 concert on release day.
Star Ocean First Departure R Details
Star Ocean First Departure R is a spruced up version of the PlayStation Portable title, which itself is remake of the original Star Ocean. The PS4 edition includes high-definition visuals plus a host of other features, as detailed below.
Full Voiceover – Players can choose between the original full voice cast from the PSP® system version of the game in either Japanese or English, or the newly recorded version, featuring the voice cast from the original Super Famicom version in Japanese, which was previously released in Japan only.
New Character Illustrations – Players can opt for the original character illustrations utilised in STAR OCEAN First Departure, or brand-new versions drawn by the famous illustrator Katsumi Enami (STAR OCEAN: THE LAST HOPE).
Speed Mode – Players can speed up movement to traverse the world more quickly.
Adjusted Game Balance – Adjusted battle difficulty enabling players to enjoy more challenge in combat, a signature quality of the STAR OCEAN series.
Check out the first screenshots of Star Ocean First Departure R on PS4 here.
The original Star Ocean was release for the Super Nintendo back in 1996 and only saw the light of day in its native Japan. The game was noted for pushing Ninty's 16-bit console to its limit, and required a special compression chip to store all of its data, which included voice acting — something that wasn't commonplace in those days.
Since the release of the original game, Square Enix followed up the series with six core titles: Star Ocean: The Second Story (1998), Star Ocean: Blue Sphere (2001), Star Ocean: Till the End of Time (2003), Star Ocean: The Last Hope (2010), Star Ocean: Integrity and Faithlessness (2016), and Star Ocean: Anamnesis (2016).