Revealed a couple of days ago by EA, the Star Wars Battlefront 2 Elite Corps update finally goes live tomorrow.
As well as introducing another pair of Clone Trooper Appearances, the Elite Corps update adds a brand-new multiplayer map, makes the previously limited-time Ewok Hunt game mode a permanent fixture, and provides a range of bug fixes and gameplay tweaks.
Star Wars Battlefront 2 Elite Corps – Clone Trooper Appearances
Inspired by the 41st Elite Corps and the 327th Star Corps, the new Clone Trooper Appearances represent two of the most iconic units to take part in the series' famous Clone Wars.
The 41st, who'd come to be known simply as the Elite Corps, were present at the battle of Kashyyyk. Fighting alongside Yoda to protect the Wookie homeworld, before seeing action in Geonosis sometime later.
While, led by Jedi General Aayla Secura and distinguished by their distinctive yellow-marked armour, the 327th Star Corps fought in multiple battles throughout the Clone Wars. Including the infamous battle of Quell.
The new Clone Trooper Appearances will be available individually for 20,000 Credits/500 Crystals when they arrive tomorrow. And apply to the Assault, Heavy, and Specialist classes.
Naboo Palace Hangar, Emotes, and Victory Poses
Available in both Blast and Custom Arcade, the Naboo Palace Hangar on Theed is Star Wars Battlefront 2's newest map. Chosen, DICE says because it's a favourite locale amongst the Battlefront community.
Additionally, the Elite Corps update introduces emotes and victory poses to both heroes and troopers alike.
Hero emotes and victory poses will set players back 2,000 Credits/50 Crystals each. With the trooper equivalent costing slightly less at 1,000 Credits/25 Crystals.
Ewok Hunt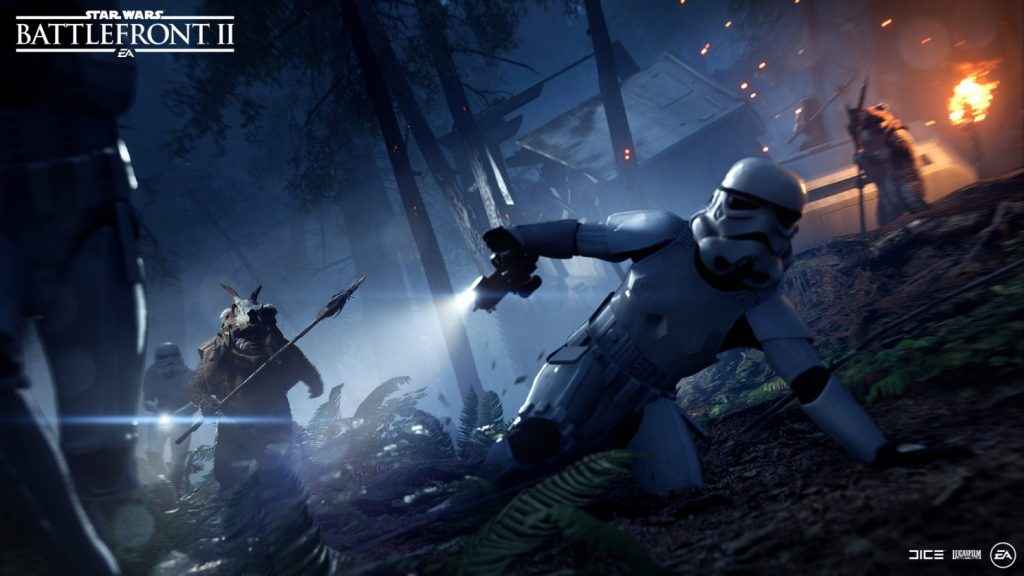 As stated above, the Ewok Hunt game mode will be available to play permanently, once the Elite Corps update arrives. Having been introduced initially as a limited-time game mode as part of the Night on Endor expansion.
Giving those who missed it the first time round ample opportunity to stalk stormtroopers through the dense underbrush of Endor's forest under cover of night. Or hunt the furry little critters, if they consider them the original trilogy's answer to Jar Jar Binks.
Bug Fixes and Gameplay Tweaks
Lastly, the Star Wars Battlefront 2 Elite Corps update implements various bug fixes and gameplay tweaks in an effort to streamline the overall experience.
Highlights include a more comprehensive End of Round Screen; a prequel-era drop down on the Home menu that allows players to prioritise Clone Wars-themed maps; finalised price points for the game's latest batch of heroes; and an overall reduction in hero and standard unit costs in response to issues with the 2x bonus multiplier.
The full list of changes and bug fixes can be found on the official Battlefront 2 website, along with the promise of another roadmap update sometime next week.