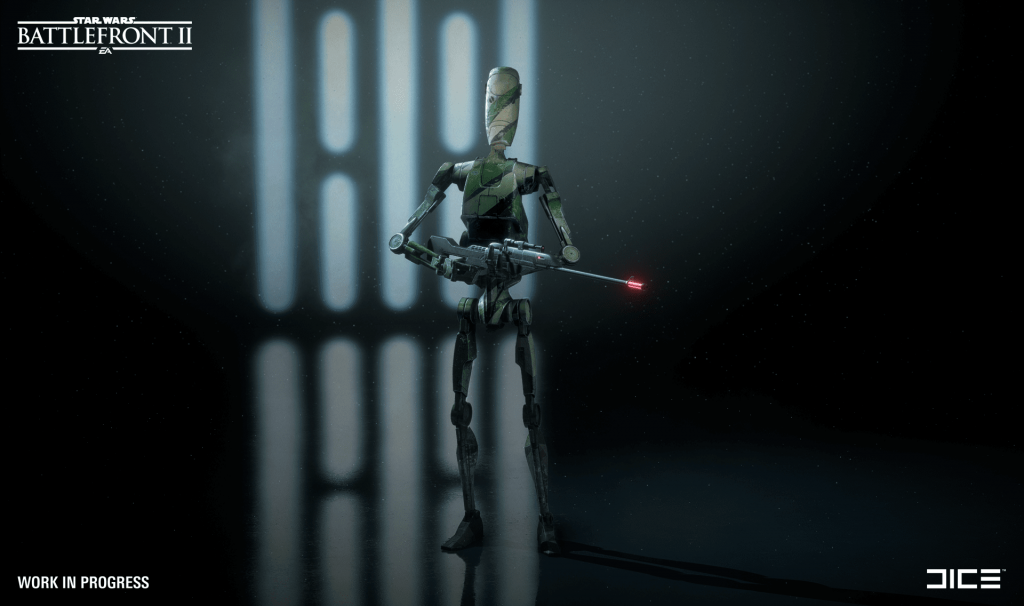 DICE has revealed the full Star Wars Battlefront 2 update 1.37 patch notes, otherwise known as the Roger Roger update, a clear reference to the loveable, incompetent droid enemies seen in the prequel trilogy. The patch arrives hot on the heels of the developer teasing the arrival of new content based around The Rise of Skywalker later this year.
Star Wars Battlefront 2 Update 1.37 Patch Notes
One of the main additions with the Roger Roger update is three new appearances for the B1 Battle Droids, covering all four classes: Assault, Heavy, Officer, and Specialist. Contextual spawning has also been shaken up, with the option of Command Posts to spawn on now available when you are defeated in battle.
In addition, changes have been made to the Capital Ship phase of Capital Supremacy. Players now have five minutes to destroy the enemy ship once breached, after which the game will shift back to ground combat. To destroy the vessel, you must capture one of two Command Posts located on the ship, giving you an extra five minutes for your team to fire on the target.
DICE has also been tinkering with lightsaber heroes:
Community Request: Lightsabers will now not turn off on their own while Heroes are sprinting, only when toggled off.
Fixed an issue where lightsaber Heroes could lose their blocking stance when falling from small heights.
Fixed an issue where a lightsaber Hero would be unable to block when being shot from above by an enemy with a Blaster.
Fixed an issue that would cause a lightsaber Hero to deal damage to a blocking enemy who is standing behind them.
Fixed an issue where a lightsaber attack on a blocking Lightsaber Hero would occasionally not trigger VFX and SFX.
Fixed an issue where the lightsaber would occasionally not turn on when Hero goes into blocking or attacking mode after sprinting.
Check out the full list of Star Wars Battlefront 2 update 1.37 patch notes here.