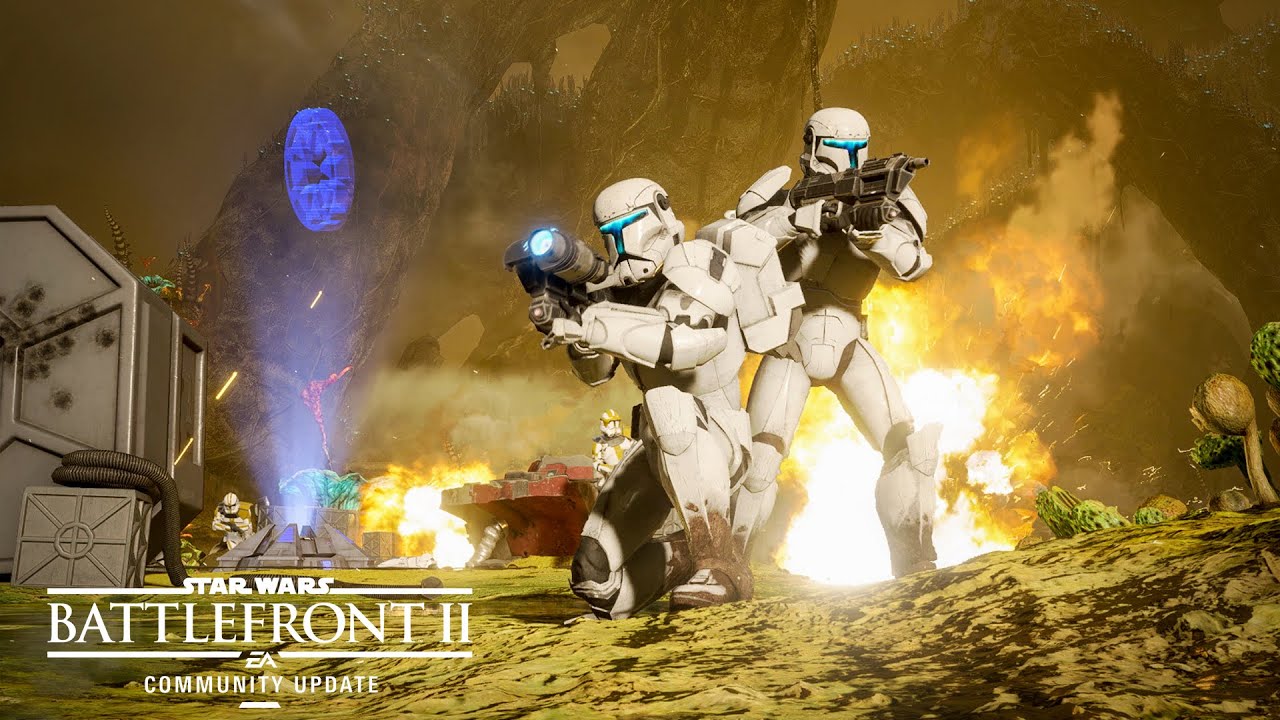 The developer behind Star Wars Battlefront 2 has confirmed details on the next batch of major updates for the sci-fi shooter, including the Clone Commando as a Reinforcement. He's ideal for taking on tough foes, and wields a reconfigured blaster that can also be used as a grenade launcher, which deals chunky damage to enemy vehicles and shields.
New Star Wars Battlefront 2 Update Content
There's also new modes including Instant Action, where solo players face off against armies of AI bots; you can configure various options, including AI difficulty, match length, battle point earn rates, and more as you attempt to capture Command Posts.
One of the biggest additions to Star Wars Battlefront II is four-player online co-op. This allows you to team up with three other mates in a large-scale PvE adventure across any Clone Wars-related planet. Meanwhile, October will give you the ability to select your faction and engage in a combination of attack and defend scenarios depending on the planet.
Finally, DICE is adding the Clone Wars-era planet of Felucia, which sees the clones and Separatist army engaged in a massive war. The developer is promising 'new ways to dominate the ground,' and hazards including mushroom spores that release deadly gases.
There's more content in the pipeline too as we get close to the release of Star Wars: The Rise of Skywalker.
Star Wars Battlefront 2 was released for PlayStation 4, PC, and Xbox One back in November 2017. Despite initial controversy surrounding its implementation of loot boxes, DICE's shooter has bounced back in recent months, with a plethora of new content keeping the community engaged that doesn't look set to stop anytime soon.
Read our review of Star Wars Battlefront 2 here, although keep in mind the game has improved greatly since.
DICE recently indicated that Star Wars Battlefront 3 is not going to happen anytime soon.
Source: Reddit