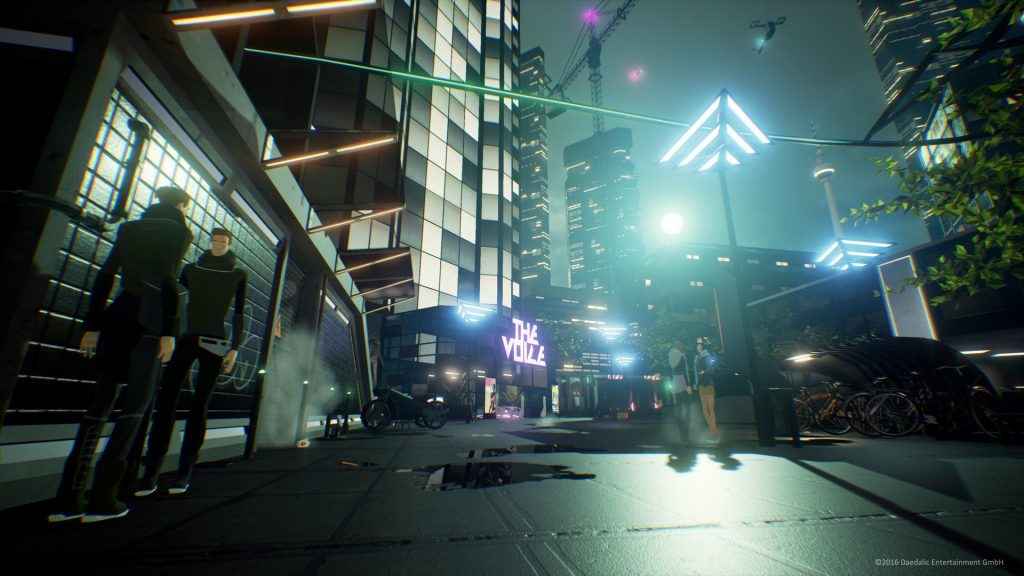 New PlayStation 4, Xbox One and PC adventure game State of Mind has been rated as 'M' for Mature by the ESRB.
The ratings board has labelled Daedalic Entertainment's sci-fi thriller as 17+ only due to the language, nudity and sexual themes, as well as violence.
In the official ESRB description, we discover a few intimate details about the upcoming video game:
This is an adventure game in which players assume the role of a journalist uncovering lost memories in a futuristic Berlin. Players explore a dystopian, cyberspace-themed world; interact with characters; and solve various puzzles along the way. Some interactions lead to instances of violence: robotic police gunning down club patrons; terrorist bombings killing non-adversary civilians; a woman dying in a car crash. Blood is depicted as characters are injured/killed; some environments depict pools of blood around victims' bodies. The game includes some sexual material: a cyber-sex scene in which a woman—stylized with doll skin—orders a fully clothed man to perform various actions (no real sexual act occurs); a strip-club sequence depicting robotic pole dancers; stylized posters of women/robots with exposed breasts. During the course of the game, characters are sometimes depicted under the influence of drugs (e.g., overdosing on pills; players' screen blurry/distorted); some environments also contain drug paraphernalia (e.g., bongs). The word "sh*t" is heard in the game.
Due for release in Q1 2018, State of Mind was first revealed at the Tokyo Game Show last year. The action is set in Berlin in 2048 in a time of government surveillance, over-population and war. The story follows Richard Nolan, a journalist trying to survive in a virtual world known as City 5.
State of Mind is a 3D animated adventure that features multiple playable characters and various dialogue options.
Check out the trailer.
Source: ESRB