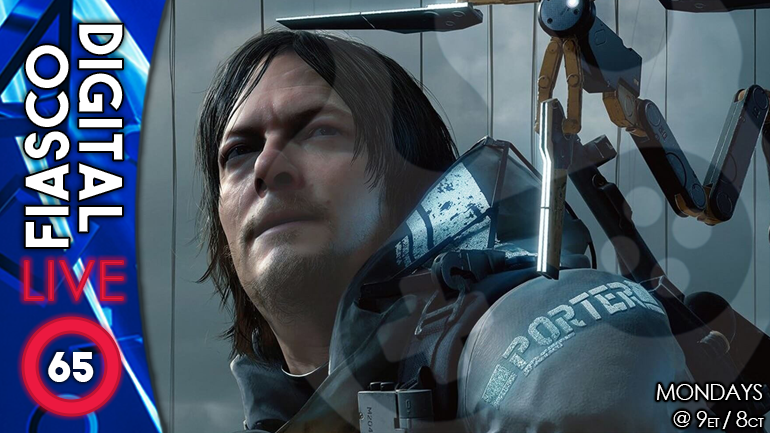 Wow. After the Tokyo Game Show last week, we kind of know what is going on in Death Stranding now. I know, we're shocked too!
Hosts Dandr0id and Jack McBastard have rounded up all the week's gaming news and rumors, and provide instant feedback via chat in real time! We'll answer your questions, we'll take your comments, and we'll agree with you that Alpha Protocol is awesome, at least for now. (We'll also talk about Xbox, Nintendo and PC gaming. Don't judge).
See our channel at twitch.tv/digital_fiasco, or tune in live on Mondays at 8pm Central!
Digital Fiasco LIVE! Episode 65: Strand and Deliver (Originally Aired, Sept 24th, 2019)
What Are We Playing
Discs, Downloads And DLC (DDD) Picks
Epic Freebie
Anthem Falls On Deaf Ears
Google Play Gets In On The GaaS Crisis
Gears Of War 5 Owes Its Success To Xbox Game Pass
TGS 2019 Wrap-Up: Death Stranding
TGS 2019 Wrap-Up: Watch Dogs Legion
TGS 2019 Wrap-Up: Yakuza 7
Loot Box Corner
Live From The 'No One Asked For This' Room
Quick Hits
Big Ticket: Playstation State Of Play 3 – Play Hardest
Options Menu: Steal This Idea (Grand Theft Yakuza
Outtro
And More!