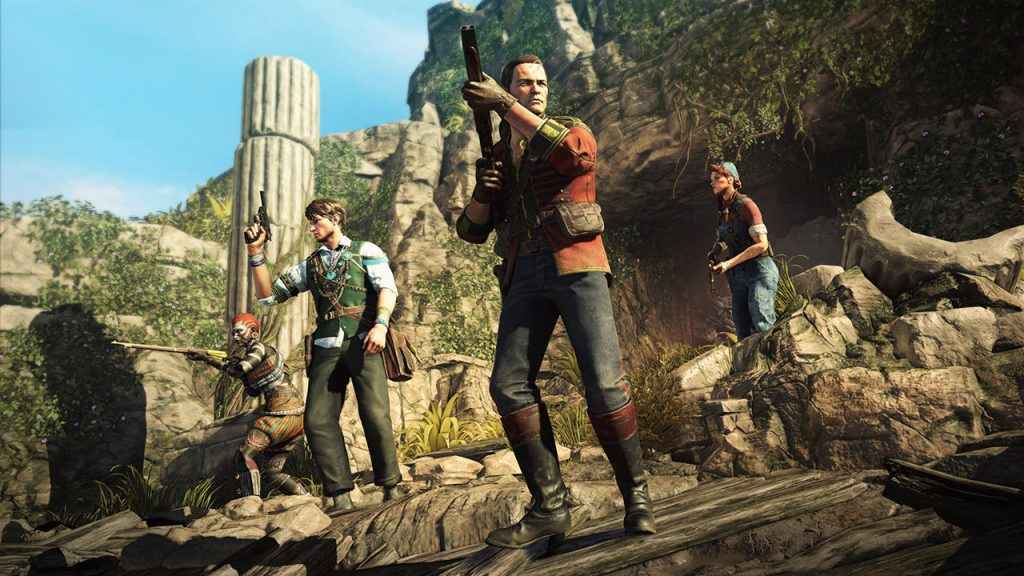 Announced via a developer livestream yesterday afternoon, Strange Brigade The Thrice Damned launches on Tuesday the 9th October.
The game's first DLC expansion, The Thrice Damned #1: Isle of the Dead (to give it its full name) introduces a brand-new mission, playable character, amulet power, and some rather useful-looking gear.
Strange Brigade The Thrice Damned – First Details
Developer Rebellion hasn't gone into specifics as to what the new campaign mission will entail. Preferring not to spoil the surprise when the game releases in just five days' time, presumably.
However, the image that accompanied yesterday's confirmatory Tweet does show a gaggle of pirate skeletons and what would appear to be a very old shipwreck. Strongly hinting at a nautical theme for the forthcoming DLC mission.
As far as the rest is concerned, The Thrice Damned's newest character comes in the form of the suitably spiffing American Aviatrix (you can't write an article without using the word spiffing; it's impossible). Two new weapons – the Colbeck Wildfire SMG and the Hydes and Sons Pistol – a new item called the Glacier Bomb, and a mysterious new amulet power: Infernal Firestorm.

Another Update on the Way
Before The Thrice Damned arrives, Strange Brigade will also receive a reasonably meaty update.
Releasing on Monday the 8th October, it's entirely free to download and includes the following three maps:
Score Attack: The Towering Temple II
Score Attack: Cursed Village II
And Horde Mode: Tunnels II
As well as the usual bevy of bug fixes and gameplay tweaks.
Developed and published by Rebellion Developments, Strange Brigade is out now on PS4, Xbox One, and PC. You should give it a try; it's jolly good fun (sorry).