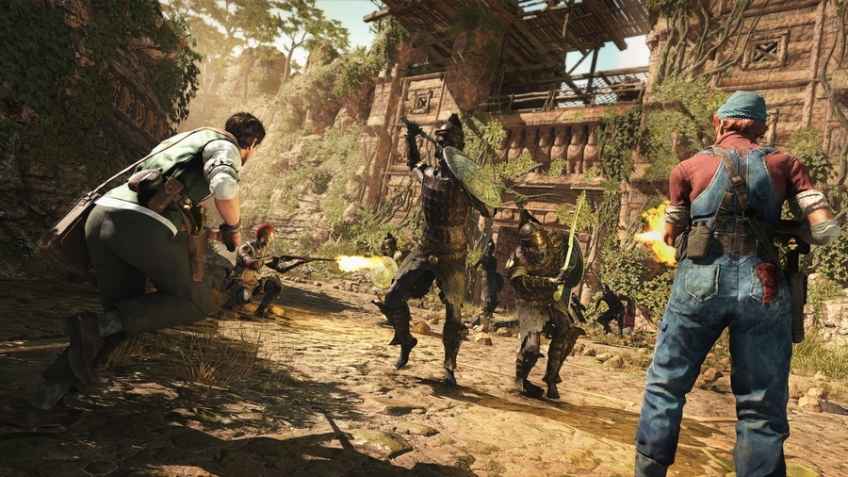 Strange Brigade PS4 is finally here! The Tomb Raider inspired adventure released on August 28 with lots of puzzles, tombs, and treasure to be discovered. Strange Brigade features a thrilling journey for its players. So, check out our Strange Brigade Tips guide and get ready for action!
Strange Brigade Preview
Explore the depths of the forest and tombs in 1930's Egypt. The evil Witch Queen named Seteki rose again from the buried unknown tomb. For 4000 years, ancient Egypt was peaceful until she went back from the dead. And this time with legions of lifeless yet powerful mummies and monsters.
Strange Brigade is a co-operative shooter game, so it is best played with your squad. As you play with your buddy in Strange Brigade, you can assist, cover, heal and battle together against mythical monsters.
Strange Brigade Tips – Gold, Weapon, Work Bench & Trap
Stranger Brigades' currency is Gold. To earn gold, kill as many enemies as you can. You can use the gold to buy powerful weapons and unlock prototype weapon chests.
And speaking of Weapons, you can encounter special weapon chests as you go through the game. This is the time that you should spend the gold you collected. The higher the price of the crate, the more powerful and striking the weapon would be. So once you find one, don't hesitate to throw in some gold.
A quick Strange Brigade weapon tip: wait for a few seconds after opening a weapon created to get a chance of getting a different weapon. But you have to pay gold again. The flamethrower is a classic favorite as you can burn a whole swarm of mummies, well definitely not alive.
Use Strange Brigade Work Bench to upgrade your weapons like crossbow and shotgun. You need gems which you can earn through missions to use the Work Bench and modify your weapon.
For Strange Brigade Tips Traps, set up traps in the perfect place and time to catch as many undead. Then kill them all at once to get as much gold. Be careful as you and your friend can be the victim of your own trap.
Strange Brigade Tips – Collectibles
The game is not only about shooting Egyptian mummies and slaying the Witch Queen. It is a treasure hunting adventure to find special treasure collections such as Canopic Jars, rare artifacts, and Gem Sphinxes. Discover all secret rooms which give plenty of rewards.
Strange Brigade Tips – Puzzles & Amulet
The Strange Brigade PS4 is not only about the physical battle but also using your mind. You can find yourself using logic and analyzing clues to solve or complete puzzles. These Strange Brigade Puzzles unravels secrets, loot, relics, and amulet.
Strange Brigade Amulets get activated as they absolve the souls of the enemies you will encounter. Once the amulet is charged, you can now release mystical superpower and special abilities to swipe opponents. Choose a variety of amulets that will match your and your team's gameplay style.
Strange Brigade Tips – Going Horde Mode
Fight until your last breath in Strange brigade Horde Mode. Here, your enemies get stronger each wave. In order to survive, you must:
Get as many gems as you can from hidden crates. Gems upgrade firepower and weapons.
Earn and spend gold on buying exotic and powerful weapons.
Throw big bang explosions to survive massive waves of opponents.
Strange Brigade Tips – Top Score Attack
In Score Attack, you'll face plenty of undead to eliminate as quickly as possible. Pay attention in achieving hitting bonus to lift your scores in the leaderboards. Here are some Score Attack tips and tricks:
Practice makes perfect. Go through every stage multiple times until you pick up the phase and enemies location. You'll get better and faster each time.
Speed is the key so hit undead as fast as you can. How fast you finish each level determines your score.
Keep your amulet charged and use its mystical powers as much and soon as possible.
Bonus Strange Brigade Tips – Secret Golden Cats
There are golden cats at the end of each level. Find them all and earn extra rewards.
Do you have any more Strange Brigade Tips you want to share?