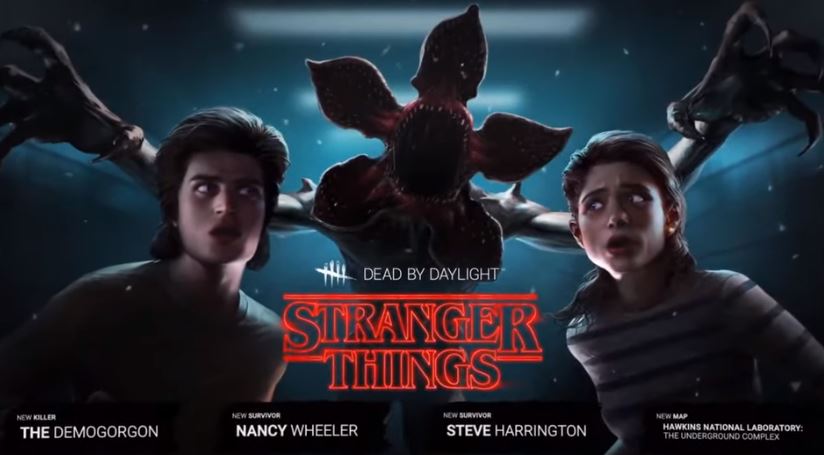 The developer of Dead by Daylight has confirmed that a Stranger Things themed expansion will be coming to the popular online survival game.
The expansion is set to release sometime in September 2019. So far we know that the big bad will be the Demogorgon and two of the four survivors revealed for the crossover will be series regulars Steve Harrington and Nancy Wheeler.
We'll have much more information on the new expansion soon, but until then you can catch the debut trailer below.
One of the most popular titles of the last few years, Dead By Daylight has gained a massive of success with its unique take on 4 vs 1 gameplay that casts players as four survivors who must escape a deranged serial killer, played by the fifth player.
A masterclass in intensity and nail-biting co-operative stealth gameplay, Dead by Daylight raises the stakes by not only forcing the players to activate five different power generators around the map to escape, but also by making those generators create a whole heap of noise when they are interacted with.
Making matters even more complex is the fact that the each killer has their unique set of abilities which which to thwart the player, too. Ranging from chainsaws and ear-piercing screams through to hallucinogenic drugs that make you think the killer is there when they aren't, Dead by Daylight is rarely less than a whole heap of fun with played with friends.
This new Stranger Things pack is just one in a long line of expansions that the developer, Behaviour Interactive, has brought to the game. Since its release in 2016, the developer has supported the game with a wide range of themed packs, including horror icons from silver screen features such as Friday the 13th through to the Saw movies.
Source: NX Twitter Account