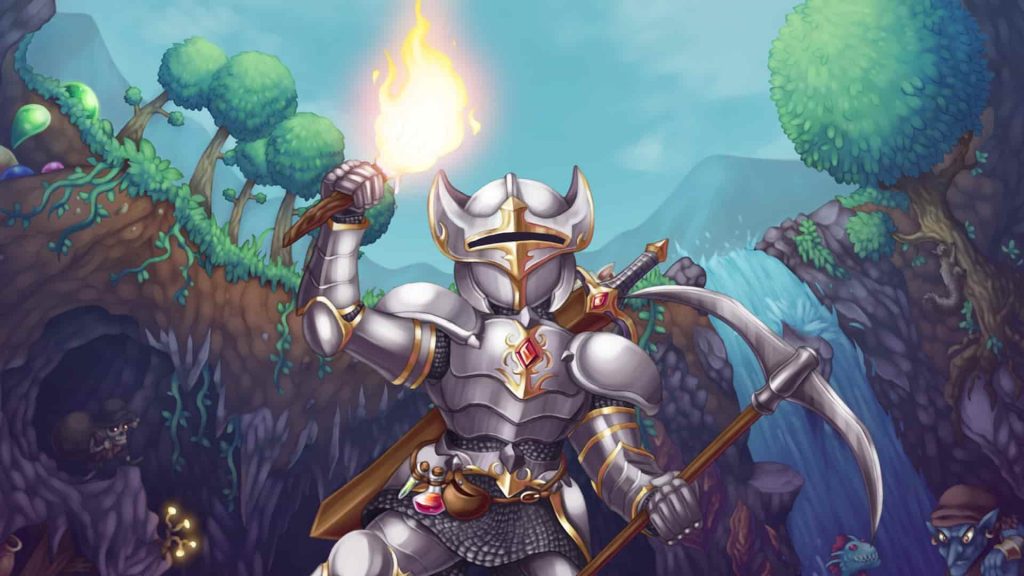 Developer Re-Logic has unwrapped the full Terraria 1.3.4 update patch notes for your consumption, which is now available to download for the PlayStation 4 and Xbox One versions of the game. It's a pretty meaty update, adding a range of bug fixes, Parties, and a standstorm weather event among other additions.
Terraria 1.3.4 Update Patch Notes
Check out the Terraria 1.3.4 update patch notes below.
BUG FIXES
We've fixed a ton of bugs since the last patch, including dozens present in the live build. If there's something that's been bothering you there's a good chance we fixed it. Take a look!
NEW FEATURES
Parties have now been added! You can start your own via the Party Girl's Party Center or the Town NPCs may start one, if certain conditions are met.
A new weather event has been added, Sandstorms! With it comes new enemies, new loot, new soundtrack, and a unique experience in the desert biome!
Blizzards now have a new visual effect
Deserts and the Underworld now have a heat distortion visual effect.
Dripping sand effects can be found in the desert, and placed anywhere by the player with the Magic Sand Dropper!
ADDED OLD ONE'S ARMY

Invasion event featuring enemies, weapons, and gameplay mechanics inspired by Etheria: the Dungeon Defenders 2 universe.
This event will play like no other in Terraria – featuring a brand new mechanic where you protect an artifact from invading enemies with the help of a unique defensive structure system.
This multi-tiered event allows players at multiple points in the game to experience scaling difficulty, with corresponding loot.
Enjoy rewards in the form of armor, weapons, pets and more, all straight from the Dungeon Defenders 2 universe!
The Tavernkeep, a new NPC from the Dungeon Defenders universe, has arrived. He will be offering a variety of Etherian loot and gear in exchange for an exclusive currency earned by playing the new invasion!
OTHER NEW FEATURES
Completely redesigned liquid visuals. Enjoy the ripples and waves, as the player, enemies, and projectiles now have a visible impact when they enter and move through water.
A new ability for Summoner players to direct their minions to attack a specific target.
NEW ITEMS
Added Forbidden armor.
Added Forbidden Fragment.
Added Ancient Horn (Basilisk Mount).
Added Onyx Blaster.
Added Sky Fracture.
Added Mandible Blade.
Added Spirit Flame.
Added Desert Spirit Lamp.
Added Pocket Mirror.
Added Djinn's Curse.
Added Lamia clothes.
Added Ancient set and Ancient Cloth.
Added Magic Sand Dropper.
Added Music Box (Sandstorm).
Added several new banners.
Added Bundled Party Balloons.
Added Balloon Animal.
Added Party Hat.
Added Silly Sunflower Vanity.
Added Silly Balloon Blocks and Walls.
Added Silly Tied Balloons and Bundle of Balloons.
Added Pigronata.
Added Party Center.
Added Silly Balloon Machine.
Added Streamers.
Added Party Present.
Added Cog Wall.
Added Sandfall Blocks and Walls.
Added Snowfall Blocks and Walls.
Added Snow Clouds.
Added Pedguin's suit.
Added 0x33's Aviators.
Added Apprentice armor
Added Apprentice's Scarf
Added Dark Artist armor
Added Huntress armor
Added Huntress's Buckler
Added Monk armor
Added Monk's Belt
Added Red Riding armor
Added Shinobi Infiltrator armor
Added Squire armor
Added Squire's Shield
Added Valhalla Knight armor
Added Gato Egg
Added Creeper Egg
Added Dragon Egg
Added Aerial Bane
Added Ale Tosser
Added Betsy's Wrath
Added Ghastly Glaive
Added Flying Dragon
Added Phantom Phoenix
Added Brand of the Inferno
Added Sky Dragon's Fury
Added Sleepy Octopod
Added Tome of Infinite Wisdom
Added Ballista Rod
Added Ballista Cane
Added Ballista Staff
Added Explosive Trap Rod
Added Explosive Trap Cane
Added Explosive Trap Staff
Added Flameburst Rod
Added Flameburst Cane
Added Flameburst Staff
Added Lightning Aura Rod
Added Lightning Aura Cane
Added Lightning Aura Staff
Added War Table
Added War Table Banner
Added Eternia Crystal Stand
Added Eternia Crystal
Added Defender's Forge
Added Defender Medal
Added Betsy's Wings
Added Etherian Mana
Added Music Box (Old One's Army)
NEW ENEMIES
Added Sand Elemental.
Added Flesh Reaver.
Added Crystal Thresher.
Added Bone Biter.
Added Sand Shark.
Added Angry Tumbler.
Added Etherian Lightning Bug
Added Etherian Javelin Thrower
Added Etherian Wyvern
Added Wither Beast
Added Kobold
Added Kobold Glider
Added Drakin
Added Old One's Skeleton
Added Etherian Goblin
Added Etherian Goblin Bomber
Added Ogre
Added Dark Mage
Added Betsy
QUALITY OF LIFE TWEAKS
Rain Clouds are now craftable.
Clinger Staff can now use platforms as its resting point.
Town NPCs will try to avoid falling into cliffs away from their home area.
After reaching Hardmode, you can choose the type of the world's evil when generating new worlds. If you have already reached hardmode, just load any pre-existing hardmode world and it will activate this feature