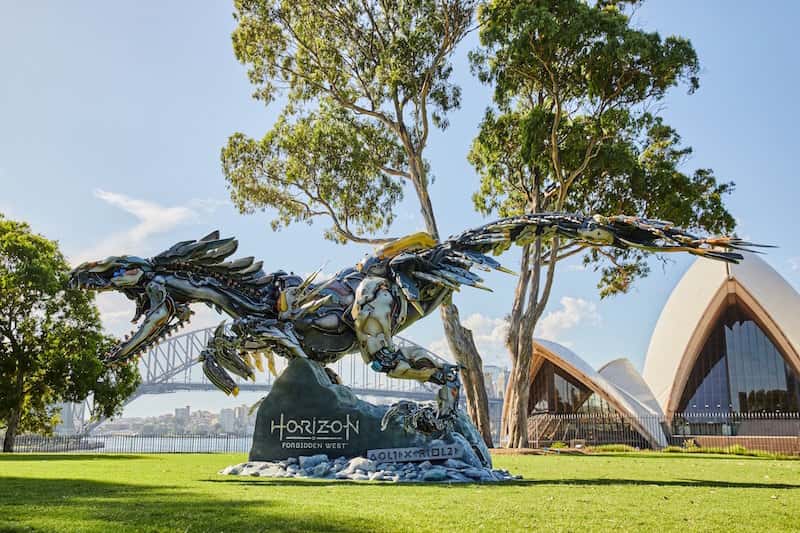 Sony and Guerrilla Games has shifted up a gear in their efforts to market Horizon Forbidden West, with the game's mechanical Clawstrider popping up at various locations around the world, including London's Waterloo Station.
There's 15 statues in total that have been placed in key cities around the globe, although even if you're not familiar with the Clawstrider, you can't really miss it — the combat machine looks like a robotic dinosaur with feathers. If you fancy trying your luck to hunt one down, then they can be found in the following locations (cheers VGC for the roundup):
UAE – Dubai
Australia – Sydney, Royal Botanical Gardens
Russia – Moscow, Depo FoodMall
South Korea – Seoul, The Lotte World Tower
Poland – Warsaw, Palace of Culture & Science
Spain – Madrid, Callao Square
USA – NYC, Times Square
USA – San Francisco, Embarcadero
Canada – Toronto
UK – London, Waterloo Station
France – Paris, Gare Saint-Lazare
Mexico – Mexico City, Telcel Theatre
Brazil – Sao Paulo, Avenida Paulisto
Argentina – Buenos Aires, Planetario Galileo Galilei
Chile – Santiago, Parque Araucano
The Clawstrider statues will remain in the above locations until February 24, 2022, so you still have a few days to hit one of the nearest locations to you (if you're lucky enough to be close enough to travel to one of them, that is) and snap a picture!
GfK Chart-Track confirmed today that Horizon Forbidden West debuted at the top of the UK All Format Chart following its launch on February 18, and sold the majority of boxed copies on PS5.
Horizon Forbidden West is out now for PS4 & PS5 and you can read our full verdict on the game here.