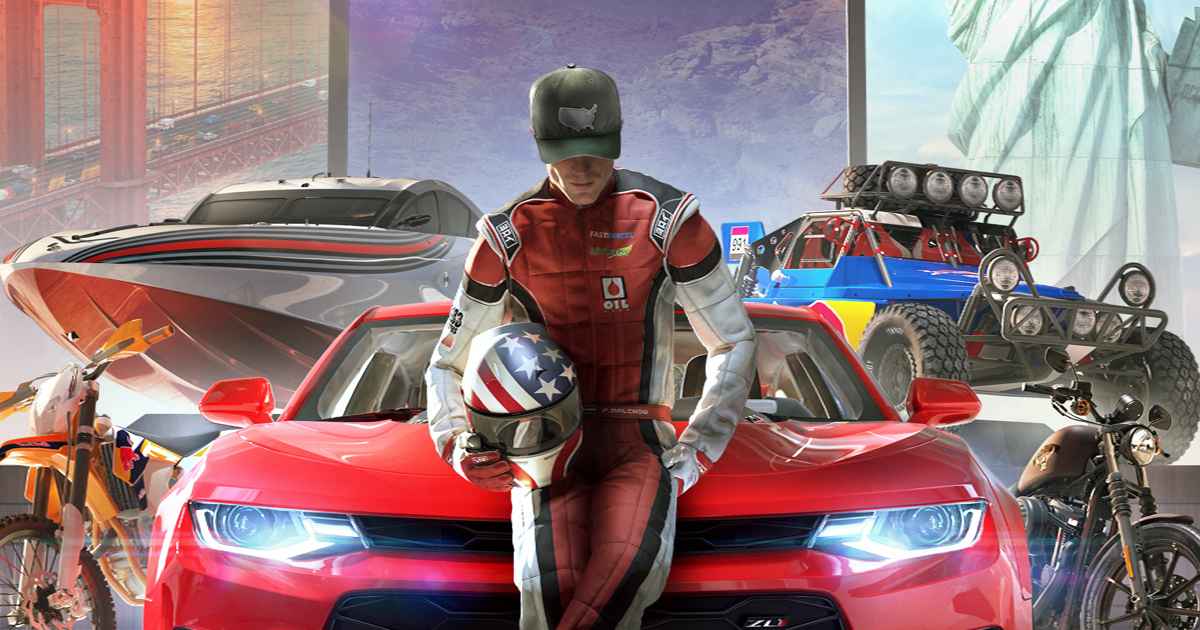 Following a delay of The Crew 2 release date from its original March release, Ubisoft has confirmed that it's open world driving game will be launching on, PC, and Xbox One on June 29, 2018. Those of you who pre-order the upcoming racing title will be able to claim the 'Legendary Motors Pack,' which features two vehicles: Mercedes-AMG C 63 Touring Car 2016 and Harley-Davidson Iron 883 2017.
The Crew 2 PS4 Release Comes With A Wealth Of Options
The Crew 2 Deluxe Edition is now available to pre-order, which offers a wealth of additional content for $69.99.
This version of the game includes: The Legendary Motors Pack, The Motorsports Deluxe Pack, Ford F-150 Raptor Race Truck 2017, Abarth 500 2008 Monster Truck Edition, Pilatus PC-21 aerobatics plane, and three racing outfits for customising your avatar.
Watch The Crew 2 trailer.
If you fancy splashing out even more money on the game, then The Crew 2 Gold Edition should be right up your street. Priced at $109.99 and $99.99 for the physical and digital version, respectively, the Gold Edition of the racer features all content seen in the Deluxe Edition and throws in the Season Pass to boot.
Then there's the The Crew 2 Motor Edition which gives you access to the game three days before release. It includes:
The Crew 2 Gold Edition and season pass, letting players enjoy new vehicles, outfits, additional content and much more
The Motorsports Deluxe Pack, which includes unique outfits and vehicles, including the FORD F-150 RAPTOR RACE TRUCK 2017, PILATUS PC-21 AIR RACE EDITION 2002 Plane and the ABARTH 500 MONSTER TRUCK EDITION 2008
A customised American The Crew 2 license plate that comes in a high-quality collector box, an exclusive Steelbook®, the official Roadmap of the game and four original stickers
The Motor Edition is available exclusively on the Ubisoft Store.
Read up on The Crew 2 via this features list from Ubisoft.
– – – – – – – –
Key Features

Challenge four motorsport families on the ground, on the water, and in the air. Burn rubber in the backstreets of New York City with the street racers, go off-road to explore every inch of the Grand Canyon, take up pro racing and tame huge waves on a powerboat, or go freestyle behind the stick of an aerobatic plane, spinning through fog and clouds above the snowcapped Rocky Mountains. In each family's HQ, you will get hooked up with new vehicles and introduced to a unique culture and set of disciplines. Find and hone your personal style, collect and customize your dream rides, and take the lead in Motornation.

Switch instantly between vehicles and enjoy a 100 percent seamless experience. The Crew 2 is about empowering you to explore America and dominate your rivals in a near limitless world built for motorsports. There are no menus or loading screens. Seamlessly shift from your favorite cars to boats or even planes with just a push of a button using the Fast Fav feature, and experience the full potential and thrill of Motornation. Cruise through LA in your dream hypercar, switch to the swiftest aerobatic plane to rise above the skyscrapers, and enjoy stunning perspectives over Hollywood. Then swap to a slick powerboat as you reach the coastline, landing smoothly on the Pacific Ocean - opportunities for fun and challenges are limitless.
Share and shine in a connected world. The world of The Crew 2 allows you to share your thrills and your craziest moments, and to brag about your skills to friends and others. Everything you achieve, competing or roaming free in the open world, drives your progression and upgrades your fame status. As you climb the ranks to become a motorsports champion, through a feature called LIVE Track, every feat of yours is saved and displayed in-game as a new record for your friends to challenge. And with LIVE Replay, your wow moments are automatically recorded into a fully staged video clip.