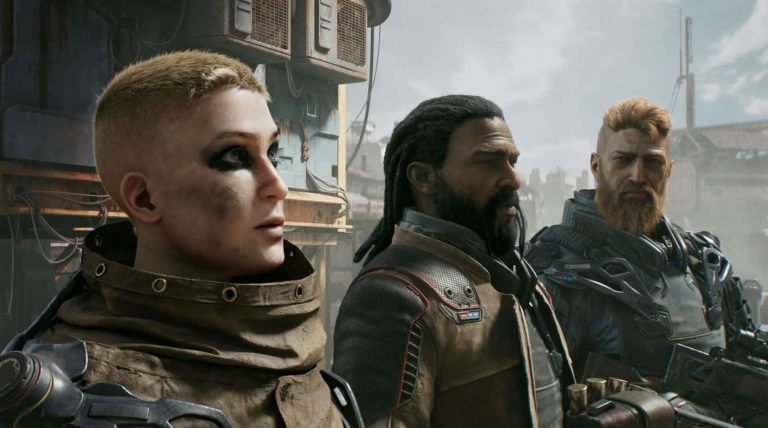 People Can Fly's Outriders demo is out now in the wild, and while it's impressive enough, one thing that folk can probably do without is the annoying loading cutscenes.
If you're not in the loop, the Outriders demo features a number of interruptions when you move to a new area, including door opening sequences, limbing ledges, and other distractions. These cutscenes are preceded by the screen fading to black and the same process is repeated once the sequence has played out.
An example can be seen below, as reported by Eurogamer:
Furthermore, they're a bit glitchy too, as your character's armor disappears during the cutscenes only to reappear once they're finished. Eh? And yes, these cutscenes are basically loading screens. Remember Resident Evil on PSOne? That used door opening animations to mask loading screens. It's the same sort of thing here.
Fortunately, Eurogamer got in touch with Bartek Kmita, Outriders' creative director, and Piotr Nowakowski, the game's lead designer, to offer some insight into the pesky loading screens.
"It started quite pragmatic, because we needed a system that would help us teleport the players and stream some other content to start to load the other arena," offered Kmita.
Nowakowski added this about the clip posted above:
I'm the person who's triggering the travel, so I want to jump to the other side and start a battle on the opposite side. Let's imagine one of my friends is next to the city, to Rift Town. The second one is travelling along the main path towards the enemies there. I cannot just go there and trigger three different areas, because it will not work in a game without dedicated servers.

Second, if I will just trigger that transition, then the two others will be teleported. Then they will see, okay, where are we? Our idea – maybe it doesn't work exactly as we wanted – but the idea was, okay, show all the players what's happening, that we are jumping on the opposite side. So they see, okay!
An alternate solution was to have groups of players automatically broken up as they loaded into new areas, but the team wanted to avoid this method.
Related Content – Sony PS5 Complete Guide – A Total Resource On PlayStation 5
Outriders is scheduled for release on PS5, PS4, PC, Google Stadia, Xbox Series X/S and Xbox One on April 1, 2021.