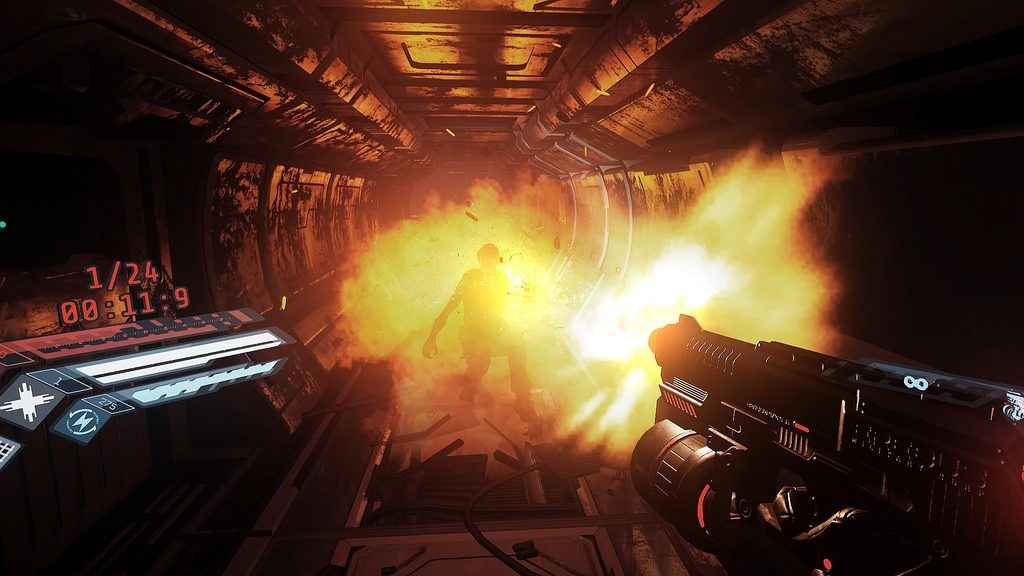 Arriving on the 18th October and costing players absolutely nothing, the next The Persistence update will introduce four brand-new game modes, alongside a handful of additional accessibility options.
According developer Firesprite Games, these new features add a massive amount of variety to the already fantastic horror VR title.
The Persistence Update – Glass Cannon Mode and More
The first of the new game modes, Glass Cannon, is all-action. Forcing the player through a series of 24 increasingly challenging rooms, with the ultimate goal being to reach the escape pod at the far end of the deck.
To make things even trickier, each room must be completed within a specific time; the player's hit points are set to one; and health pickups are disabled. Fortunately, the player is at least able to choose the gun they'll be using at the start of each attempt – said firearm also coming fully equipped with an infinite supply of ammunition.
Alongside Glass Cannon, the forthcoming update also includes Campaign+ and First Blood modes.
The former lets players carry over all their gear and upgrades from their previous save file, whilst ramping up the difficulty level by reducing the effectiveness of SuperSense and increasing the tenacity of Bloodhounds.
While First Blood is all about stealth. Tasking the player with escaping from another randomly generated deck armed with nothing more than a Peacekeeper Knife.
Last but by no mean's least, there's Permadeath mode. It does exactly what it says on the tin really: challenge the player to complete the entire campaign on a single life. Pretty straightforward, then.
The Persistence Update – Accessibility Options
Headlining the new accessibility options are a suite of features designed to help gamers with hearing impairments get the most out of their experience with the game. For example, by rendering certain audio events visually on screen.
"A lot of the strategy in The Persistence comes from hearing where the danger is and reacting to it, so displaying this information on screen gives that vital communication to all players."
Firesprite has also added a rather helpful Assist mode that enables the player to fine tune the game's difficulty level. This includes:
Game speed – slows down the game speed to assist players with less ability to react quickly
Damage – reduce the damage taken to help survive longer
Infinite teleport – get around more quickly with less reliance on the Sticks
Infinite ammo – ideal for players with less ability to aim with their head
All enemies 'tagged' – see enemies through walls at all times, to reduce the need for quick reactions
Auto shield – automatically deploy the shield reducing the need for fast twitch reactions
To celebrate the arrival of the new update, The Persistence will be available at a 25% (35% for PS Plus subscribers) discount over the Halloween period.