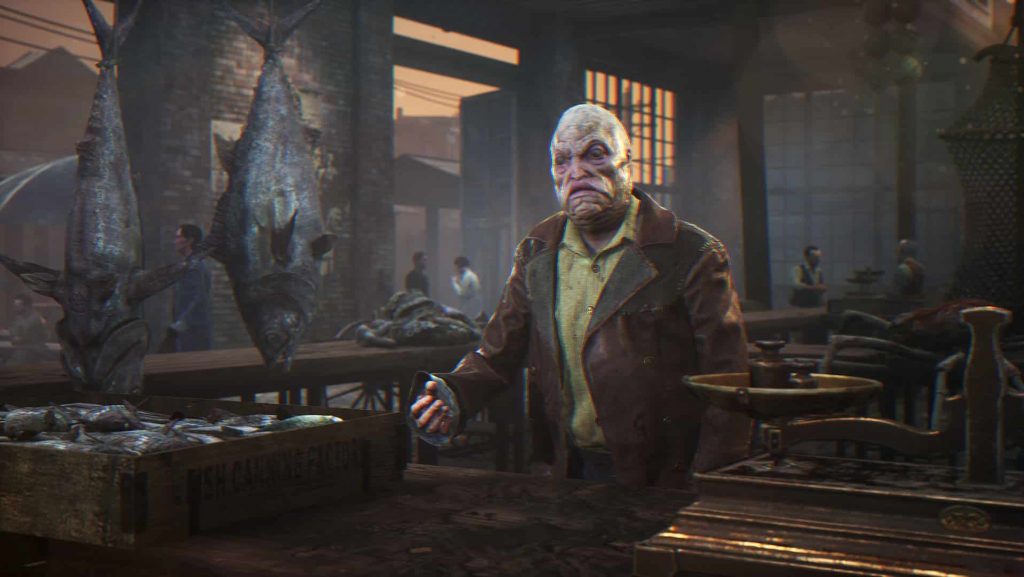 With The Sinking City from Sherlock Holmes developer Frogwares set to arrive this March, we've come up with five reasons why fans of Lovecraft and detective adventures like will find themselves enthralled by the latest offering.
The whole thing is absolutely dripping with atmosphere and grim portent
Isolated from the mainland since the early part of the 17th century, the titular sinking city of Oakmont is one filled with weary denizens who find themselves underpinned by savage, nihilistic superstitions. Practicing a mixture of traditions extrapolated from the long-dead Vikings and Indians who came before them, it's fair to say that they don't take to outsiders at all well. Like, at all.
And this is all before the flooding happens which brings all manner of Lovecraftian horrors along with it, too. Whether you're peering down the dew-bejewelled streets of Oakmont, striking up conversations with people whose smiles are unsettlingly wide or facing down terrifying manifestations of the Old Ones, The Sinking City promises to be nothing less than utterly terrifying every step of the way.
Open-world exploration by foot, by boat or by diving suit
With Oakmont being a city that is not only endowed with verticality, but also flat streets and deep depths, it makes sense that developer Frogwares permits players a multitude of ways with which to explore the game world. A far cry from the linear trappings of fellow Lovecraft adaptation Call of Cthulhu, the open world of Oakmont encourages players to traverse its depths, nooks and crannies by foot, by boat or by employing the use of a diving suit.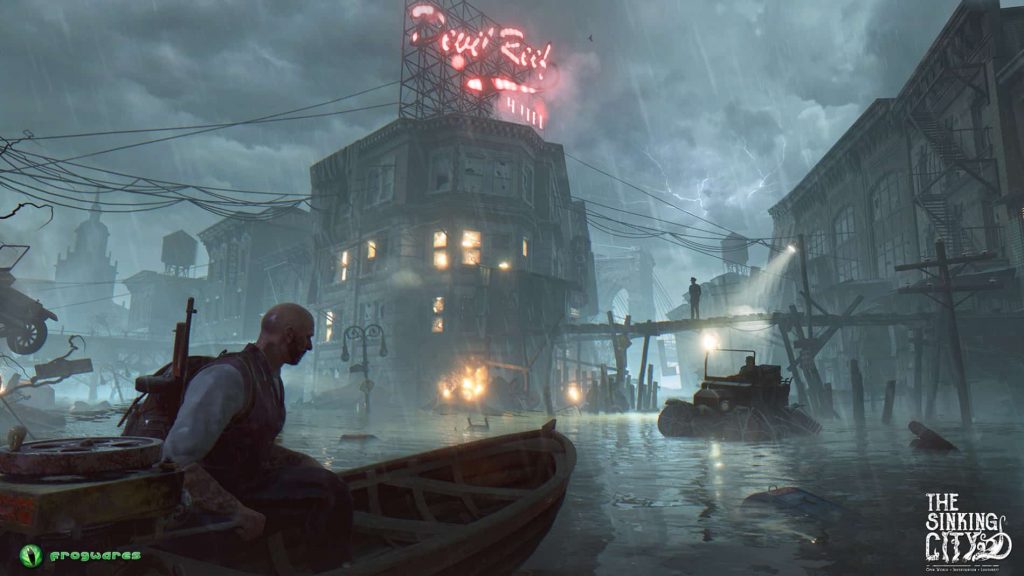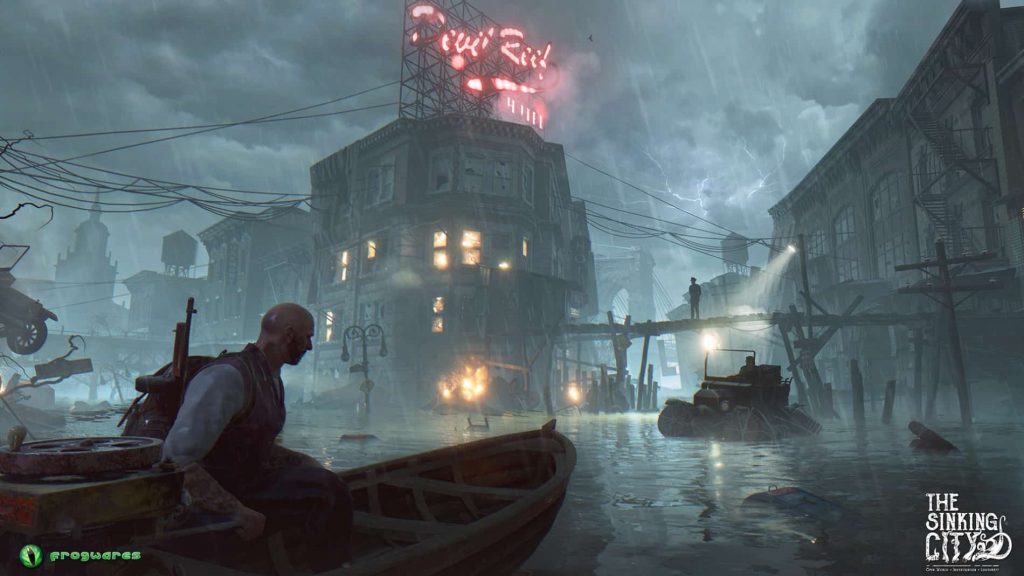 It would seem then that, as much as our private investigator protagonist is a character in The Sinking City, so to is the city itself a member of the cast; a character of multi-facets and deceptive depths that is begging to be explored.
Your sanity is your friend.. And also your enemy
Of course, no take on the works of Lovecraft would be complete without the whole obligatory descent into madness thing, and so it is some relief that I can report that The Sinking City does not disappoint in that regard.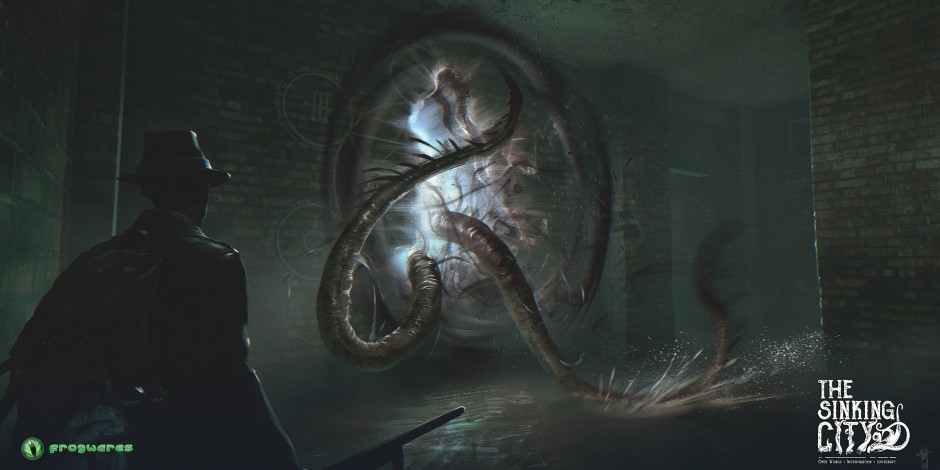 As our plucky protagonist encounters more and more horrifying sights – grumpy dudes with faces of discount calamari, teddy bears made out of doggo flesh and so on and so forth, it detracts from his sanity which in turns makes him hallucinate and see things that aren't there. Basically, expect The Sinking City to be one long Cthulian-powered mushroom trip.
You can tackle the Lovecraftian hordes head-on with a range of weaponry
Like anything that causes you to fill your pants with ample amounts of the brown stuff, the various monstrosities that you'll encounter in The Sinking City are an horrifically scary bunch to say the least. Luckily – you have choices that exist beyond paralyzing fear and self-defecation when it comes with dealing such creatures, with a remedy to be found in the wide variety of weapons that you have at your disposal.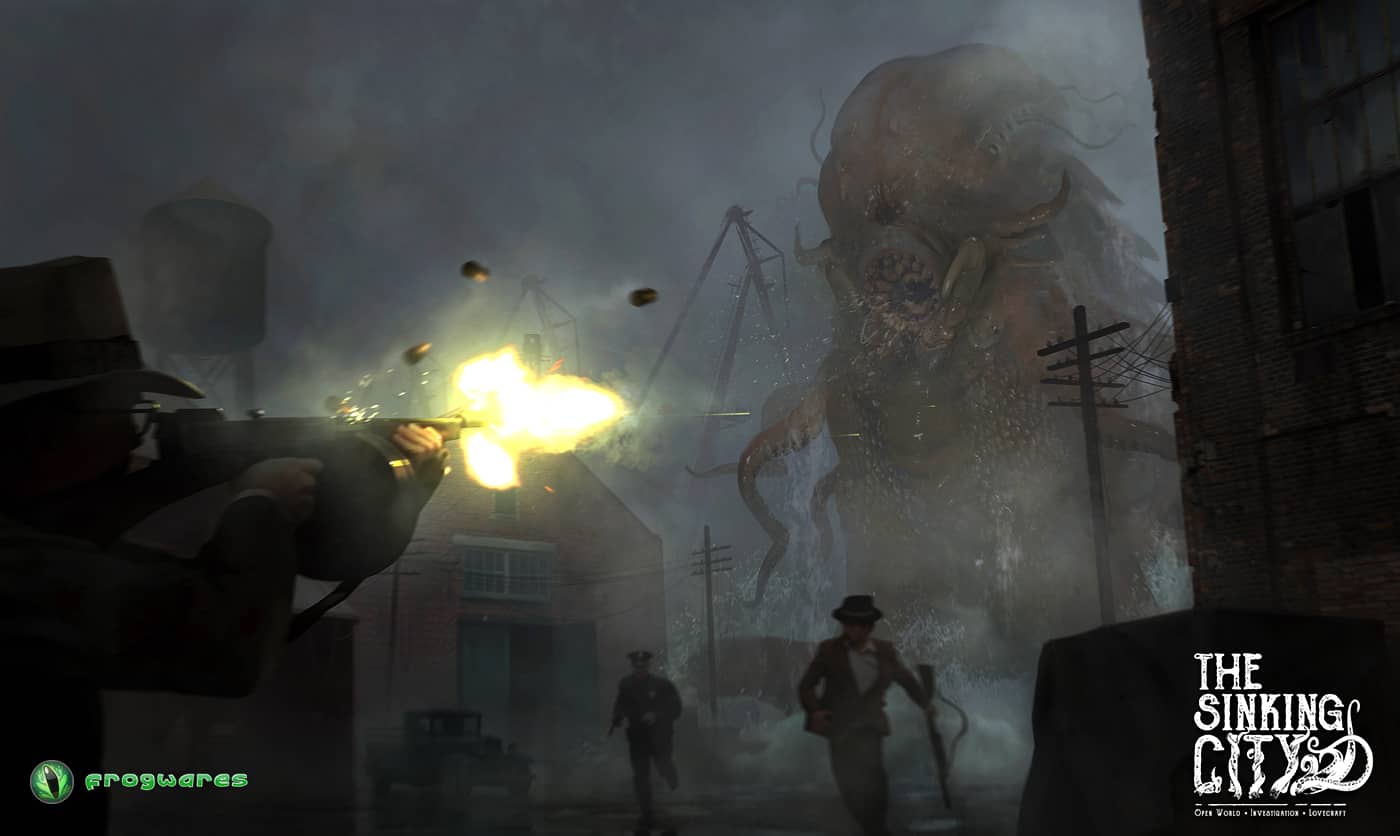 Encompassing a wide range of 1920s era firearms, players can even the score with the Old Ones by employing everything from derringers, to shotguns and automatic Tommy guns. At last – you can fight back!
Investigations that have non-linear progression and multiple endings
With Frogwares being ultra-experienced at this whole detective lark (they do have numerous Sherlock Holmes titles under their belts after all), it shouldn't come as too much of a surprise that all the sleuthing stuff in The Sinking City is actually pretty banging.
For a start, The Sinking City does away with the typical waypoint and quest marker system, and instead requires players to navigate their way to the destination by using landmarks and other points of interest. Additionally too, there are multiple ways to complete each case, which in turn leads to a variety of different endings too. In short, The Sinking City looks to actually make you feel like a proper detective, rather than someone who, well, isn't.
Published by Bigben Interactive and developed by Frogwares, The Sinking City releases March 21, 2019 on PS4, PC and Xbox One.