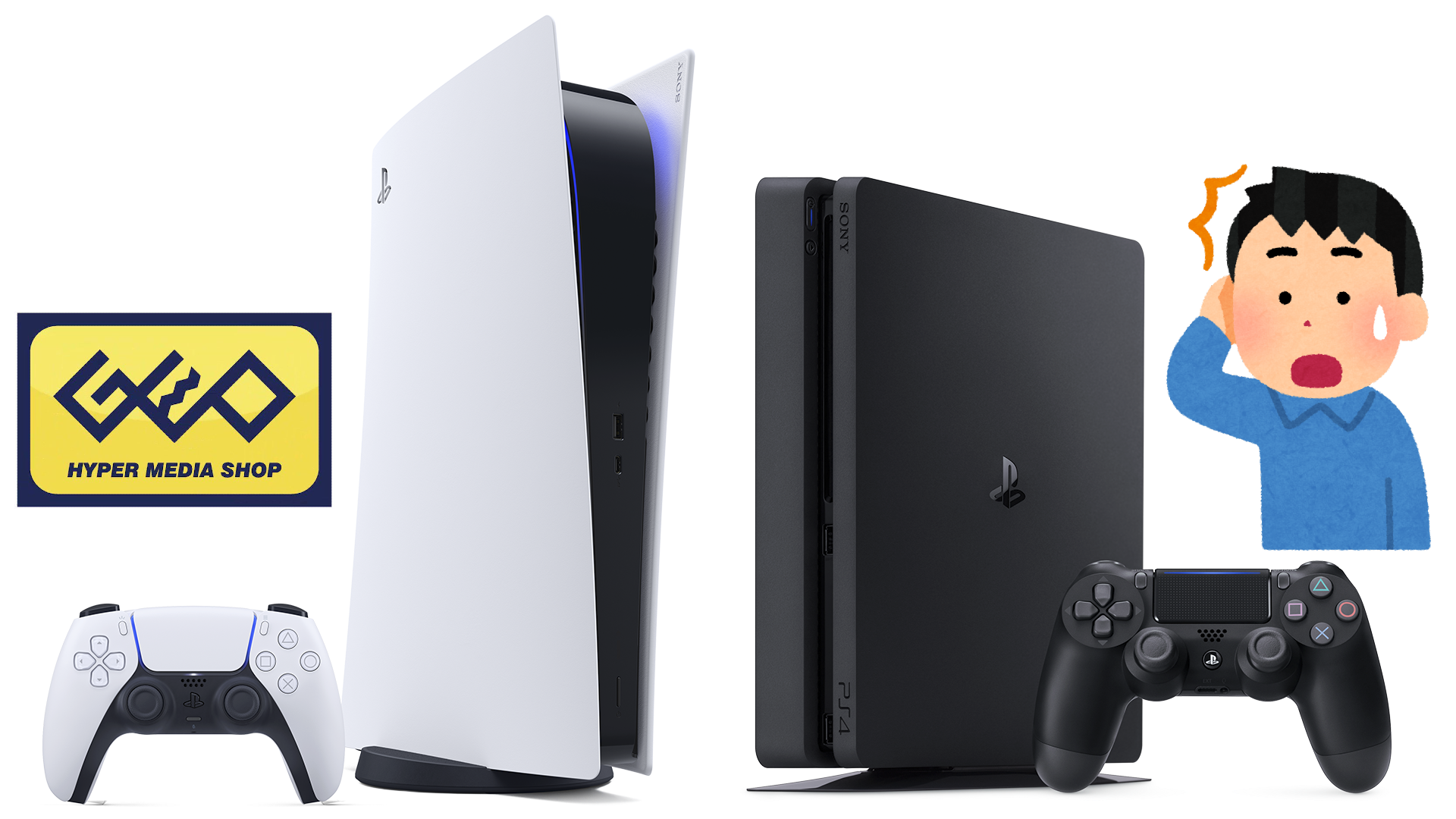 UPDATE (August 19, 2022): GEO has posted official details regarding the PS4-selling requirement to purchase a PS5. The company clarified the new requirement is a countermeasure against reselling of the PS5. The PS4 a customer sells to GEO will receive a 2,000 yen (~$20) bonus on top of the usual trade-in price. For example, selling a 500GB PS4 slim model would normally get a customer 16,000 yen (~$160), but for a customer selling it towards buying a PS5, they will receive 18,000 yen (~$180).
ORIGINAL ARTICLE: Sony's PlayStation 5 has continued to not always be in-stock across the world, even as we approach 2 years since its launch. While reasons have included chip shortages and supply chain issues, another one is due to scalpers buying and then reselling the PS5 at a higher price. GEO, a media store chain in Japan, has a new policy to seemingly discourage resellers: in order to buy a PS5, you will need to sell the your PS4 to the store.
The new sign about the PS4-selling requirement to buy a PS5 at a GEO store I visit regularly.
Starting this week, display signs went up at GEO stores stating PS5 console purchases will be limited to customers who can sell their PS4 console, starting with the next PS5 lottery held by GEO.
In Japan, nearly all retailers hold their own lotteries where the winning customer is given the chance to buy a PS5.
The sign also says the PS4-selling requirement will be implemented from Monday, August 22 and further details about the implementation of this system will be announced in stores on or after Friday, August 19.
The reaction among Japanese Twitter users did not seem positive and was pretty mixed. A number of people feel the new requirement is too extreme or complained that they do not currently own a PS4. Others were more understanding of the requirement to deter reselling, though some pointed out scalpers could simply buy a cheap, used PS4 to meet the requirement.
次回からのゲオPS5抽選がやばい事になっている。
PS4本体を売らないと買えなくなる。
なんでこうなった?
意味わからん… pic.twitter.com/a6VosNMozf

— こなた (@amatetsu_0121) August 10, 2022
ゲオ PS5を買うのにPS4を売らないとダメ。
ジャンク品でも良いのかな? pic.twitter.com/1hZLLiHPB0

— す ま (@zerosuma) August 11, 2022
Japanese Twitter users spotting the new sign at their GEO stores.
Previously, late last year, GEO started requiring PS5 consoles to be opened at the time of purchase and marking the interior packaging.
Nowadays, several retailers in Japan, including GEO, put on a sticker seal on PS5 boxes and have the customer open the console, breaking the seal, when purchasing.
via amatetsu_0121