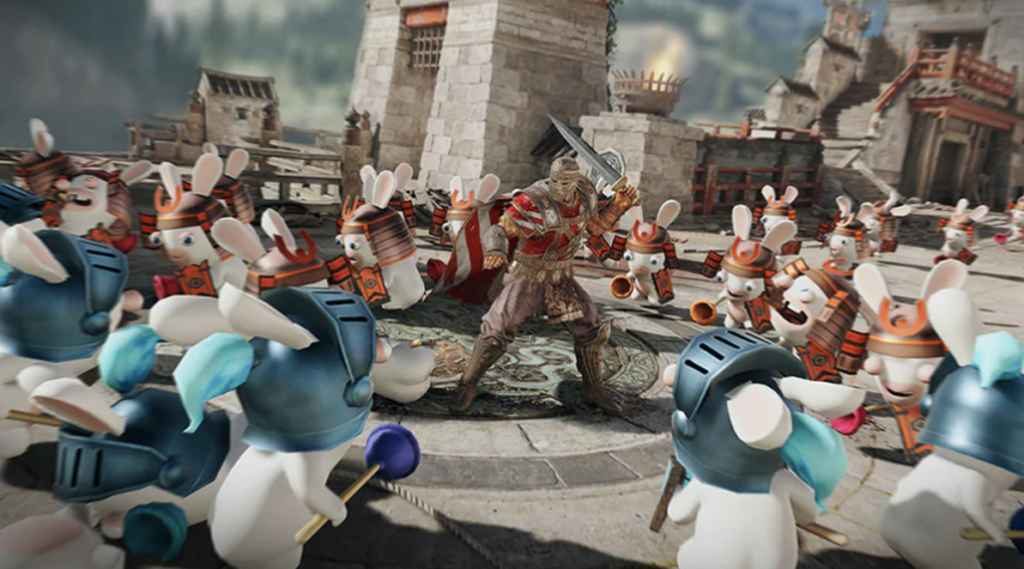 Yep, you read that correctly: Ubisoft has launched a For Honor-Rabbids crossover event to commemorate April Fool's Day.
Available for today only until 9pm PDT (that's 5am on Tuesday the 2nd April BST), the event sees the adorable and not even remotely irritating creatures known as Rabbids take the place of For Honor's minions, giving the game's beleaguered grunts a break from their tortuous existence as human cannon fodder.
It's not just a bit of fun, however. Anyone who participates in the event over the next few hours will earn a melee pack as a little reward. Okay, so it is mostly a frivolous excuse to celebrate a day of exasperating practical jokes, but still: a free melee pack is a free melee pack.
Ubisoft's For Honor-Rabbids Crossover Event Arrives as Part of the Year of the Harbinger
Though brief, the For Honor-Rabbids crossover event is nevertheless part of the game's Year 3 content drop.
Kicking off a few weeks' back with the release of a brand-new map, Harbor, and the Black Prior playable character, the Year of the Harbinger, to give it its proper title, will expand the game with even more heroes, maps, and seasonal events over the coming year. Along with regular gameplay updates.
"A Must Have"
For Honor, which was available at no extra cost to PS Plus subscribers in February, received a score of 8.5/10 when PSU's John-Paul Jones reviewed the game back in 2017. Due in no small part to its superb combat mechanics.
A small handful of flaws aren't quite enough to dull the appeal of For Honor's peerless combat and deceptive depth. For Honor looks like it'll be my go-to multiplayer game for quite some time and if you give it a go, chances are it'll be yours, too.

For anyone with even the slightest love of melee combat, For Honor is a must-have.
Source: Ubisoft – Image Credit: GamesRadar