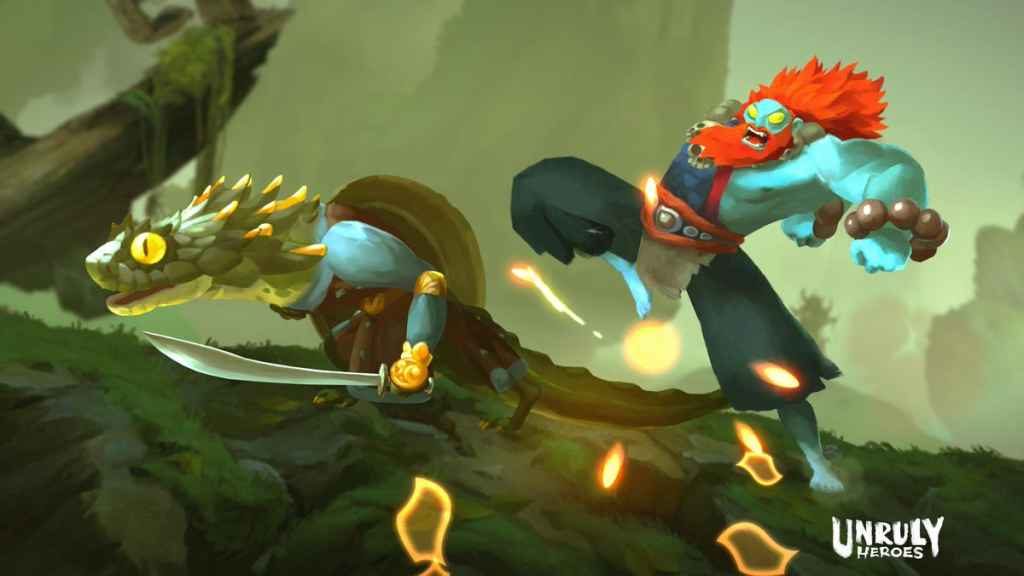 Having arrived on Xbox One, Nintendo Switch, and PC at the beginning of 2019, French developer Magic Design Studios has finally confirmed that gorgeous, co-operative action-platformer Unruly Heroes will be coming to PS4 on Tuesday the 28th May.
What is Unruly Heroes?
For those who've not heard of the game before, Unruly Heroes is far more than a typical co-operative action-platformer.
First and foremost, it's based on one of China's most popular folk-tales: The Legend of the Monkey King. A story that is not particularly well-known in the west.
Set against the backdrop of one of China's most beloved folk-tales, The Legend of the Monkey King, Unruly Heroes places the player in the shoes of our titular heroes – Wukong the Monkey King, Sanzang the Sleepy Monk, Kihong the Greedy Pig, Sandmonk the Sensitive Brute – as they journey through a beautiful, hand-drawn world facing an ever growing horde of enemies and challenging platforming puzzles.
Moreover, though the game's hand-drawn and utterly charming visuals might suggest a gentle platforming experience, Unruly Heroes boasts a combat system that is aptly described by the developer as "simple to pick up, but hard to master".
"On the surface, Unruly Heroes can be mistaken for a traditional platforming game", explains lead designer Sebastien Delord. "But we really hope with the launch of the PS4 version we will be able to connect with a new audience who will really understand the amazing challenge that our game has to offer for lone players, groups of adventurers or those who like to go head-to-head against friends."
Unruly Heroes PS4 Release is the First to Receive the Challenge Update
To celebrate the game's PS4 release, meanwhile, Magic Design Studios will be debuting the raft of new features set to arrive as part of the forthcoming Challenge Update. These being two additional difficulty levels, a photo mode, bonus character skins, and a handful of gameplay/control tweaks.
Unruly Heroes will be available for just £17.99/$19.99 when it lands the PlayStation Store at the end of this month. Though PS Plus members will be able to take advantage of a 20% discount for a full week after the game launches.