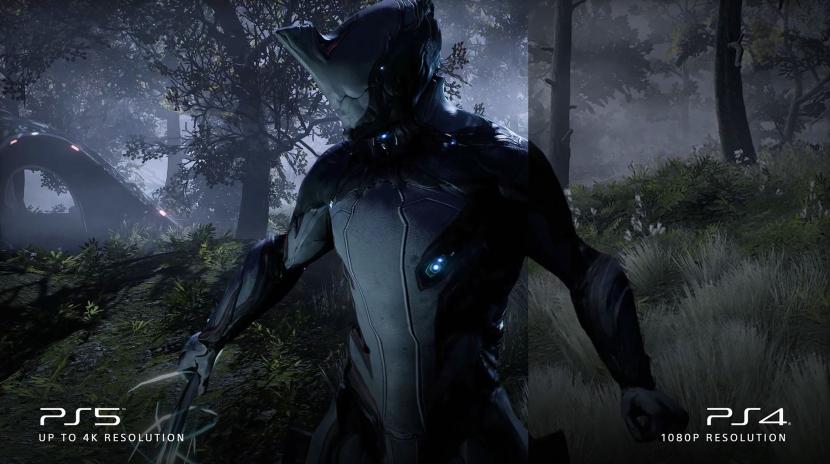 Digital Extremes has announced on the PlayStation Blog that Warframe will be heading to PS5 in 2020 with a variety of enhancements. The game was previously a launch title for the PS4 back in 2013, and has seen huge success of the past seven years – hence why it's being remastered, no doubt.
Warframe PS5 Announced And Detailed
Warframe is undergoing an extensive facelift for Sony's next-generation console. For starters, dynamic lighting is being implemented, and players will be able to team up with those on PS5 and PS4, with Cross Play and Cross Save all available.
Dynamic lighting brings all of our open worlds to life, more immersive than ever before. From the neon underbelly of Fortuna, to our newest landscape on the Infested moon of Deimos… there's no better place to see the stunning differences. The way light from the sun casts long shadows from the trees, the way foliage creates dynamic shadows as you stalk through it, or in the reflections on your Warframe as you stroll through the densely-packed market square of Cetus.
Elsewhere, the PS5 version of Warframe will boast crisper textures than its PS4 counterpart, and you'll be able to run the game up to 4K and 60 FPS. As expected, loading times are also faster on Sony's new hardware than the previous console. Digital Extremes is calling it a game-wide remaster.
In addition, the studio has confirmed that PS5 owners will be able to claim exclusive rewards, including the PS+ Booster Pack and celebratory in-game Alerts. Plus, Warframe on PS5 will take advantage of the console's Activities feature, including Progress Activities that reveal how close you are to earning a Trophy, to Challenge Activities that launch you into the action with no need to load the game.
Warframe is coming to the PS5 in 2020, with a concrete release date yet to be announced.
[Source – PlayStation Blog]