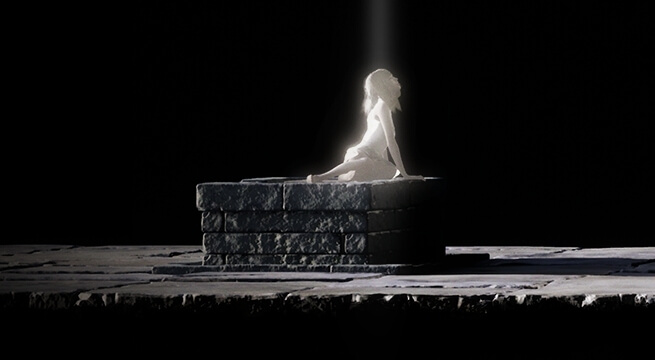 The Ico, The Last Guardian and Shadow of the Colossus developer Fumito Ueda is teasing a new game that has got fans very excited.
Via the developer's website, genDesign, a new image has got tongues wagging as to the esteemed creator's next new venture.
In the teaser image, a beam of light shines down on a young girl from above while white bird fly above her head. She appears to be in some sort of dark chamber. She's looking up at the light source, and the path of birds stretches far upwards into the distance. Perhaps she's trapped, and the light source is signaling her only way out? On the right-hand side of the picture is a large fist which appears to be approximately the same height as the girl. This suggests that the new game features some sort of otherworldly creature.

Is this a new game in the Shadow of the Colossus series?
At this point, it's merely speculation but considering that The Last Guardian creator, Fumito Ueda, recently spoke about going back to an environment similar to Shadow of the Colossus, could we be looking at the sequel? In an interview with Forbes, Ueda hinted at his next project, stating:
"I cannot talk about the details [of my next project] but… Shadow came out of the experience with Ico, [going] from a closed world to open world. When I completed Shadow, there was a moment where I wondered if I wanted to go around an open world again, and maybe I should go back to a more closed space, spending a more intimate time with something in that space. That became the starting point for The Last Guardian.

Now I've completed The Last Guardian and spent so many years in that game, maybe I may go back to the Shadow-type environment."
It's interesting that Ueda has decided to tease the new game at this point as we head closer to the February 7 release of the PS4 exclusive Shadow of the Colossus Remaster. This would be the perfect time to unleash news of a sequel and to get new fans playing the game!
Considering the long development cycles of Ueda's games, it wouldn't be unreasonable to speculate that this new title could be very early in development and we may not see it until the next-generation of consoles appear, with the release of the PS5.
Stay tuned for an update as soon as we hear more.