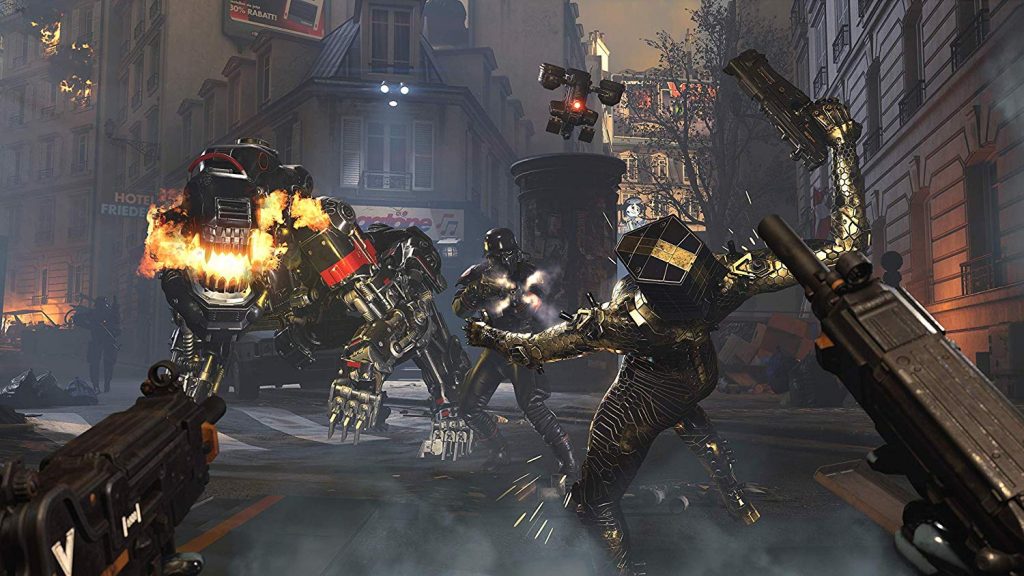 The Wolfenstein: Youngblood Update 1.0.3 Patch Notes have been revealed by Bethesda. The patch is live now on PC, with it coming to PS4 and Xbox One soon.
On an overall level, Update 1.0.3 for Wolfenstein: Youngblood aims to address critical issues and game crashes that prevent players from progressing. Bug fixes are also included when it comes to in-game audio and trophies.
What Are The Wolfenstein: Youngblood Update 1.0.3 Patch Notes?
The Wolfenstein: Youngblood Update 1.0.3 Patch Notes are as follows:
Audio fixes: Fixed issues causing sounds to suddenly "drop out."
100% Completion & Achievements: Fixed issues that could prevent players from reaching 100% completion of Wolfenstein: Youngblood. (Finding everything in the game.) This includes players being unable to previously complete the Partisan achievement.
PlayStation 4
Fixed a multiplayer crash that would occur if the Client player pressed an elevator button while the Host player was in the Journal menu on the Weapons tab.
Audio Fixes
All Platforms
Fixed an audio dropout issue that could occur when toggling the Kugelgewehr flashlight on and off. This audio dropout would persist until the game was restarted.
Fixed an issue that would occasionally cause sound effects to cut out when using the flashlight.
Reduced the frequency of an issue that caused a variety of audio issues (volume levels, dropouts, etc.) when killing multiple [censored] rapidly with the ElektroKraftWerk weapon.
Rebalanced several VO levels to bring them in line with the rest of the game.
Gameplay Fixes
All Platforms
Fixed an issue preventing Client players from picking up heavy weapon ammo from downed enemies if they had the Bigger Guns perk. All players with the Bigger Guns perk will now be able to pick up heavy weapon ammo dropped by enemies.
Resolved an issue that was causing Client players to do substantially more damage than higher-level Host players in co-op.
Fixed an issue where the "Lothar and Juju's Trap" mission could become blocked if the player first completed the "Missing Partner" mission as a Client player.
Fixed an issue that could allow drones to spawn from drone towers even after players turned them off with the floppy disk code.
PlayStation 4
Fixed an issue that could cause the Ubergarde to fail to spawn in the Da'at Yichud Labs area. This enemy should now spawn correctly for all users.
Art, Graphics, and User Interface Fixes
Fixed an issue that could cause objective markers for the "Destroy the Machines" mission to display in-world and on the minimap when the mission was not active.
Fixed an issue that was causing elevator buttons in the Tower 2 landing pad to flicker between displays, resulting in players sometimes choosing the wrong floor despite it appearing correct.
Fixed an issue where Lothar was missing teleport animations and visual FX for Client players.
Fixed some areas of missing fog that was affecting vistas.
Added a notification to warn players of poor network conditions.
Achievements/Trophies and Game Completion Fixes
All Platforms
The "Revive" tutorial somehow went missing. We have added the tutorial back into the game and players can now complete the game to 100%.
Fixed an issue that was preventing some players from unlocking the "Partisan" achievement despite meeting the criteria.
The Wolfenstein: Youngblood update 1.0.3 patch notes above showcase everything being fixed in the PS4 version, when the patch launches in the coming days. You can see the notes for every platform on the Bethesda Blog. We reviewed Wolfenstein: Youngblood when it released and found it to be a fun and thrilling combat-focused ride.
Wolfenstein: Youngblood is available now on PS4.