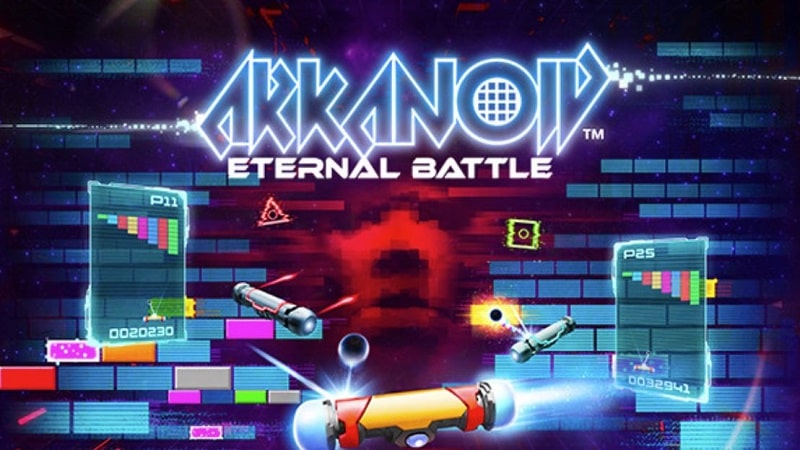 Arkanoid – Eternal Battle PS5 Review. feels like an overdue attempt to bring the titular 80s block-busting arcade game into the hands of contemporary gamers and like most retro revamps, Eternal Battle brings a fancy new feature to the table in order to underscore its relevancy. That new feature, if you haven't guessed already, is a lean into the Battle Royale genre, allowing players to play against multiple others en route to a last man (or slider, really) standing scenario. How does the overall package fare though?
Arkanoid – Eternal Battle PS5 Review
---
An Attractive Re-Release Of An 80s Arcade Classic That Needs More Meat On Its Bones
Developed by retro specialists pastagames (who brought us the underrated Pix the Cat and Pang Adventures), Arkanoid – Eternal Battle looks to maintain the essence of the classic arcade game and largely succeeds in doing so. For the uninitated, the basic concept of Arkanoid is wonderfully straightforward.
Viewed from a top down perspective you have a Pong style paddle which is locked to the bottom of the screen with the goal simply being to 'bat' a projectile ball up the screen and into the blocks until there are none left, allowing you to move onto the next stage. Spicing up the concept a tad are the aliens floating around the screen that can wreck your paddle if they make contact with it, blocks that take multiple hits to destroy and numerous power ups that can enlarge the size of the paddle, provide multiple balls and other upgrades besides. It's simple, timeless stuff that pretty much anybody can pick up and play.
For old crusties like yours truly, Arkanoid – Eternal Battle thoughtfully includes the classic version of the Arkanoid arcade game, allowing a single player to fling and smash their way through one of the better games to emerge from the 1980s coin-op scene. With its arcade style cabinet frame and decently emulated visuals and sound, it made me feel like I was 36 again – great stuff.
In terms of the other modes that Arkanoid: Eternal Battle brings to the table, an all-new, all-singing, all-dancing NEO mode takes the original arcade concept and adds all new levels and power-ups for players to embrace. As well as all that, NEO mode also attempts to fashion a visual presentation that is much more contemporary, creating a more visually pleasing offering in the process. It's hardly a Tetris Effect level makeover to be clear, but the vibrant colours, neon inflected animations and sharp presentation are both warmly welcomed all the same.
A fairly traditional versus mode that enables two players to duke it out in NEO styled levels turns out to be a neat treat, as folks compete against each other to destroy the most blocks (or 'Spacewalls' as they're sometimes referred to), but it's really the titular Eternal Battle mode that attempts to be the star of the show.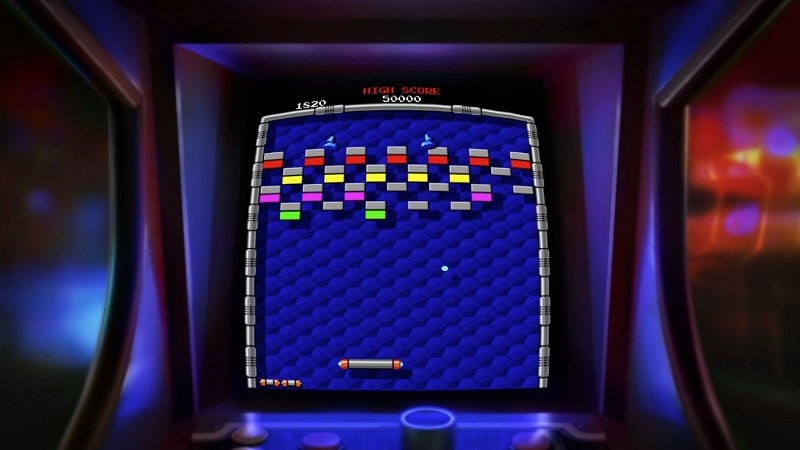 Essentially a fusion of the classic Arkanoid formula and Battle Royale concept, Eternal Battle has up to 25 players competing against each other online where the player with lowest score is gradually eliminated until there is just one player remaining. As you might well expect, Eternal Battle is a fair amount of fun – but it only really is when you have other folks to compete against and herein lies the problem. Quite simply, the player levels just aren't there for Arkanoid: Eternal Battle and in the ten or so times I played Eternal Battle mode, every single session had the numbers being made up by AI controlled opposition (even with Cross Play enabled).
Though that particular issue is the less the fault of the game itself, it's certainly reasonable to posit that at around $30, with four modes and its marquee attraction defined by a player base that hardly shows up, Arkanoid: Eternal Battle doesn't exactly justify its price tag in the way that it should. Nonetheless, Arkanoid – Eternal Battle maintains the essence of its arcade forefather and remains a resolutely accessible and enjoyable game that pretty much anybody can easily play.
The marriage of Arkanoid with the Battle Royale concept is a welcome one and equally warmly received is the inclusion of the classic Arkanoid for older gamers or those who are inquisitive enough to reach back far into those halcyon days of arcade gaming. However, a distinct lack of modes and a seemingly lukewarm player base effectively cut the legs out from under Arkanoid: Eternal Battle's titular and marquee mode.
Arkanoid: Eternal Battle is out now on PS4 and PS5.
Review code kindly provided by PR.