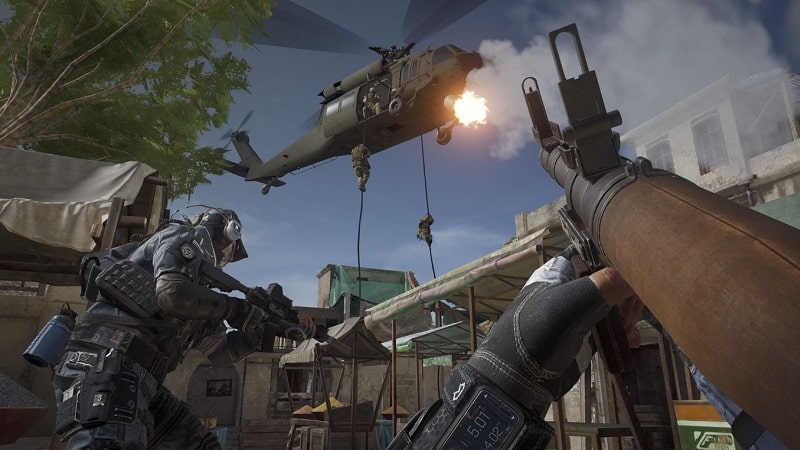 Crossfire: Sierra Squad PSVR 2 review. Crossfire: Sierra Squad is absolutely not Call of Duty in VR. I feel like we need to get that fact out of the way first, not least because the choice way in which the trailers have been cut for Crossfire: Sierra Squad do in fact go someway towards cementing the false belief that it could be. Perhaps more importantly, what Crossfire: Sierra Squad actually is might surprise you somewhat in that it aims to be a finely crafted arcade shooter rather than a spectacle driven genre effort, which while fine on its own, also happens to be tarnished somewhat by a handful of flaws.
Crossfire: Sierra Squad PSVR 2 Review
---
An Arcade FPS That Feels Like A Welcome Throwback To An Earlier Time In VR Gaming
Like any VR FPS worth its salt nowadays, Crossfire: Sierra Squad wastes no time in thrusting players into its tutorial mode which does a predictable job of leading folks by the hand and showing them how all of the various firearms, grenades and other such gadgets work. Once you're into the game proper, Crossfire: Sierra Squad actually offers up a good chunk of face-blasting for you to get into, with more than sixty missions that can be played in solo, fifty that can be played with a friend co-operatively and a Horde Mode which can be tackled with up to four flesh and blood partners.
In terms of any kind of story, there is one but there may as well not be one, which is to say that it's the most generic sort of plot you can imagine. Essentially, there are two militaristic factions that are waging war in different countries and areas across the globe and you find yourself, as part of the titular Sierra Squad, thrust into various hot-spots in a bid to uncover the truth behind the conflict. With characters that simply go by single names like 'Carlos' and 'Terry' (Terry in particular has an accent that oscillates between generic soldier dude #17 and Wish Jason Statham) and overly dramatic or just flatly delivered dialogue, it's fair to say that Crossfire: Sierra Squad's narrative is not its main selling point.
Clearly what is the main selling point of this whole package, is the arcade shooter beats that the trailers don't really do justice to. Indeed, the trailers for Crossfire: Sierra Squad make it look like Call of Duty VR but it's really not – instead each mission takes place in a small space while enemies rush at you from pre-determined spawn points and you move around the environment, slipping in and out of cover, as you lay waste to them in turn until the mission ends and you go onto the next. As such, Crossfire: Sierra Squad feels more akin to a light gun game in VR, such is extraordinarily reduced agency available to you. This is fine however, since Sony's PSVR 2 hardware could always do with decent arcade shooters and Crossfire: Sierra Squad certainly qualifies.
With Crossfire: Sierra Squad being an arcade shooter then, many of the expected caveats apply, such as relatively dunderheaded AI (they can hide into cover when being shot at, but otherwise will charge out into the open at the most inopportune times to get blasted), bullet sponge enemies and other such traditional aspects of the genre that you may have thought were left behind some time ago. With that, other aspects of the traditional arcade shooter are brought to bear here also, such as conveniently placed explosive red barrels and challenging boss battles.
There's also the decent bones of a progression system here too, with experience points rewarded for completing squad missions which can then be traded in for perks, attachments for various weapons and so on and arguably once the credits roll on the single-player campaign, it'll be here that you'll be spending the bulk of your time – buying new weapons and gadgets to change your loadout as you seek to tackle more challenging, squad-based missions.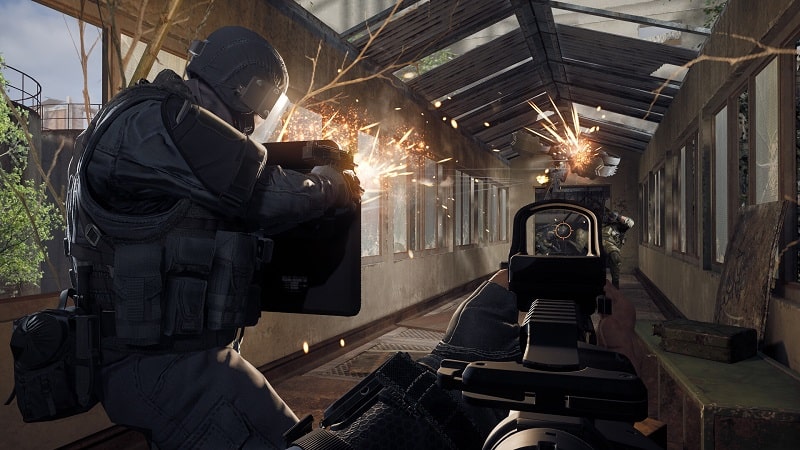 For the most part too, Crossfire: Sierra Squad is a whole heap of fun to play, with its variously bite-sized levels (which can be clocked in anywhere from 15 minutes to half an hour or so) proving out in terms of providing short, sharp bursts of entertaining gameplay that finds itself amplified when tackled with a friend – the exception of course being the single-player only campaign missions. Arcade FPS fans will also happy to discover that Crossfire: Sierra Squad boasts more than forty different firearms, taking in everything from assault rifles and sniper rifles, through to vehicle-destroying RPGs.
Speaking of which, weapon handling is also well implemented for the most part too. Handling and aiming the various machine guns and automatic rifles feels appropriately intuitive, as you simply peer down through the scope to accurately shoot at enemies that are some distance away. The sniper rifle meanwhile feels especially neat, as you grip it with both hands and effectively 'steer' the scope into your eye, making you feel somewhat exposed as your whole world essentially shrinks to the aperture of your sniper scope. They all feel great too, with the PSVR 2 Sense Controllers rattling and feeding back appropriately each time you squeeze the trigger.
Elsewhere, reloading is not a fully manual process but rather as you lift the magazine from your belt to put it into your gun, you only need to get the magazine in the vicinity of the clip slot for it to load in. Sure, it's not the sort of hardcore reloading mechanics you would get in something like Pavlov VR, but then again, Crossfire: Sierra Squad is a breezy arcade-style FPS that is absolutely not trying to mimic the likes of Pavlov VR – so this makes sense. The only area where Crossfire: Sierra Squad stumbles (at least for me), is when it comes to throwing grenades. To me at least, it felt like there was a degree of lag after pulling a pin on an exploding pineapple and then throwing it, with the net result being that the grenade would often land closer to me than I would like. That said, I'm quite aware that there is probably a learning curve attached to doing this properly, but even so, it still felt like there was an odd degree of latency that should not have been present.
Perhaps the biggest ace that Crossfire: Sierra Squad conceals up its digital sleeve however, is a neat realism mode that becomes available once all the missions in the single-player campaign have been completed. Once activated, not only does it reduce all of the UI elements, but it also removes the bullet-sponginess of both you and your enemies, effectively turning what seems like a fairly breezy arcade shooter into a more ruthlessly tense affair, providing the game with even more replay value than it already has.
Visually, Crossfire: Sierra Squad is nothing to write home about. While the resolution and image quality is generally decent, the sophistication of the character models and environmental assets is generally quite average and relatively basic, doing little to take advantage of the PS5 and PSVR 2's combined technical grunt to create something approaching a cutting edge presentation.
Crossfire: Sierra Squad isn't Call of Duty VR and neither is it an ultra-realistic, tactical shooter in the vein of Pavlov VR. What it is however, is an eminently enjoyable appreciably straightforward arcade FPS that fees great to play, respects your time and has bucket loads of progression and replay values for folks looking to get stuck in over the long term. Crossfire: Sierra Squad is quite the pleasant surprise to say the least and sets down a compelling blueprint for other arcade style FPS offerings on PSVR 2 to follow in the future.
Crossfire: Sierra Squad is out now on PSVR 2.
Review code kindly provided by PR.