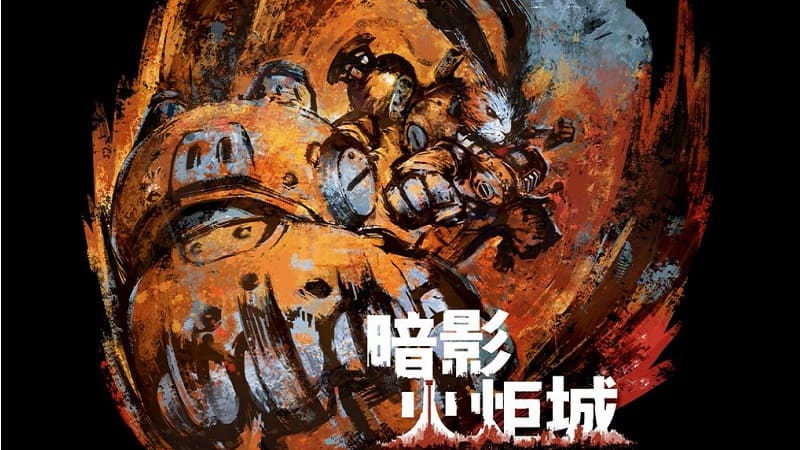 F.I.S.T.: Forged In Shadow Torch PS5 review. Let's be honest, as far as anthropomorphic protagonists go, Rayton, a gruff looking (and sounding) rabbit with an oversized cybernetic fist, is pretty badass to say the least. Somewhat emblematic of the game at large then, F.I.S.T.: Forged In Shadow Torch is a roundly entertaining and exceedingly technically accomplished effort that marks itself as a formidable inaugural effort from Chinese studio Ti Games.
F.I.S.T.: Forged In Shadow Torch PS5 Review
---
An Eye-Opening Metroidvania With An Evocative Chinese Dieselpunk Setting
Matching the gruffness of our hero is the setting that he finds himself in – a visually arresting dieselpunk take on early 20th century Shanghai where neon-lit splendour coalesces with more traditional architecture and environments. It's certainly quite the eye-opening setting and one that provides an enticing backdrop to the Metroidvania gameplay that serves as the bedrock for F.I.S.T.: Forged In Shadow Torch.
The premise of F.I.S.T.: Forged In Shadow Torch is straightforward. After the murderous Machine Legion rocks up and occupies Torch City, a huge city filled with all manner of anthropomorphic characters (or, 'furtizens' as they're called) looking to make their way through life, our hero Rayton is forced back into the struggle to upend the occupation of Torch City from its new mechanical overlords, becoming intertwined with friends of the past, the local mafia and more besides to keep an otherwise well-trodden narrative about rebellion appropriately spicy and compelling.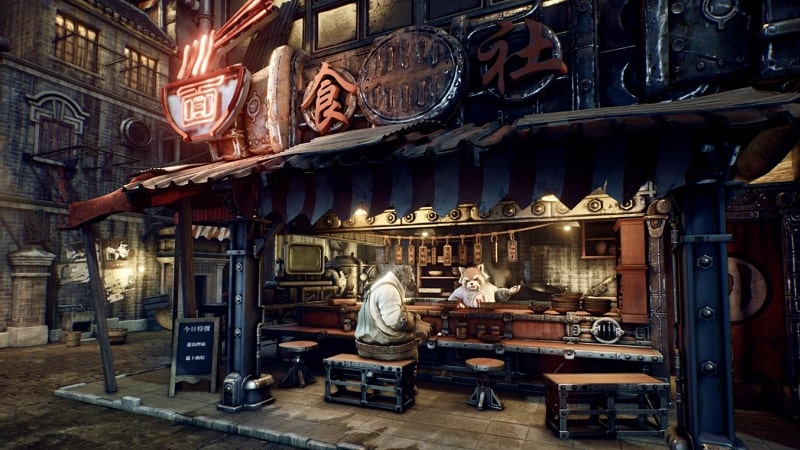 Where F.I.S.T.: Forged In Shadow Torch does its best work somewhat predictably is in how deeply it embraces the tenets of the two-dimensional Metroidvania template, deftly blending the requisite elements of platforming, combat, progression and exploration into a neatly cohesive whole that often times feels greater than the sum of its parts.
Of all the elements that F.I.S.T.: Forged In Shadow Torch clutches close its heart, combat is arguably the best executed. Much more than the usual, almost near-automatic melee combinations that other Metroidvania efforts employ, F.I.S.T.: Forged In Shadow Torch has players unleashing a range of different unlockable combinations across three very different weapons in a fashion that not only feels varied, but scales appropriately with the new abilities and skills that you unlock throughout the game.
Beyond the functional sophistication of the system, it's certainly notable just how deliciously crunchy combat feels too, as every hit landed feels like a satisfying physical act rather than some abstract lesson in violence. In addition to smacking around enemies, you can throw one enemy into another and blend that approach with the various unlockable skills and abilities that equip you for more challenging confrontations.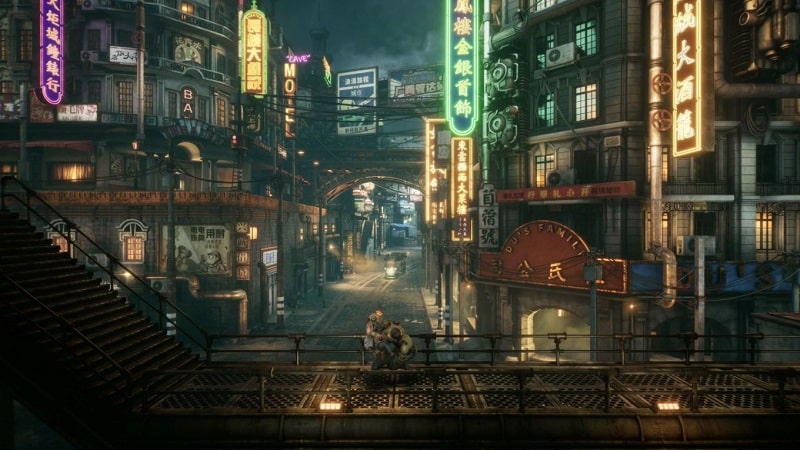 Having an accomplished combat system is one thing, but having an appropriately equal array of foes is quite something else and happily I can report that F.I.S.T.: Forged In Shadow Torch scores highly here too. Though the visual stylings of the enemies you'll encounter in F.I.S.T.: Forged In Shadow Torch are fairly uniform (they are a bunch of grey/metallic hued robots after all), their attack styles and patterns run the full gamut of melee and ranged attacks, together with their own combos, unblockable attacks, evasions and more.
Elsewhere, the boss fights that conclude each major section of the sprawling metropolis of Torch City represent a perfect test of your skills, with all manner of sword wielding cyborgs and massively modular robots providing a sufficient gauge of your robot smashing competency. Quite simply, the combat in F.I.S.T.: Forged In Shadow Torch is a whole heap of fun and you'll often find yourself running towards a fight, rather than away from it.
Looking past the combat of F.I.S.T.: Forged In Shadow Torch, the platforming also reveals itself to be implemented by what appears to be practiced hands and is satisfying in near equal measure. Our bunny-eared hero's leaps feel both responsive and land precisely, while other abilities such as a double jump, wall jump, climbing leap and speed dash provide a decent amount of breadth to our hero's platforming acumen.
Complimenting the platforming side of things in F.I.S.T.: Forged In Shadow Torch, the exploration is exactly what you would expect from a game that clings as tightly to the Metroidvania temple as this. As such, you can expect to be unlocking new upgrades and skills that allow you to explore previously inaccessible areas and which also means, somewhat frustratingly to those not initiated in the genre, a whole heap of backtracking to boot.
Unfortunately the tediousness of that backtracking is exacerbated somewhat by a distinct shortage of fast travel points, meaning that the duration of such backtracking often becomes egregious rather than just merely irritating. That said however, such backtracking forms only a minor portion of the overall offering that F.I.S.T.: Forged In Shadow Torch provides and instead, the delightful combat and entertaining exploration (when you aren't backtracking) proves to be sufficiently joyous on balance.
Furthermore, like all of the best Metroidvania offerings, F.I.S.T.: Forged In Shadow Torch boasts a veritable bounty of secrets and additional content for the player to seek out – a fact that not only underscores the progression mechanics but which also provides ample incentive for the player to pursue them too.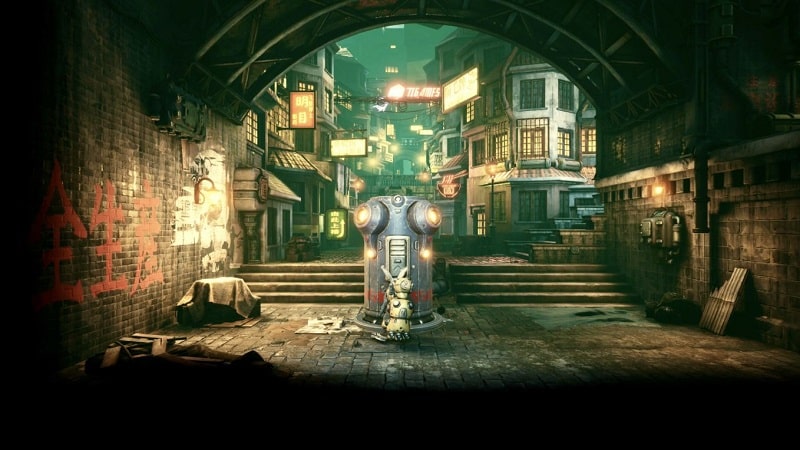 Originally when it was announced as part of Sony's China Hero Project, which would effectively serve as an incubator for Chinese developed PlayStation games, it was clear that a massive chunk of F.I.S.T.: Forged In Shadow Torch's appeal lay in just how striking it looked.
Developed in Unreal Engine 4, F.I.S.T.: Forged In Shadow Torch manages to look both technically and artistically accomplished, with extravagant lighting, shadow effects, highly detailed environments together with smooth animations that all beautifully underscore the opulence of the Chinese dieselpunk setting. Certainly, it's difficult to not be somewhat stunned by the visual craft that developer Ti Games has employed here and F.I.S.T.: Forged In Shadow Torch is arguably up there with some of the most attractive offerings in the Metroidvania genre.
Though F.I.S.T.: Forged In Shadow Torch doesn't quite exist in the same lofty orbit as the genre's absolute finest examples such as Hollow Knight and Dead Cells – the platforming just is not as silky smooth as the former and the combat isn't as flexible and creative as the latter, not to mention the fact that it seems content to not really introduce anything truly new to the genre – it nonetheless remains a highly entertaining and compelling take on the Metroidvania subgenre all the same and one that marks a striking debut for its Chinese developer.
F.I.S.T.: Forged In Shadow Torch releases for PS4 and PS5 on September 7, 2021.
PS5 review code kindly provided by developer.