Gran Turismo 7 PSVR2 Review. When Gran Turismo 7 ended up in my grubby paws just over a year ago I was thrilled. From the implementation of a pleasingly chunky single-player experience and the subtle tweaking of the car handling model to the stunning visuals, it really felt like that after so long, Gran Turismo was *back*. As lofty as the deserved accolades were that Gran Turismo 7 received last year, PSVR2 helps Polyphony Digital's resurgent series entry ascend to all new heights, providing the sort of full-fat, VR racing experience that was so sorely missing from Gran Turismo Sport's implementation with the original PSVR headset a few years back and one of the PSVR2's best games into the bargain.
Gran Turismo 7 PSVR2 Review
---
Polyphony's Resurgent VR Racer Elevates The Series And Is One Of The Best PSVR2 Games
The most important thing to realise first of all is that Gran Turismo 7 on PSVR2 allows players to play the entirety of the core racing experience in full, with the exception of the local split-screen multiplayer mode for obvious reasons. This means every race, every championship and every tournament can be played in every car that you were able to drive in the non-VR version of the game.
Going from non-VR to PSVR2 is a seamless experience where Gran Turismo 7 is concerned. Not only does it use the same save file (allowing you to carry progress into the VR realm), but so too can you hop back into the non-VR experience by just taking off the headset. It really is that simple. As such this is many magnitudes better than what Gran Turismo Sport achieved in 2019, whereupon PSVR was only leveraged for a few select modes and nothing else.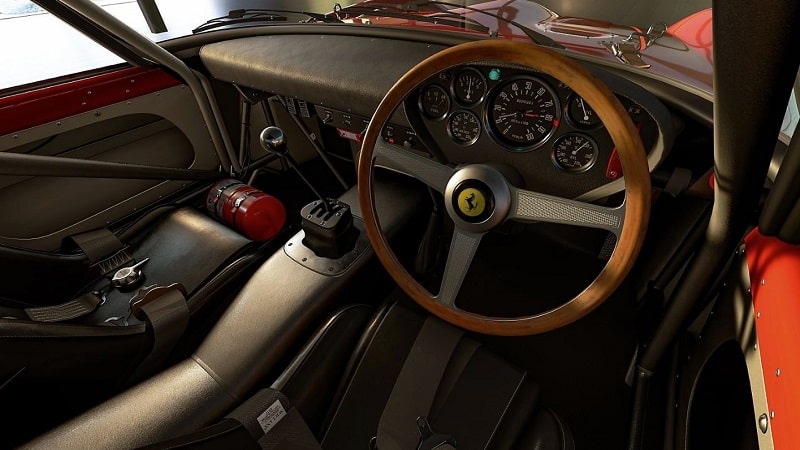 What's also equally important to note though, is that entirety of Gran Turismo 7 isn't VR enabled – only the races and a VR showcase mode where you can stare lustily at high performance cars in full 3D are. So this means that when you're navigating around the various menus, movies and so on, Gran Turismo 7 seemingly plays like a non-VR game being channelled through the PSVR2 headset and it's not until you start a race that the switch over to full VR occurs. While this is fine, the fact that there isn't much in the way of explicit guidance when it comes to this is slightly frustrating, not least because when you put on the PSVR2 headset and start Gran Turismo 7, it boots up like any non-VR PS5 title normally would.
Once you're into a race however and the PSVR2 properly takes over, the core experience of Gran Turismo 7 is elevated to an all-new level. Perhaps the most surprising thing is just how well Gran Turismo 7 on PSVR2 compares to the non-VR version of Gran Turismo 7 from a visual perspective. While the pristine sharpness of Gran Turismo 7's 4K resolution presentation on PS5 isn't quite replicated here and neither is quite the same level of detail, the clever use of foveated rendering coupled with a still pretty high resolution output manages to keep Gran Turismo 7 on PSVR2 looking eerily close to its non-VR counterpart while also cementing its place as one of the best looking PSVR2 titles on the market.
Further Reading – New PS5, PS4 Games Release Dates In 2023 And Beyond – All Upcoming PS5, PS4, PSVR2 Games
Certainly, Gran Turismo 7 kicks out the sort of fidelity and similarity with the non-VR of the game from a technical standpoint that Gran Turismo Sport on the previous generation of PSVR simply couldn't pull off. Much more than just surface eye candy, the fidelity of Gran Turismo 7's presentation on PSVR2 is such that when you find yourself instinctively checking your rear and wing mirrors, the image presented in both of those mirrors isn't some blurry mess, but rather a high detail representation of what's coming up behind you, to be actually usable during any given race.
By essentially anchoring the experience to Gran Turismo 7's first person perspective, PSVR2 allows players to make the most of the litany of highly detailed dashboards and interiors that Polyphony Digital has crafted for each car. From the material on the dashboards themselves, to the gear stick, steering wheel, speed displays and even the area around the passenger seat, all of the art that Polyphony had put into the first-person perspective view of Gran Turismo 7 can finally be appreciated at last.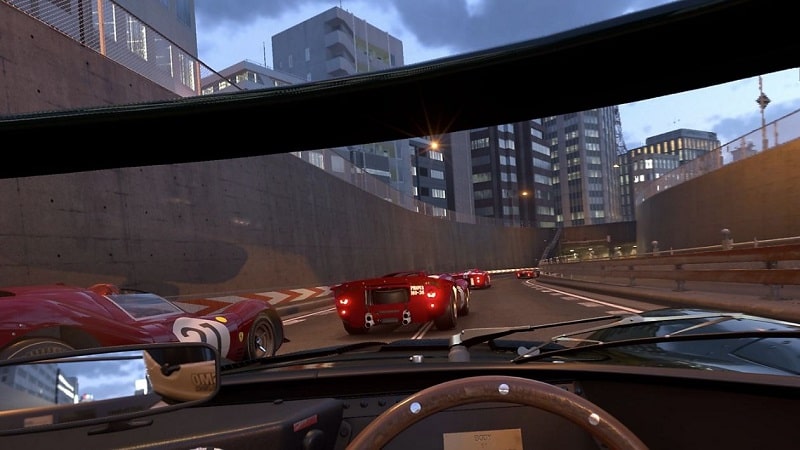 In terms of control inputs, Gran Turismo 7 on PSVR2 thankfully doesn't shoehorn wannabe racing drivers into using the PSVR2's Sense controllers, but rather allows players to bring whatever controller they like to the dance. This means that in addition to the DualSense and DualSense Edge controllers, Gran Turismo 7 on PSVR2 also supports a selection of racing wheels too for those lucky enough to own one.
Perhaps the greatest boon that comes from playing Gran Turismo 7 on PSVR2 brings is that not only is your sense of depth perception is much more acute, makes taking corners and performing close-knit manoeuvres seemingly more effortless than before, but the sense of speed and heft just cannot be understated. There's nothing like tearing down the Tokyo Expressway and looking over to the car to your left just as you overtake at them and drift into a corner, as it all just feels so natural.
Further Reading – Upcoming PS5 Games – The Most Anticipated PS5 Games Coming Soon In 2023
As much as the impressive capabilities of PSVR2 parlay into a grand visual presentation, so too does the Tempest 3D audio tech give an exemplary workout as well, providing players with a super accurate pinpointing of drivers that might be trying to overtake them at any given moment. Whichever way you slice it, Gran Turismo 7 on PSVR2 is a sublime showcase of its audiovisual capabilities.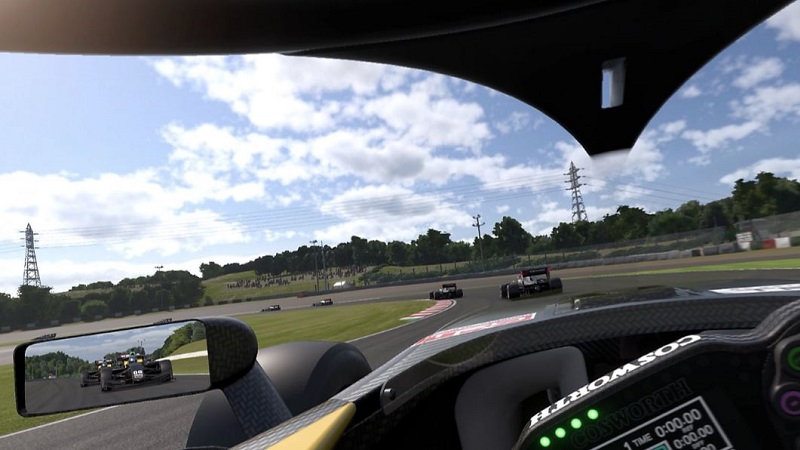 Haptic feedback meanwhile is provided by a generous implementation on the PSVR2's headset, with every knock, smash, hit and engine-strangling drift coming palpably through the headset at any given time, the haptic feedback leveraged by Gran Turismo 7 serves to further the immersion still provided by Polyphony Digital's first proper foray into VR racing.
A fitting way to celebrate the first year anniversary of Gran Turismo's resurgence, Gran Turismo 7 on PSVR2 is a tour de force showcase that not only brings the vast gulf that exists between the original PSVR and PSVR2 into stark relief, but also how provides a masterclass on how racing can and should work in VR. A triumph that elevates the core experience, I couldn't imagine playing Gran Turismo 7 any other way from now on.
Gran Turismo 7 is out now and the upgrade which enables the PSVR2 functionality is free to anybody who owns the game on PS5.
Original Gran Turismo 7 PS5 code kindly provided by Sony PR.