It feels strange to say Leisure Suit Larry's latest game feels like a return to form, because that form feels rather strange (and as out of place as its protagonist finds himself) in the many years since it was last relevant. Does that matter though? Can you take it for what it is in 2019? Well, apparently yes, you can.
Leisure Suit Larry – Wet Dreams Don't Dry Still Has A Place In 2019
It's very much the kind of game Larry Laffer made a name for himself in before the infamous Magna Cum Laude and his horndog relative came along and removed any sense of humour, subtlety (yes, there was some subtlety in Leisure Suit Larry games) and inventive puzzle-solving, and instead produced a slobbering braindead horny runt.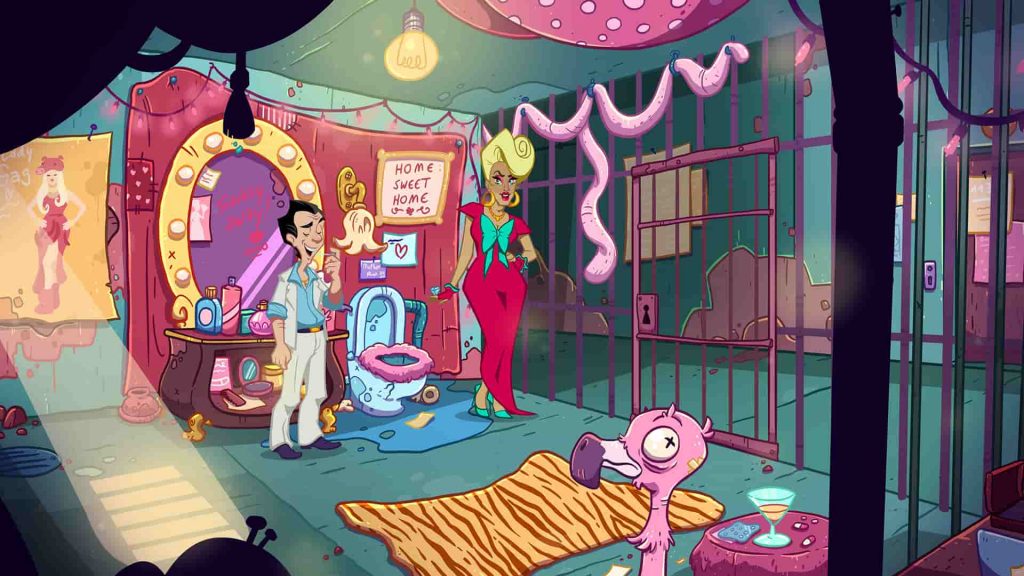 Here, we have a more traditional point n' click adventure, complete with solid puzzles and little hand holding. Surprisingly, it's pretty good for it.
Wet Dreams Don't Dry is unapologetic in its attempt to bring a little of the sleazy credibility back to the series, but whether it works or not entirely depends on its titular lead, and how he is framed.
Larry Laffer, for all his…ahem…charms, is not exactly the most likeable, or even pitiable, video game protagonist. His one man mission to make Austin Powers look like the embodiment of restraint has certainly not helped over the years, but let's be real here, you aren't really supposed to like Larry, you're supposed to enjoy the comeuppance his sleazy deeds get him, and revel in the cruel rejection his pestering often merits.
Even in the past, Larry was a romantic and social dinosaur, not quite understanding why he's constantly rejected when nearly all he does is try to game women into sleeping with him. Thrusting Larry into a more modern setting, not a lot has changed for Larry's chances, but the disconnect between what he thinks women want and what they're telling him has grown far wider. Larry is less fish out of water, and more a horny whale in the desert.
Wet Dreams Finally Makes Larry Laffer Into A Compelling, If Not Especially Relatable Protagonist
Larry awakens in a bunker in 1987 and emerges in 2018, and now has to tackle more modern dating issues (mobile phones and their impact on modern dating being the biggest shift and source of jokes) and much of the game's humor and interaction is built on this. Jokes do hit on a fairly regular basis, with the bum notes rarely left enough time linger (though when some particularly cringeworthy attempts misfire, they stay long in the memory).
Larry's ultimate goal is to woo tech wizard Faith, and score high on the hottest dating app, Timber (parody is not the game's strongest suit). But to do this, he must change all his 80's tactics and slot into modern dating habits. Easier said than done.
As ever, it's difficult to relate to Larry's bewilderment at his constant rejection, but it's still amusing to watch him get burned. Larry is a bit like The Office's Michael Scott in how dunderheaded and clueless he can be, bit he hasn't quite got the warmth and reliability of such a character. He can still be genuinely funny with his one-liners and self-deprecating putdowns however, and he does sort of grow as a person this time, even if it is just because he has to in order to achieve his lusty goals.
The objects of his affection are certainly better written these days, mainly because they're not portrayed as…well, objects to the same degree they once were, and it's their strength that makes Larry's constant failure all the more amusing to watch.
With this being a new development team, there's something a little off in the humour, a little nuance lost in translation perhaps, and while it'll be of no consequence to most who pick this game up, it does lose a teensy bit of what made its self-deprecating vulgarity work, but what is commendable, is that Larry is a more interesting character under new management, and the structure if this old-skool adventure plays a significant part in that.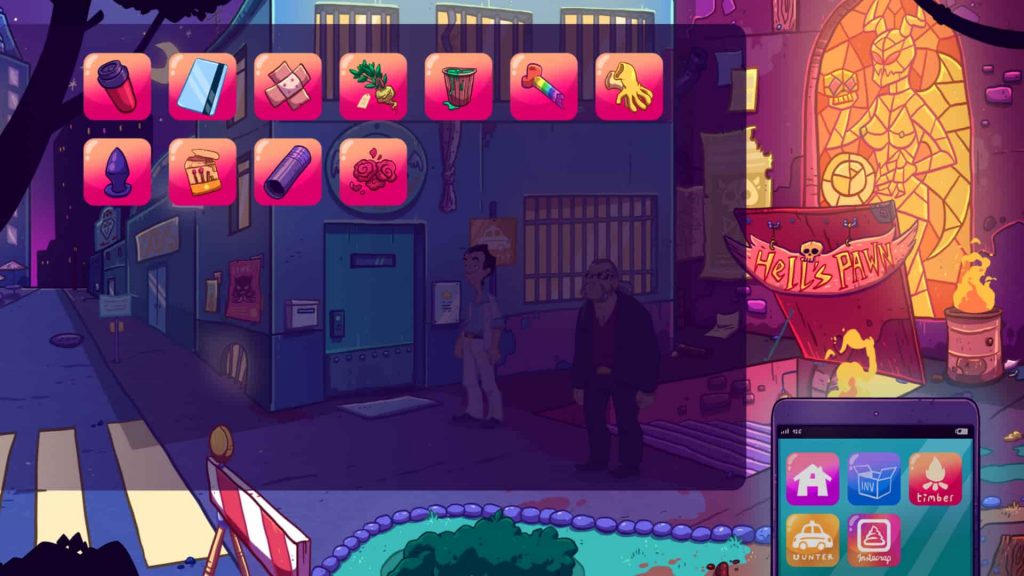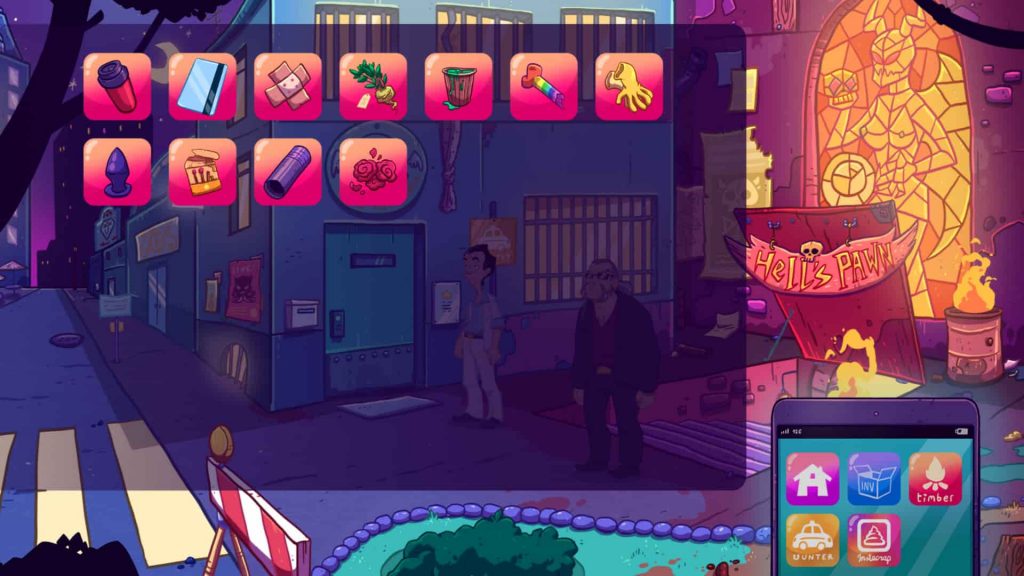 The puzzles are the highlight of the package, evoking the classic template and bring any number of weird objects and absurd interactions together to set up what is likely to be yet another romantic disaster for Larry. The humour is strongest in this area, really playing into the crassness and stupidity in inventive ways, and the reward for lining all these lusty dominoes up is to watch them spectacularly collapse.
Leisure Suit Larry – Wet Dreams Don't Dry Is An Effective Reboot For The Series
Of course, being so entrenched in old-skool ideals, the puzzles are also a massive pain in the arse at times. Some are obscure enough to warrant clicking on every interaction and trying every combination of objects in order to progress, and that can rob the joy of solving them. It's admirable that the old ways are even attempted here, but it's understandable if it causes more ire than desire
The dialogue, while generally well-performed, suffers during these lows, as you here Larry's whiny negativity again and again. Thin ice to be treading when your protagonist is already unlikeable.
These seem like minor complaints though. Wet Dreams Don't Dry takes a series that should be dead by all rights after Magna Cum Laude and hits the rest button on it, using the passage of time as a winning gimmick for the game's story. It's full of vivid colour and features a well-designed environments. As the rebirth for this smutty series, Wet Dreams Don't Dry is a surprisingly solid step forward for a relative love dinosaur.
Leisure Suit Larry – Wet Dreams Don't Dry is out now on PS4.
Review code kindly provided by publisher.