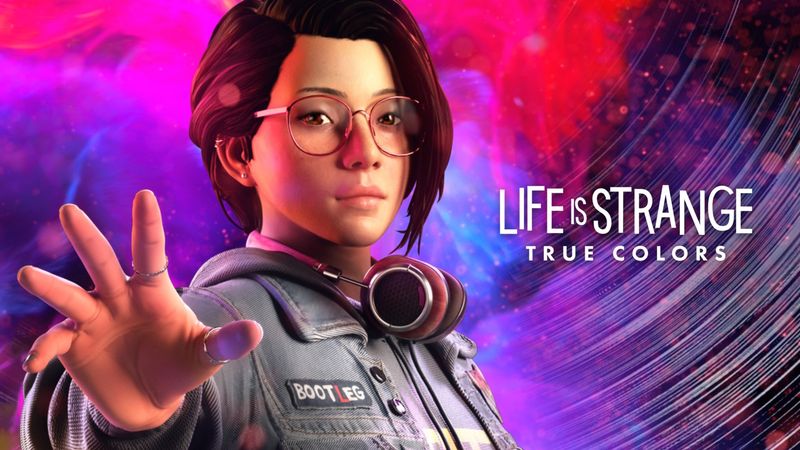 Life is Strange: True Colors PS5 Review. Deck Nine return to the Life is Strange franchise with True Colors, and in doing so they've brought about some changes to the format, and combine those changes with some of the best aspects of previous Life is Strange games. Setting the game in the same state in which their studio is based, is such an advantage. An advantage that really proves to be the heart of Life is Strange: True Colors.
Life Is Strange: True Colors PS5 Review
---
An Idyllic Small Town With A Lot Of Heart
As charming as everything in this game is, nothing is more charming than Haven Springs, Colorado. This latest entry in the Life is Strange series mostly takes place in just one street within this small town, but what it lacks in scope, it certainly makes up for in character. An idyllic, picturesque locale surrounded by gorgeous mountainous scenery, that will make you wish you could pack up your bags, and move there. Not only that, but much like the original Life is Strange, the location is as important to the narrative as any singular character within it.
I really feel as though the location is the strongest aspect of Life is Strange: True Colors. With only a few locations to explore within this singular street, and a handful of characters to engage with, it creates a familiarity, that made me want to interact more with those characters, rather than want more characters in general. Life is Strange departed from this approach in its previous season, focusing on a road trip style of storytelling. Having them refocus on small town drama, is a very welcome return, as that is Life is Strange at its best.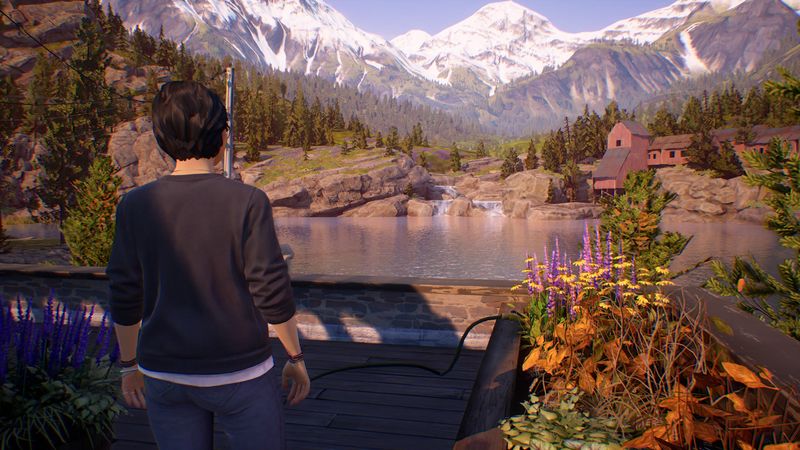 Interesting And Charming Characters
In Life is Strange: True Colors, you'll be playing as Alex Chen. Although, she has a backstory, there are aspects about her in which you can make your own as the story progresses. For example, you can decide her sexuality, and thus who you would prefer to date out of the limited romance options. Beyond that, Alex Chen is interesting, and incredibly endearing, and that is thanks in no small part to Erika Mori's voice work. Alex quickly became my favourite Life is Strange protagonist to date.
If Haven Springs is the heart of Life is Strange: True Colors, then the characters are the lungs, breathing life into this small town, with their charming personalities. I thoroughly enjoyed walking around Haven, and speaking with these characters. These are the moments of the game that I didn't want to end, and found myself craving more of by the time I had completed it. This is more of a testament to the characters they've created, than criticism of the overall narrative.
The supporting cast of characters are both well acted, and equally well written. All of which have unique personalities, and you'll be returning to them to form friendships and learn more about them. When it comes to those supporting characters, the highlight is without a doubt, Steph Gingrich, returning from Life is Strange: Before The Storm. However, I'm sure Life is Strange fans will find others they enjoy just as much, if not more.
Life is Strange: True Colors has some replayability. I'm looking forward to jumping back in, and making different choices to see how that impacts the narrative, but more so because I really enjoyed the setting and characters, and I'm not ready to move on just yet.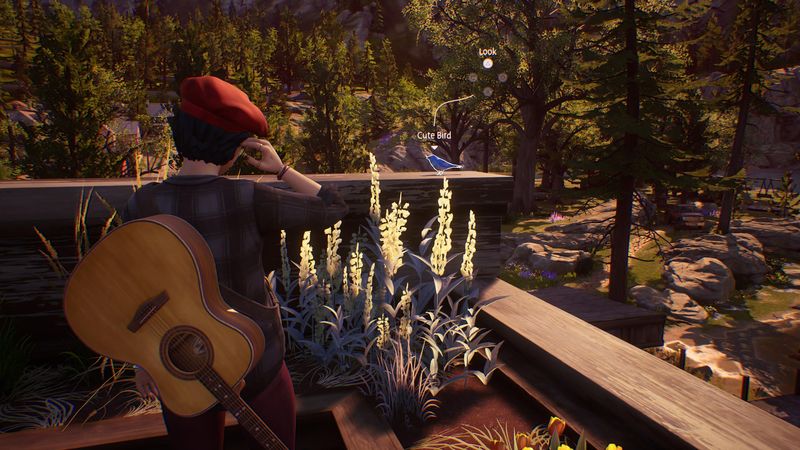 I See Your True Colors
When it comes to gameplay, you will be walking around Haven Springs, conversing with the townsfolk, and completing objectives that serve the narrative. As with previous Life is Strange games, the focus is firmly on the narrative, and the choices you make that will ultimately change the story. However, there is a supernatural twist, that ties directly into the conversations and player choice, which is core to the gameplay.
Alex has the ability to see a character's emotional state, visibly represented by an aura that surrounds them, with different colours signifying each emotion. For example, rage is represented with a red aura, and blue being sadness, naturally. When a character is experiencing an intense emotion, this can actually be infectious for Alex, as she makes that emotion her own. This is perhaps Life is Strange's most subtle approach to superpowers yet, but that is why it works.
When holding down L2, the aura will appear around a character, you can then hold down X, to focus Alex's powers, and briefly hear their thoughts. More notably, you can use these powers to open up new dialogue options by finding out new information. Alex's power can be used on the environment, as well as other characters. This makes for some interesting narrative choices, and whether or not these powers are helpful or manipulative. I appreciate Deck Nine using the DualSense trigger feedback to provide a sense of reluctance when trying to use Alex's powers.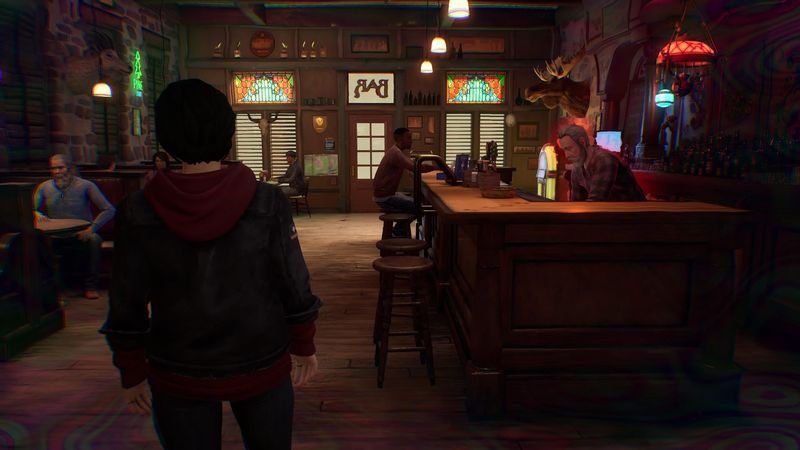 Somewhat Predictable Narrative And A Killer Soundtrack
Without divulging too much when it comes to the narrative, it can be predictable, and at times overly cheesy, but it's not without its charm. There are heart-warming moments that will definitely bring a smile to your face, and there's plenty of emotional gut punches, that left me needing to see what happens next. Chapters three and four are easily the standouts in this entry of Life is Strange. There were a couple of occasions where it felt like some minor choices I made, didn't see any repercussions, despite the game signalling that there would be.
Speaking of chapters, Deck Nine has done away with the episodic approach that we've become accustomed to, opting for a full game available at launch which is then broken up into chapters in turn. This certainly helps the overall pacing of the game, as they don't have to pad out individual episodes. I mostly prefer this format, even if this meant fewer locations, perhaps.
However, it felt as though the last chapter was rushed, and I needed more closure with the story, the characters and the town of Haven Springs itself. Specifically another free roam segment in the final chapter, to talk with characters, as some character arcs felt unfinished. Perhaps this is intentional, with future content planned.
Once again, Life is Strange has crafted another fantastic soundtrack featuring artists such as Kings of Leon and Phoebe Bridgers. The original Score from Angus and Julia Stone is superb, and it perfectly fits the overall sombre tone that the game is going for. Those serene, melancholic moments where Alex takes a moment, and the soundtrack loops were some of my favourite. I enjoyed the soundtrack so much, I would often leave the menu music playing in the background.
Life Is Good
Boasting some visual upgrades, Life is Strange: True Colors is a beautiful game. A more polished version of the familiar Life is Strange art style really pays off, once again in part to their choice of location, and Deck Nine's familiarity with it. There is also noticeable improvements in the characters eyes, which lends itself well to conveying the emotion required, especially given that emotion is the central theme of the game.
Despite feeling as though some character arcs were left unfinished, and a distinct lack of closure in the final chapter, Deck Nine has created a place, and a cast of characters that has really resonated with me. Deck Nine have successfully identified certain key aspects that make a good Life is Strange game. Focusing on a smaller location, a handful of characters, lowering the stakes, and combining those key components with the changes to the format, makes Life is Strange: True Colors a memorable experience, that I didn't want to end.
Life is Strange: True Colors is available on both PS5 and PS4, on September 10th, 2021.
Review Code Kindly Provided By Publisher