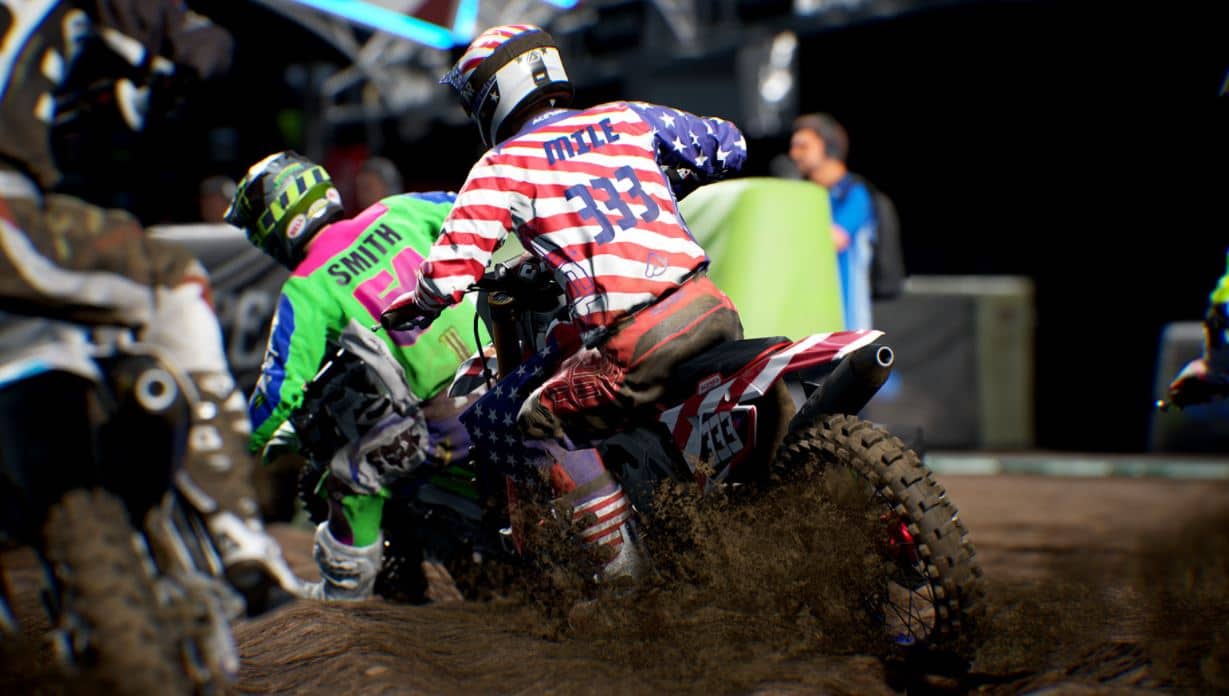 Monster Energy Supercross 4 PS5 review. Not to be left behind with the leap to current generation hardware, Monster Energy Supercross developer Milestone has brought its latest mud-splattered wonder to Sony's latest lump of gaming silicon. Given the reliable frequency of Milestone's output regarding the long-running series, the mere fact that a new Monster Energy Supercross title exists on PS5, almost exactly a year later after the previous game, should come as little surprise.
Monster Energy Supercross 4 PS5 Review
---
Being the latest title in an annualised franchise, something else that should come as little surprise is the fact that Monster Energy Supercross 4 seeks to iterate rather than truly innovate. Certainly, long-time stalwart fans of the series will settle right in here – the compelling though punishing handling model that has been a design throughline for the franchise thus far is present and correct and will prove welcoming to those already interned by its stern hand.
By the same token however, that very same handling model will also serve to frustrate newcomers to the series. Here's the thing though; the actual handling model in Monster Energy Supercross 4, like the previous games, is actually rather rewarding.
Indeed, nailing a perfect drift, scrub and landing are all palpable thrills, while knowing exactly how and when to shift your weight, in order to maintain your momentum across a series of jumps (while also nailing a mid-air flourish), all help to cement the handling system as one with appreciably satisfying depth. However, there's no getting around the fact that literally hours of practice are needed to ensure that you're not constantly finishing in last place, yet the rewards for putting in the time are certainly worthwhile.
A Fine Supercross Racer That Doesn't Quite Make The Most Of PlayStation 5
What's also interesting about the mastery of the handling system in Monster Energy Supercross 4, is that the developer almost expects you to suck massively from the get-go. For new players, this will come as something a relief because when playing the newly revamped career mode, which has skill trees and ability points to put into those trees (something that we'll talk about in a bit), you can place dead last and still earn ability points and level up your rider all the same. This is a good thing naturally, because there's nothing worse than having a game that completely bars you from any kind of progress until you master its deepest systems.
As ever then, that constant struggle between man, machine and the environment remains as omnipresent in Monster Energy Supercross 4 as it has in previous games in the series. For PS5 owners however, that conflict is amplified by the immersive functionality of the DualSense controller that developer Milestone have implemented into this year's game.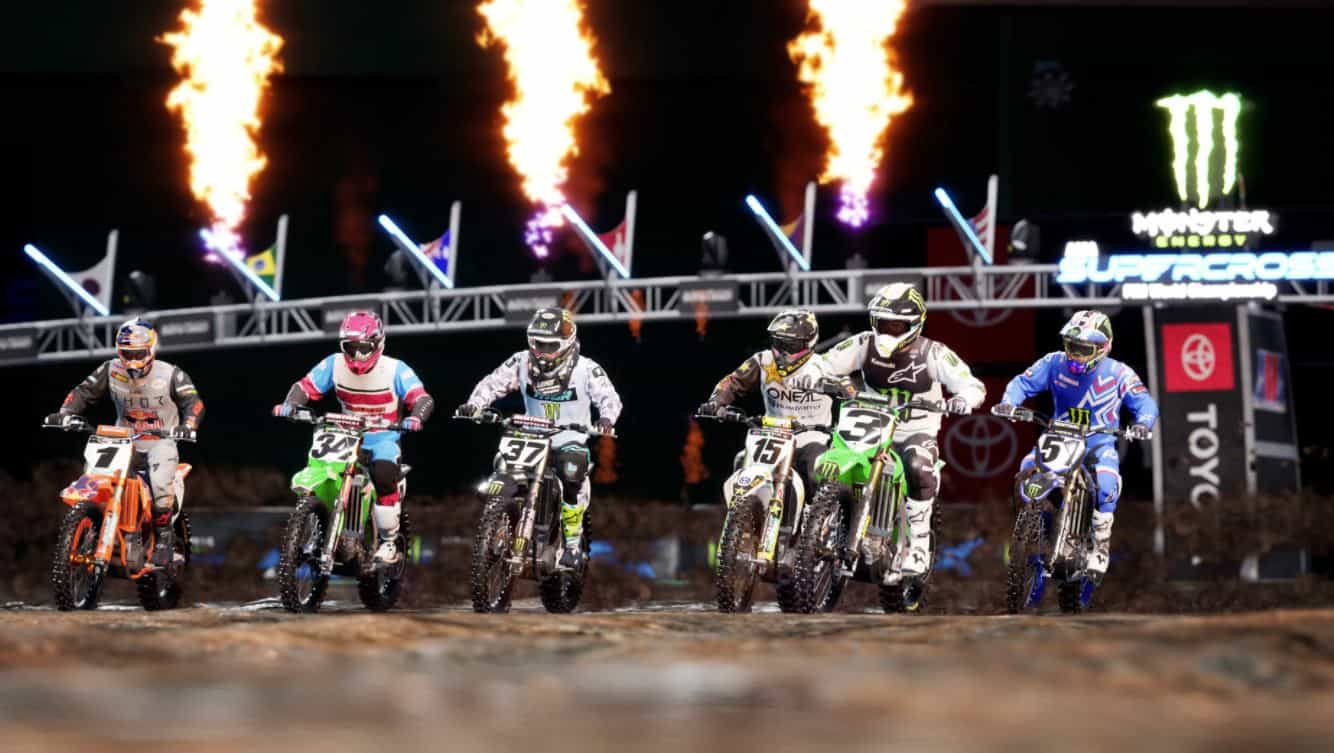 Though the expected thrum of the haptic feedback that emanates from the heart of the DualSense controller is hardly a revelation, it's really the adaptive triggers that are the star of the show here. Acting as something of a physical manifestation of that aforementioned struggle between man, machine and environment, the adaptive triggers are used to decent effect. Emulating the stiffness of the breaking mechanism and the feeling of accelerating out of a corner that you've just grinded through, are both now perceptible sensations that really helps to immerse you in the mud-splattered, wheel-grinding world of competitive supercross racing.
Beyond the handling model that arguably sits as the beating heart of Monster Energy Supercross 4, there is a fairly chunky content offering here also. The aforementioned and reworked career mode is the centrepiece of this offering, providing players with a season based structure across a number of different racing classes, all the while earning new ability points in order to 'level up' different skill trees.
Now, I'm not entirely sold on the fact that a racing game like this actually needs to have this sort of RPG style, skill-based progression. Not least, because this system ties your performance to a series of upgraded stats, it can feel like the end the result is less so down to your competency as a rider, then it is because you haven't upgraded your breaking or scrub still highly enough. Of course, the game mitigates this to a degree by still allowing you to progress even if you don't place highly in races, but the system still feels like putting a hat on a hat, if you will.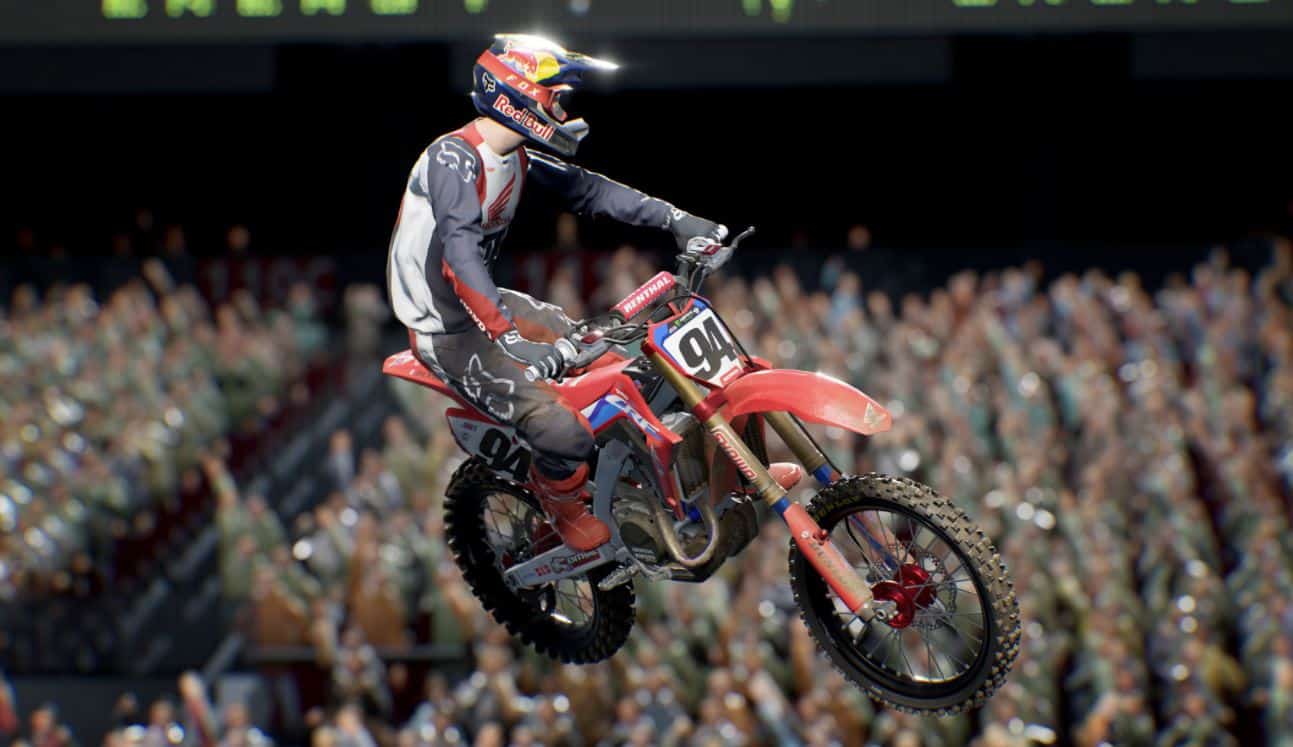 Aside from the career mode, Monster Energy Supercross 4 also lets players sharpen their skills and unlock new cosmetic items by completing bespoke challenges in the new compound training centre. Furthermore, the newly revamped track editor allows you to build your own dirt track from an impressive number of components and associated parts. Sure enough, the usual competitive online multiplayer modes also return from before and do succeed in offering a smooth racing experience, but will certainly not surprise those long-time fans with anything that it is especially ground-breaking or new.
Outside of its notable implementation of DualSense functionality, it's clear that Monster Energy Supercross 4 doesn't quite take advantage of the PlayStation 5 as one would hope, or maybe expect. Sure enough the game screams along at a blistering 60 frames per second and with a higher screen resolution than the PS4 and PS4 Pro could manage, but it still doesn't look like a proper native PlayStation 5 title. Crowd detail is poor, the character models are serviceable and the track deformation is nothing we haven't already seen. In essence, Monster Energy Supercross 4 on PS5 looks very much like a mid-generation PS4 title.
In this sense, Monster Energy Supercross 4 is still very much in that awkward, cross-gen quagmire that many titles have found themselves in over the past six months or so. It's a decent enough and enjoyable supercross racing game, yet it's a game that very much finds itself in an odd sort of limbo thanks to its annualised schedule in so far as it still looks like a PS4 title, but boasts enough current-gen bells and whistles that it has one foot in that camp too. Ultimately then, Monster Energy Supercross 4 is a fine new entry in the series, but it'll likely be in the next game that we see the franchise take some real and meaningful steps forward.
Monster Energy Supercross 4 releases for PS4 and PS5 on March 11, 2021.
Review code kindly provided by PR.