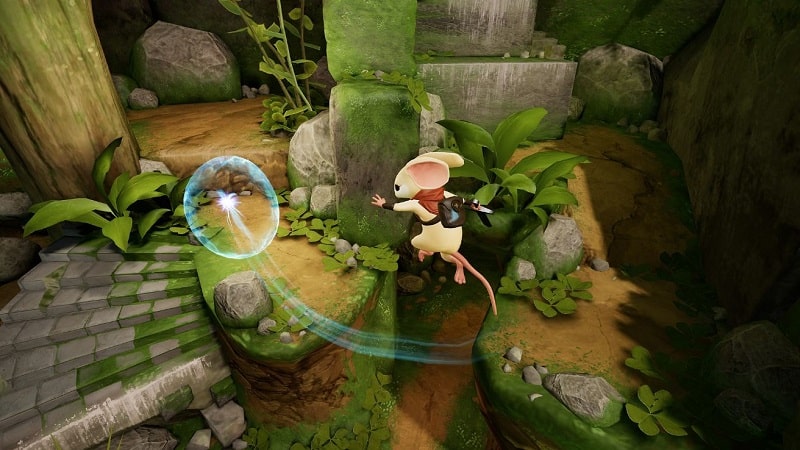 Moss PSVR2 review. When Moss released for PSVR all the way back in 2018, we quite rightly heralded it as one of the best games for the platform and though it has aged a little in the intervening years (thanks in no small part to its excellent sequel), Moss still remains a superb VR adventure that everyone should play – albeit one that has been enhanced by a range of new PSVR2 features.
Moss PSVR2 Review
---
A PSVR Platforming Adventure Great Gets Even Better With PSVR2
So the first thing to say is that Moss on PSVR2 is content-wise identical to the PSVR version of the game. As such, I would certainly encourage you to stick a nose in our original review of Moss which goes deeper into the story, gameplay and design mechanics of the game. As a brief recap, Moss is a third-person, platforming action adventure in which players take control of Quill, a brave young mouse that discovers a magical secret that puts her uncle in peril, sending her (and you) on a fantastical adventure where you direct her around the environment whilst also fulfilling the role of disembodied phantom known as the Reader that can affect various elements in the environment to help Quill along in her quest.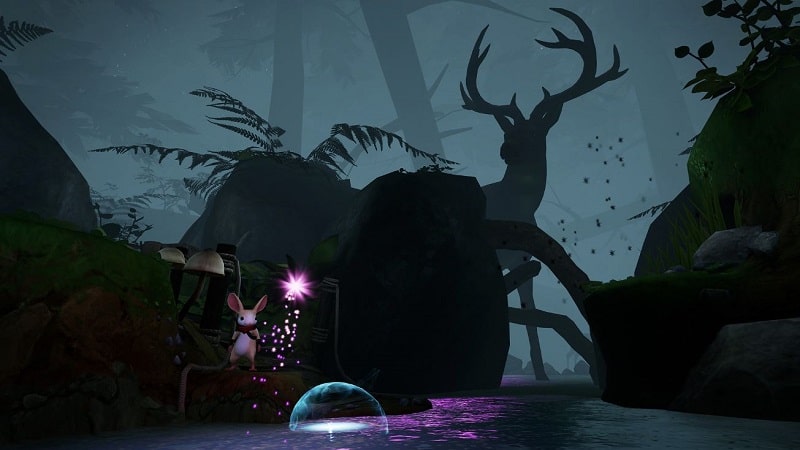 Whether you've played Moss before, or even if you haven't, Moss on PSVR2 arguably stakes itself as the definitive version of Polyarc's heroic rodent driven odyssey. For a start, the massive uplift in visual clarity that the PSVR2 hardware provides now means that Moss hits 4K resolution at 90 frames per second, a wider field of view and a bevy of texture quality, shadowing and lighting improvements to boot. Naturally, the upshot of this is that Moss on PSVR2 not only looks substantially more detailed, smoother and sharper than the PSVR original, but it also serves to immerse the player much more as a result too – with the somewhat blurry presentation of the PSVR's original release now thankfully nothing but as distant memory.
Further Reading – New PS5, PS4 Games Release Dates In 2023 And Beyond – All Upcoming PS5, PS4, PSVR2 Games
Beyond the visuals, there are a raft other neat improvements that Polyarc has brought to the PSVR2 version of Moss. Making neat use of the eye-tracking functionality, not only will elements of the environment which can be interacted be highlighted more than they would have been on the PSVR original version of the game, but rather cleverly, if the player is looking at a puzzle and struggling with it, Quill will offer up some visual cues (she talks using sign language) to help them along. It's super smart stuff to say the least.
Much like other PSVR2 efforts that seek to maximise the immersion the player experiences, Moss on PSVR2 also makes impressive of the PSVR2's Sense controllers. Perhaps the biggest difference between the PSVR2 version of Moss and the original PSVR version of the game is that the enabling of a two controller setup actually works pretty well here, enabling players to deftly move Quill around the game world whilst also easily permitting interaction with elements of the environment to help Quill complete her quest.
In addition to allowing effective two controller support, Moss on PSVR2 also takes advantage the adaptive triggers and haptic feedback capabilities of the Sense controllers, making every strike, leap and switch smash ring through the controllers like never before. Again, make no mistake with a bevy of improvements enabled by the PSVR2 hardware, this is absolutely the definitive version of Moss – though the lack of a free or even paid upgrade for those folks who own the original Moss is still an annoying fact that rankles on the regular.
Further Reading – PSVR2 Review – A True Game Changer For High-End VR On Consoles And Beyond
Though a significant amount of time has passed since its original release resulting it not being quite as fresh as it was and its relatively brief five hour or so duration might frustrate those looking for a more substantial morsel, Moss nevertheless enthrals thanks to its extremely likeable heroine, superbly judged platforming adventure gameplay and sublime VR presentation. If you've yet to hop on the Moss train, now is the time to address that.
Editor's Note: There's no PSVR2 trailer for Moss as yet, so the old PSVR1 trailer will have to do for now until a newer version has been released for PSVR2.
Review code kindly supplied by PR.
Moss releases alongside the PSVR2 hardware on February 22, 2023.