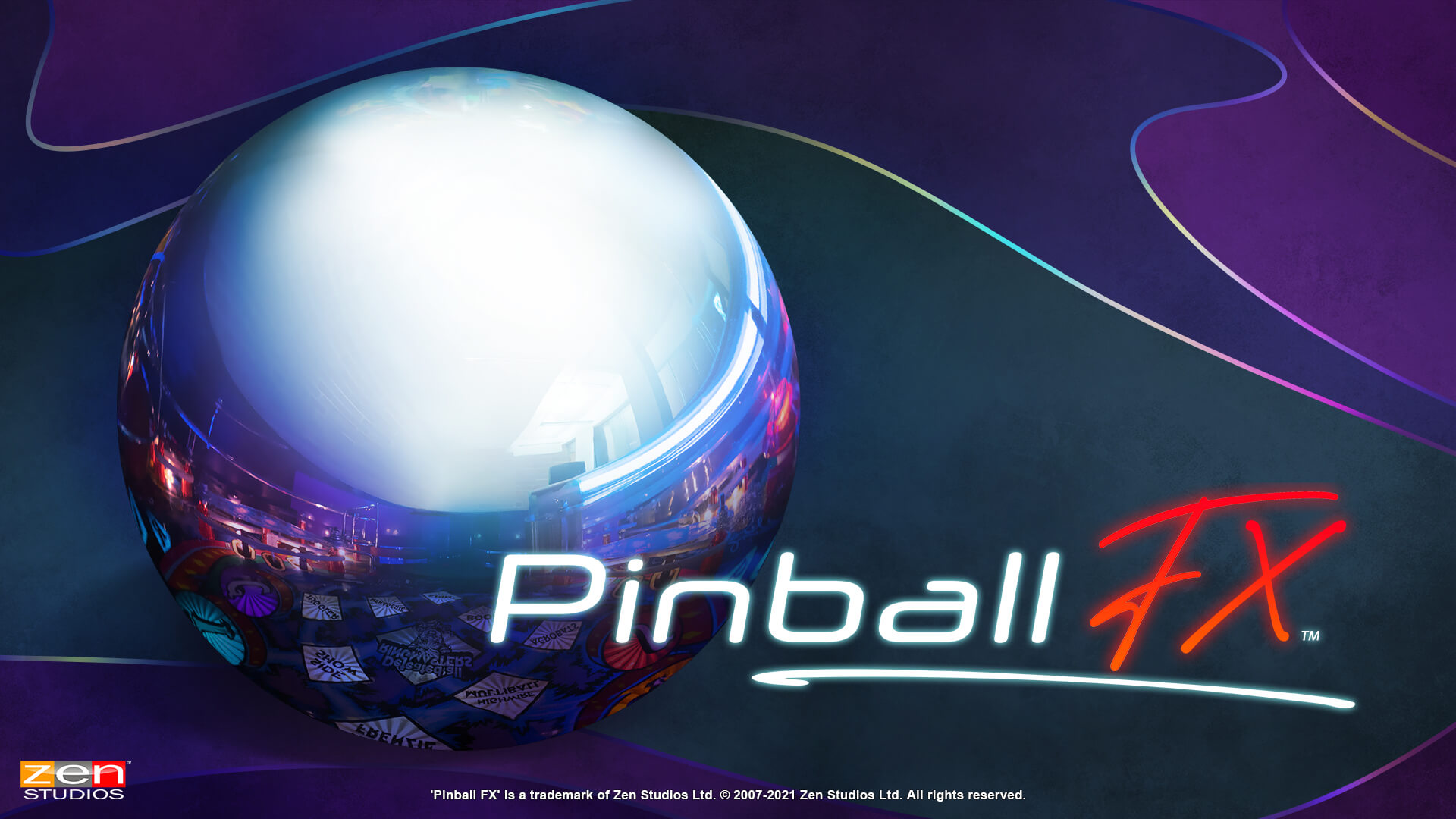 Pinball FX Review (PS4) – Historians believe that the first primitive iteration of pinball dates back to around 500BC when the ancient Greeks used wooden paddles attached to a sloping slab of carved stone to bat small hedgehogs around a play area filled with wooden pegs. Points were scored by setting the hedgehog alight in a central flame pit so players could then bat it into the wooden pegs to ignite them.
The game remained popular until around 450BC when the Greeks ran out of hedgehogs.
Fast forward to 1982 when Broderbund Software released the first authentic videogame simulation of Pinball on a home videogame system – David's Midnight Magic, inspired by the Williams pinball table Black Knight.
This 2D representation of pinball may look primitive now, but at the time the cutting edge graphics and ball physics stirred many a loin amongst pinball enthusiasts.
During the next 40 years of pinball videogames, highlights included EA's innovative Pinball Construction Set on the C64 in 1983, the highly polished and realistic Pinball Dreams on the Amiga in 1992, and in 1996 the superb True Pinball was released on PlayStation, the first to use a 3D representation of pinball.
The latter was a true benchmark in realism as nearly thirty years later, Pinball FX arrives with a slew of polished and highly playable pinball tables which don't differ vastly from True Pinball other than in the clarity of resolution and frame rates.
Pinball FX Review (PS4) – The Tables Have Turned
---
I Remember When It Cost A Quarter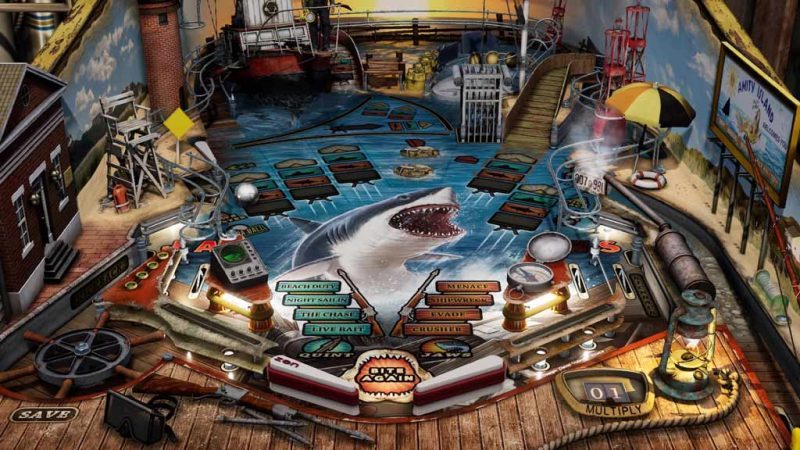 Hungarian developers Zen Studios first released Pinball FX back in 2007 for the Xbox 360 and even then, it was clear that the team had a flair for producing astoundingly playable pinball tables which looked astonishing.
Now the team return with a free to own base system which allows players to purchase individual tables or bundles to add to their collection in a fully realized pinball dungeon.
One table is free, the excellent Wild West Rampage (first seen in 2015's Pinball FX 2), but most of the other tables / bundles cost between around £5 and £12. You can download any of the other tables for a two minute playable trial which at least gives you a rough idea of whether it's up your proverbial alley before you splash the cash.
There has been some controversy over the requirement to re-purchase any tables which you may already own from previous Zen Studios releases, with the studio defending this repeat purchase by emphasizing the amount of development time they have spent on rebuilding their huge cache of tables from scratch for the latest generation of consoles.
Perhaps they may have been wise to offer a discount to players who want to upgrade the tables they already own or simply offer a free upgrade on specific tables. As it is, there is a general consensus that Zen have been slightly greedy in avoiding any concessions for loyal customers.
License To Bill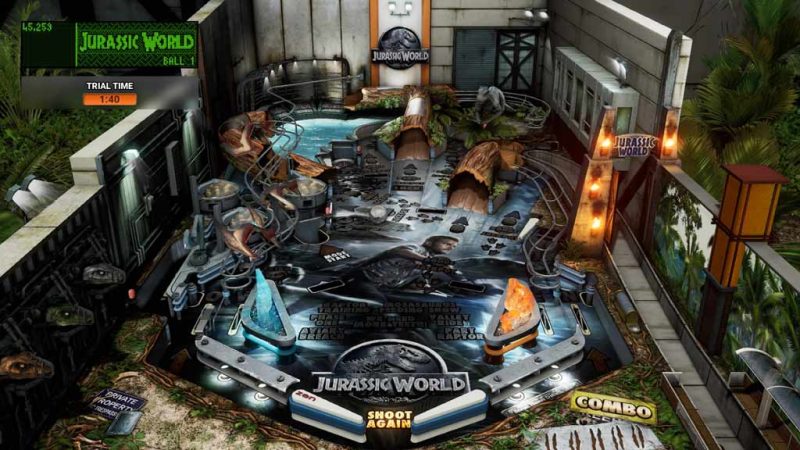 So you've downloaded the free 'hub', which of the 86 initially available tables are you going to spend your money on when you need a change from playing Wild West Rampage?
Well to begin with, there are the three separate 'kids' tables – Peanuts, Garfield and the best of the trio being My Little Pony which is full of features and nice effects.
Despite the colourful themes, these tables aren't any easier than the rest of the selection so don't expect your four year old to gain a great deal of enjoyment from them.
The Dreamworks bundle of Kung-Fu Panda, Trolls and How to Train Your Dragon offers up some bright and colourful tables but the gameplay itself across the three isn't particularly remarkable.
Next up, there is the Universal Classics bundle of Jaws, E.T. and Back to the Future, all highly polished and feature-rich tables, lacing nostalgia over over complex modern pinball table designs which offer up quite a challenge.
Another film tie-in, this time from Paramount, is World War Z which matches the quality and playability of the Universal bundle and all four of these tables come recommended, even if the source material isn't to your taste (who doesn't like Jaws?!).
Bundles Of Joy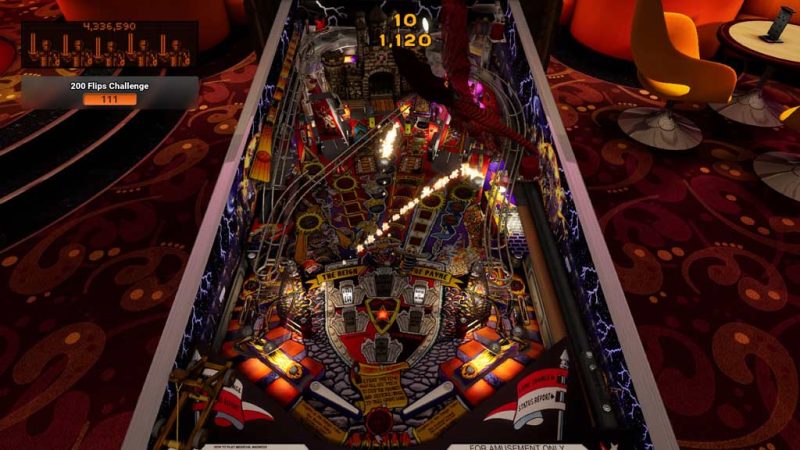 Star Wars gets three bundles, with the first collection of 10 tables focusing on the original trilogy, the second bundle of 9 tables bringing the franchise up to date and bundle three 'Thrill of the hunt' offering two unremarkable tables in terms of gameplay.
The presentation throughout is excellent and manages to immerse the player into the Star Wars universe even if you're only basically batting a ball around a table.
While the standard of presentation is consistent throughout, the second bundle edges ahead of the first in terms of gameplay with only Rebels letting the side down somewhat.
The Marvel Universe is also well catered for, with 11 tables available but there's a distinct feeling of deja-vu playing through them one after another despite the consistently smooth and crisp presentation.
The best of the Marvel bunch is Fantastic Four by quite a long way which really just has the magic combination of challenge and satisfaction. The rest err towards a feeling of gimmickry, relying on the license rather too much to provide entertainment.
Jurassic Park gets three tables in a bundle, the best of which is Jurassic World which delivers the most rewarding and enjoyable gameplay while the other two are effectively surplus to requirements.
The Gearbox license packs three solid and decent tables into a bundle comprising of Borderlands, Homeworld and Brothers in Arms and there's a fair amount of innovation in the table designs and it feels like Zen allowed themselves a bit more creative license in this case.
Serene Williams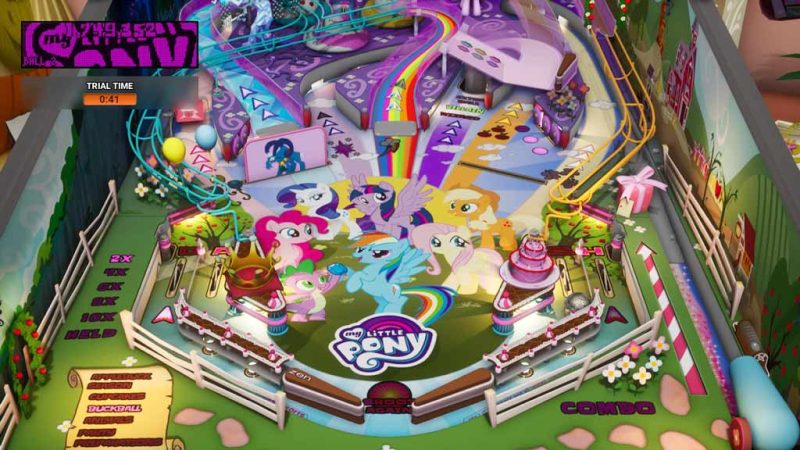 Stalwarts in the development of real pinball tables from the early 70s onwards, Williams are represented here with two bundles, the first of which narrowly beats the second in terms of enjoyable gameplay featuring the downright classics Theatre of Magic and Medieval Madness.
A fair few of the tables across both bundles are authentic to the point of feeling dated in terms of gameplay and design, but the presentation is consistently good even if some of the cluttered and overly colourful tables are likely to cause seizures if played for too long.
There are yet more Williams tables available individually including The Addams Family, World Soccer and Indiana Jones but priced at quite a premium compared to the other tables available, they're not really worth it unless you have a nostalgic itch to scratch.
Last but certainly not least are the Zen Studios original tables, collecting 11 tables across two bundles and with another two available individually.
There's a noticeable hike in enjoyment playing these tables compared to the licensed titles as the developers have clearly thrown off the shackles of the license and have had a ball throwing whatever ideas into the mix that complement the theme, atmosphere and topic of the tables. Grimm Tales is laden with ideas and spooky ambience and has been engineered to perfection.
Likewise the Secrets and Shadows bundle has three original classics topped off with the superb Curse of the Mummy.
The Zen originals bundle features 7 decent and challenging tables that make the most of the design options available when creating pinball exclusively as a videogame, with numerous unique features that make the majority of them a joy to play.
Zen and the Art of Pinball Creation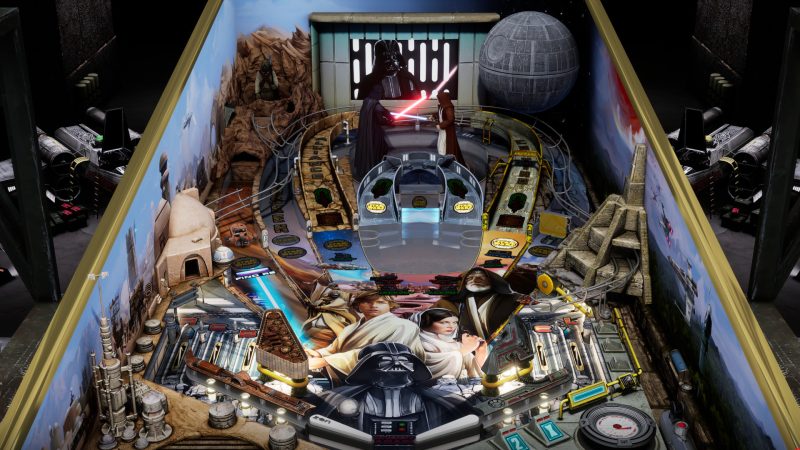 So therein lies a slight problem – there may well be an over-abundance of licensed tables available but the real quality here are the tables cooked up by the team in Budapest.
Purchasing every table will set you back a small fortune and there is really not much to be gained by buying everything as the quality is so variable.
Instead, it's best to initially treat yourself to the Zen Studio original creations and to squeeze every drop of fun out of these finely crafted tables before wading selectively into the licensed fare.
Aside from the tables, new features include the ability to create your own tournaments or join others, and there's a huge variety of 'rules' which can be set to add variety to different tables such as the number of flipper presses available, how many balls per match and a timer.
Events offers up daily challenges created by the Zen team and each challenge is available for any tables which you own and offer rewards which can be used to purchase items once you've saved up enough credits.
The presentation is pretty much faultless throughout and the attention to detail lavished upon each table means that each one feels like a standalone game in its own right rather giving the player genuine bang for buck.
The simple goal of pinball is to score as many points as possible and the compulsion to best your best and climb the world leaderboards is undeniably addictive.
Pinball FX gathers up a huge amount of the tables created by Zen Studios into this new platform, and the Hungarian team have polished them to within an inch of their flashing lights.
The best of the tables will keep you glued to the screen for many hours in search of a new high score and providing you are selective with your subsequent purchases, you'll be overjoyed to have Pinball FX in your life.
Pinball FX is available now on PS4 / PS5.
Review copy kindly supplied by Zen Studios