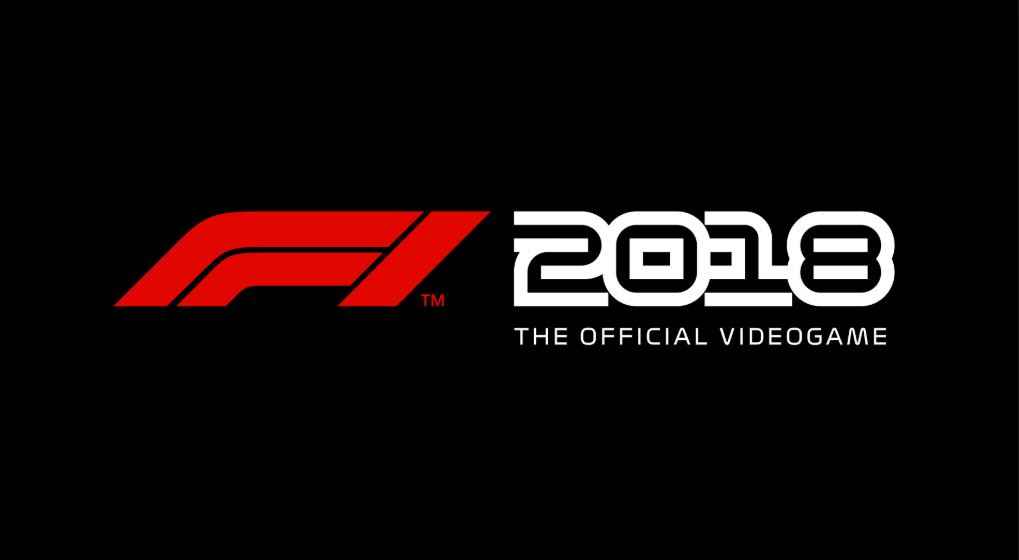 With Liberty Media's second year in charge of Formula 1 and major changes to the rules, this year's Codemasters F1 2018 should mark a major change in the overall package of the game too.
Not only is this immediately evident in the presentation of the game, but you're blazoned with the new Formula 1 logo and intro music, and the new looking Formula 1 cars themselves.
Codemasters have been on a somewhat upwards trend with its Formula 1 games, every year they have been adding extra features, even tuning the game towards simulation, but this year it has been a change on almost every aspect of the series.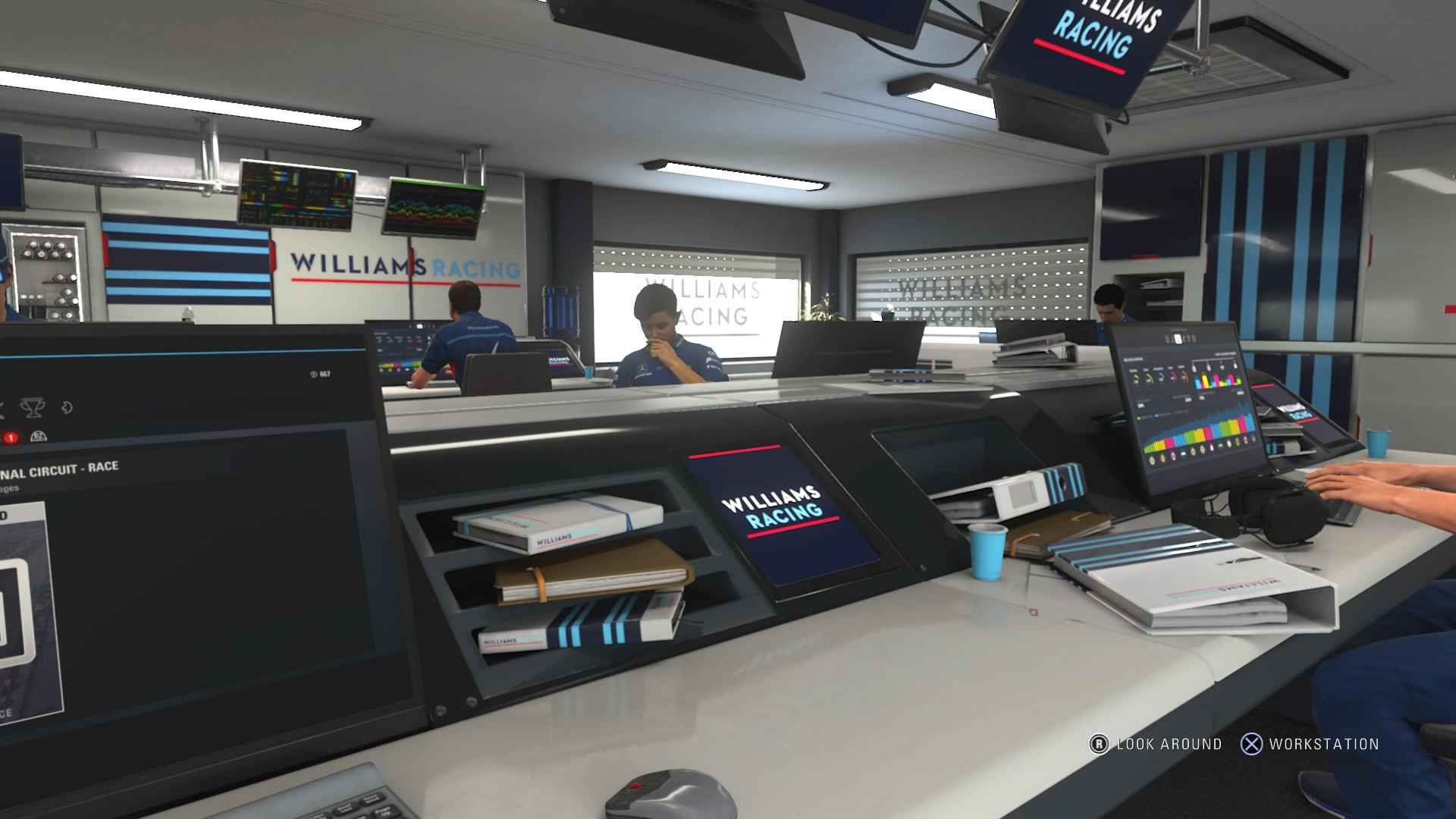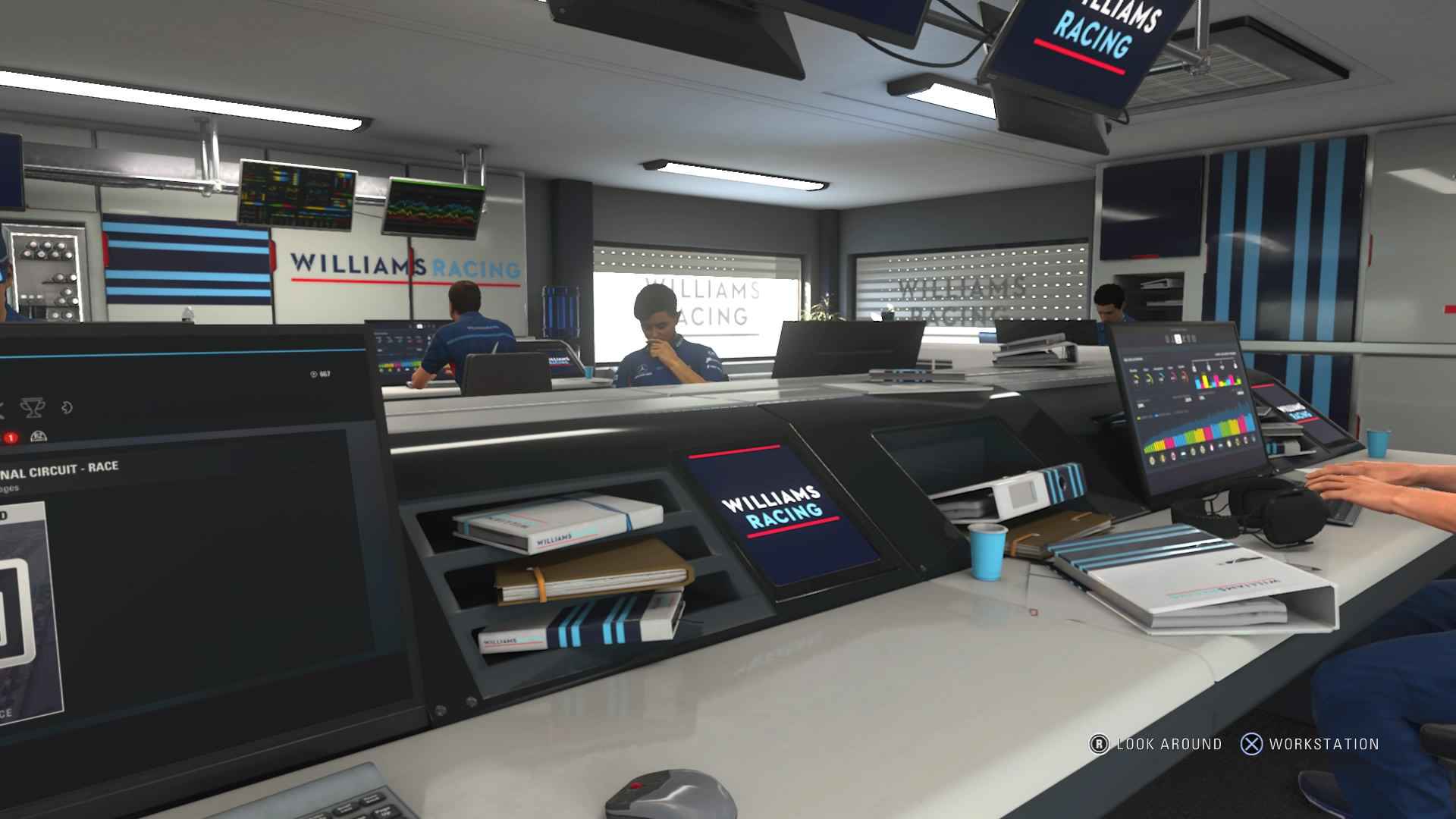 The F1 2018 Driver Experience
It's no surprise that Codemasters have been slowly bringing back the driver experience with interviews after the race. This used to be a staple of the series until it was removed a few years ago.
With many fans wanting these post-race interviews brought back, Codemasters has taken another approach by having Clare, a Formula 1 journalist, following your every move and interviewing you after a race.
Before the interviews paid no real significance to the answers you gave, but with the RPG system that has been implemented, the answers you give can play out on your entire career with other teams and their staff.
Each of these interviews is given during Parc Fermé at the end of a race which is one of the few new areas presented, in the game. You'll spend most of your time in the Research and Development area where you're inside the garage with your mechanics working over the car details while you check your emails, research and development, and rival standings.
F1 2018 Includes RPG elements
Last year's entry added the ability to upgrade your vehicle throughout the season, F1 2018 has given the same ability but split into four sections: aerodynamics, chassis, durability and powertrain.
As you progress through your career and with the team, you can prioritise research direction to either strengthen the car's greatest asset or to lessen the weaknesses of specific areas of the car.
Each upgrade is not foolproof and can be subject to failure or slower performance, meaning that you have an element of risk with every upgrade set in the Research and Development department.
You can't simply choose to constantly improve your car and team either. After each race, you gain points dependent on your position and practice targets. These points limit the speed in which you can improve the team as a whole.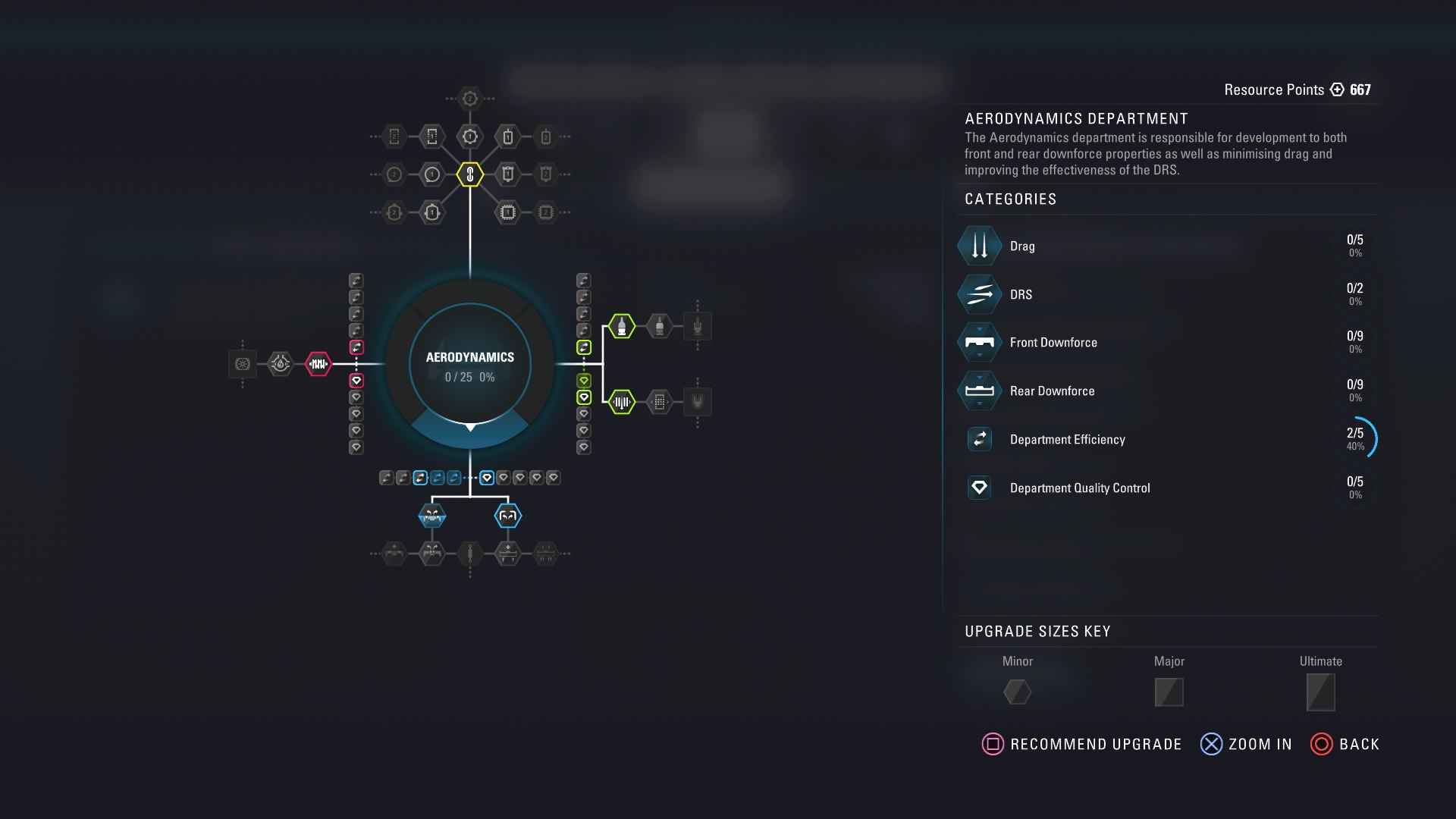 Improving Relations With Other F1 2018 Teams
Developing your car is key to your future on the grid. As other teams also upgrade their cars, being able to finish further up the field will net you better possibilities with racing for another team, even half-way through the season, it's possible to change team.
Changing teams will force you to pick one of two drivers to compete against. The stronger the opponent the more influence you gain in points. Once beating your teammate you go up against a rival for the remainder of the season that will also help your influence towards other teams.
A.I. Pushes You To The Limit
F1 2017 had very strong A.I. that pushed your limits of raw speed and consistency, but they were – at times – still cumbersome and erratic, often making silly moves that you can exploit to your advantage.
Not so anymore, the Ai.I. in F1 2018 has been tweaked in such a way that they are all (at skill level 105) brutal in their manoeuvres. Immediately from the start line and throughout the race, just one mistake can make you drop places quickly.
The start of races is where a lot of action happens and the jostling for positions without causing an accident is rather difficult, but when you manage to get through turn 1 in one piece, you feel like you've accomplished a miracle.
On easier skill levels the A.I. isn't as unforgiving, but they still give enough of a challenge to the average player. To help with this are driving aids including the infamous flashback system.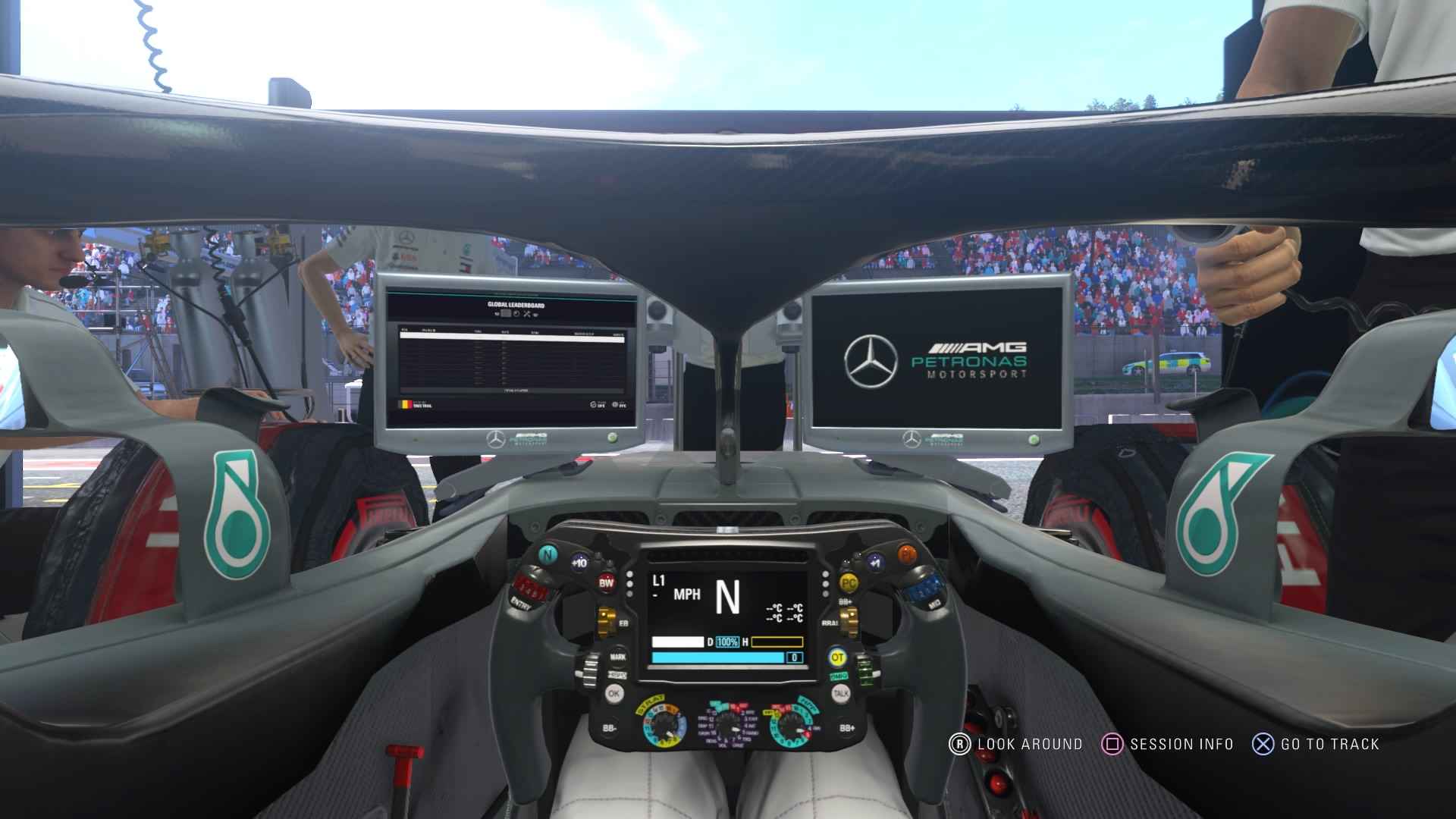 Controlling An F1 2018 Beast
With the new Formula 1 cars being several seconds faster with more torque than before, these cars are very hard to handle. With a controller, enabling at least traction control is a must otherwise you will often spin in circles or straight-line corners.
F1 2018 really shines with a wheel as Codemasters have finally put the "simulation" into the game and moved away from the simcade style of racing. With the appropriate wheel connected, in the options, it shows up with the relevant control layouts and wheel named.
If you can disabling all aids when using the wheel then you know you can handle A.I. at over 90. It requires patience and practice, but it becomes euphoric to lap consistently with such accuracy.
Despite behind more attuned to the wheel, it is still easily possible to lap within a couple seconds of the wheel so that even casual players can compete with those on a wheel and not feel left out.
Racing Simulation To The Next Level
With the move to simulation, having a wheel is a great advantage as the new tyre model comes into play. Each lap your tyre wears down, but instead of your "laps left" for the rubber, you now have temperature scaling on the tyres.
These temperatures are both within the tyre (which can cause blisters) and surface temperature which can affect your overall grip level. Nurturing your tyres throughout the races can allow you to race for longer, or doing qualifying laps lap after lap can be detrimental to the grip level forcing you to pit early.
This handling also applies to the curbs you ride over when cornering. Most curbs used to be rideable, but with the new physics engine and dynamics with the tyre model, many of these curbs are to be completely avoided as they can send you into spins.
It's a touch which was missing greatly in Codemasters F1 game series that will now force players to learn about the circuits and where they can place their cars.
Wet weather also is a massive improvement allowing players to change driving lines during corners to find the better grip, and also going onto wetter surfaces during a drying track to cool down your tyres so they last longer.
F1 2018 Graphics Overhaul
It's no wonder then that seeing puddles and drying lines on the track helps a lot, but noticing the change in weather in the skies is apparent too. This allows you to think about tyre management.
When it starts to rain the new "atmospheric engine" adds a distant mist. The real danger is up close when you can barely see a thing in front of you when riding close behind an opponent, forcing you to pull out from the wake to see ahead of you.
The wet seems to be quite taxing on the system and, while it looks stunning, on my standard PS4 I did get the odd framerate drop when there is a lot of action on screen, typically seven or more cars, but as you progress and cars spread apart, the framerate returns to normal.
This could also be down to the new heat haze added to the game. While it is in more games, Codemasters seem to have wanted to add a massive amount of atmospherics in the game to make it as real looking as possible.
When it is hot and the heat haze is apparent, being close to the ground you can see a watery shimmer that's quite true to life.
Grass looks considerably better over F1 2017 too, and putting a wheel over the edge of the track can kick up dirt causing those behind you to see that someone went off.
All the characters look more believable too. Gone are the days of those 2013 models and in with the new, but they still look quite spooky when they're trying to talk. If there's one thing to improve drastically it has to be the lip syncing and more detailed mouth movement.
In regards to the cars and the new ugly halo being added to the canopy, having no VR makes for poor visibility, so an option to disable the central pillar is a welcome one.
Competing With The Best
The longevity of the game is greatly expanded upon when being thrust into the online space where you can race against other savvy Formula 1 fanatics. It's very easy to push the limits and even have quick sessions if you're low on time.
However, the biggest issue with racing games online is those that create havoc to upset other races. Codemasters have implemented a system – similar to Project CARS 2 – where the cleaner you race, the likelier you will race against other cleaner racers.
If you don't want to race online then tuning your car for lap after lap in the time trial is another way to compete against others when you're alone on the track. On the scoreboards, you can see how others faired, download their ghost, and also see which aids they used.
Careful however as corner cutting is highly strict in Time Trial so everyone is on a fair playing field. It can be rather annoying when you "cut" a corner and lose your next lap's time too even though at times I have had times where I did not have two wheels off the circuit.
If you prefer to simply play against someone local, you can have a LAN game with another PlayStation 4 on the same network. If you happen to be at a LAN party with dozens of other players, there can be multiple sessions at once.
This is a fantastic feature that has been added and it's a wonder why other games do not add a similar feature, especially for those that do not wish to purchase a PlayStation Plus subscription.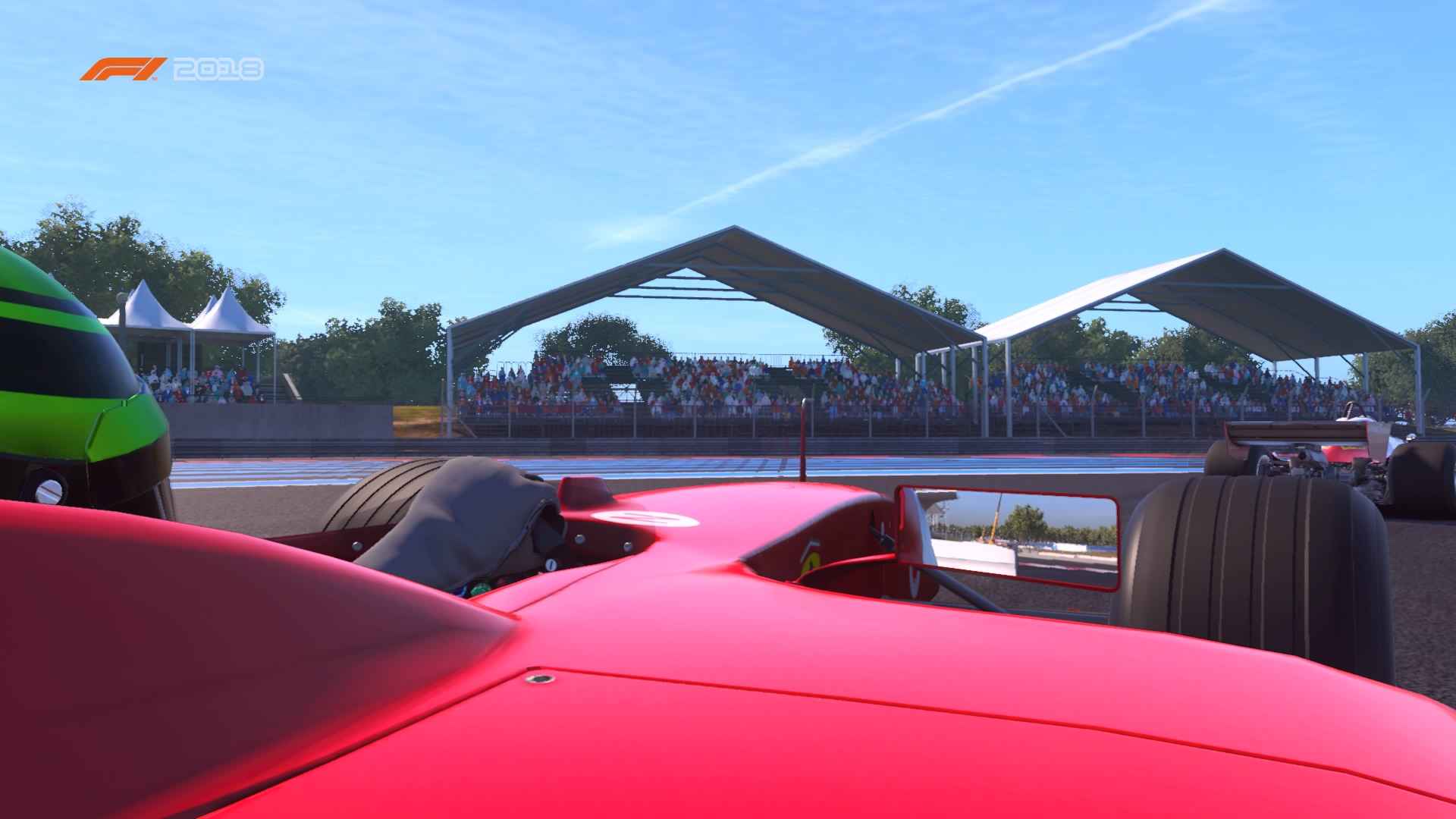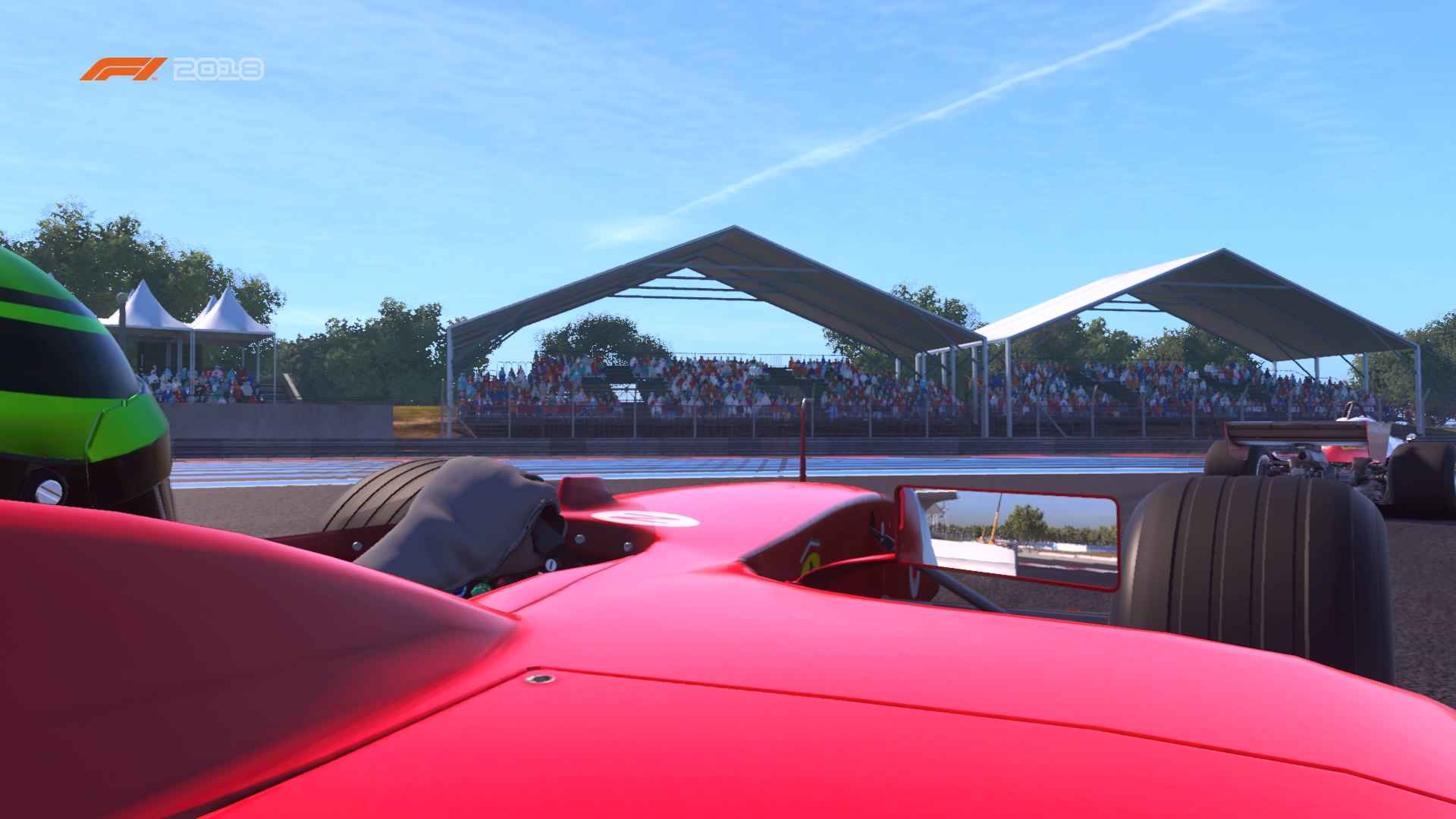 Racing history
You're not just limited to current Formula 1 cars, you can also race the classic vehicles including the 1972 Team Lotus 72D, the 1976 Ferrari 312 T2, Mansell's 1992 Williams FW14B and my favourite Button's 2009 Brawn GP BGP-001. There are several more classic cars but unfortunately, you're limited to racing them on the modern tracks currently present in the game.
What would be nice is to give more of that historic factor by incorporating historic tracks like Codemasters' past titles such as Jerez, Silverstone (with Bridge Corner), Brands Hatch, Historic Spa, Imola, or perhaps even the Green Hell. It would make the feeling of the cars better.
Overall though, there's very few complaints about Codemaster's latest racing simulation. The series has been getting better and better each year and F1 2018 has set an impressive standard for the franchise moving forward with its best game yet.