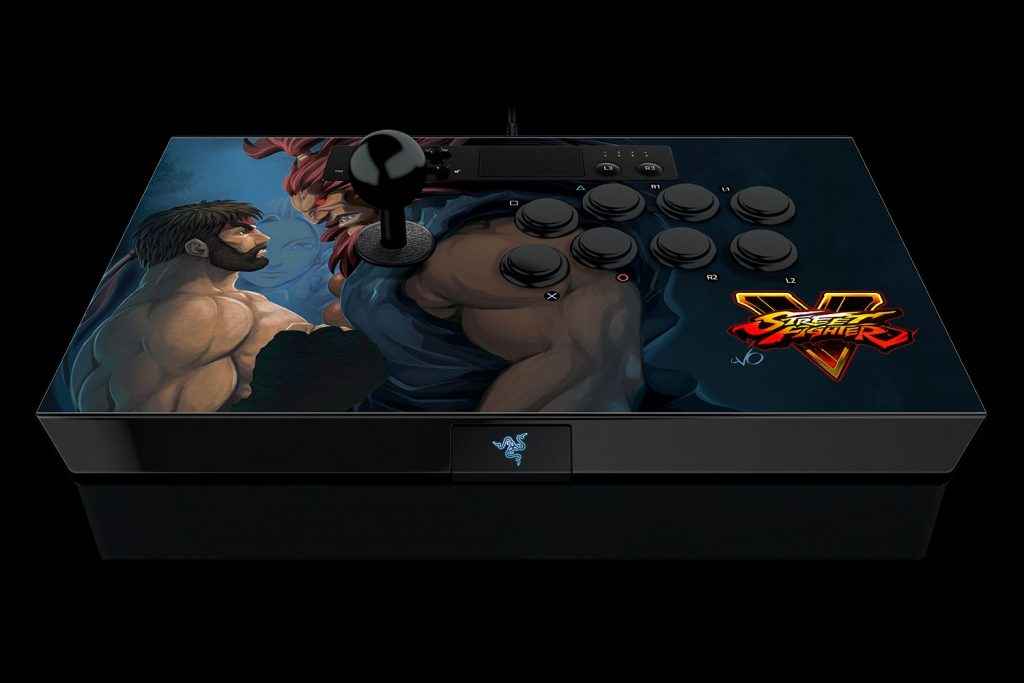 The Razer Panthera is a great arcade stick for budding eSports dreamers, and retro fighter enthusiasts alike. Despite simply being a controller, it made me happier having used it. Because for me, it's a rare portal to my youth that isn't accompanied by hollow disappointment.
A Link to the Past
While I've been playing fighting games for over twenty years now, it's been some time since I played one with a traditional arcade setup. Little in gaming will ever top the feeling of sitting/standing at an arcade cabinet, ready to play. To be flinging fireballs and hurricane kicks at your opponent, as the colors dazzle, and the sound booms so loudly you almost feel the rush of air. It could be the nostalgia talking, but those moments, playing the likes of Street Fighter 2, Tekken 2, and more, on (relatively) big screens, everything larger than life, were among the reasons I fell in love with video games.
As the gap between arcade and home console shrank, and then grew in console's favour, the chance to play arcade fighters dropped significantly, to the point I might be lucky to stumble on an old machine somewhere, forgotten in the corner of a seaside arcade while 10ft screens of Crossy Road and Angry Birds blotted out the light on them. Fighters have become a console staple instead, and that's absolutely fine. It's just that they lose that little something that control setup brings. To get even a little bit of that feeling back would make an arcade stick worth talking about.
A Meaty Beast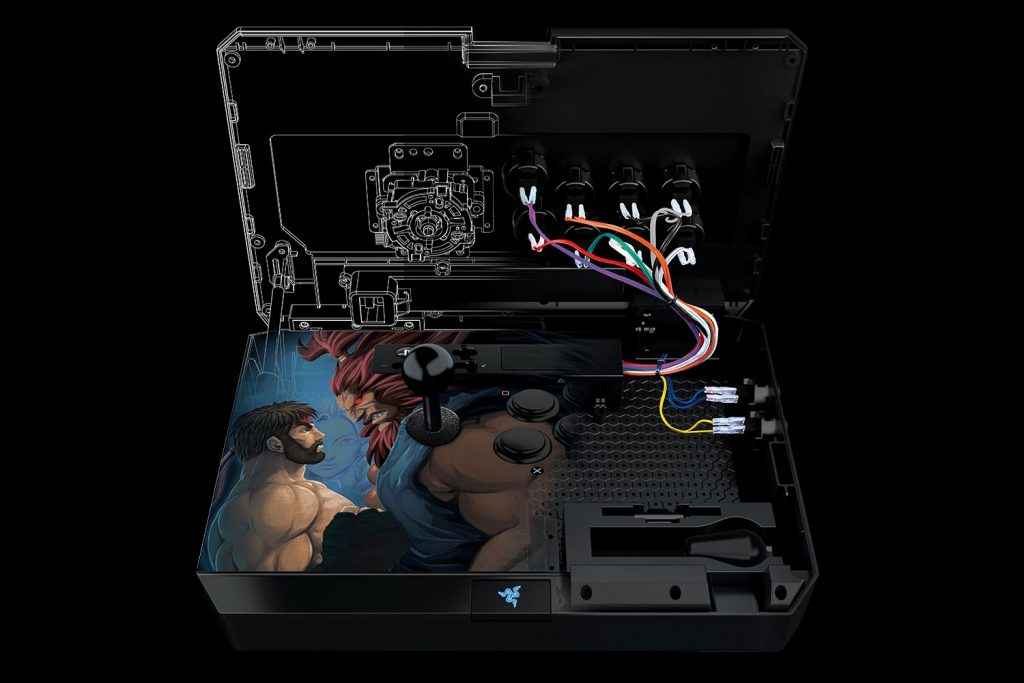 One thing is for certain, the Panthera is one meaty beast of an arcade stick. This particular Street Fighter V version (associated with the Capcom Pro Tour no less) is a hulking 3.43kg black box, emblazoned with wonderful art of a bare-chested, bearded Ryu squaring up to an aggressive and wild-haired Akuma. The top panel also maintains a classic glass-topped arcade cabinet look and feel, which really highlights how serious this piece of kit is about being used for hardcore fighting.
The whole unit is bigger than a PS4 (14.9in across, 10.3in in width, and 2.7in high). Yet still remarkably lighter than you'd expect due to its hollowed-out guts.
The sleek polish of the box is immediately noticeable. It may be plastic, but it's far from tacky. The design is simple, yet elegant as it can be for such a behemoth. It's a design that makes it feel as much a part of the PlayStation as any regular controller does. Even having the glow of the Razer logo front and center doesn't diminish that feeling.
While the eight button and ball-top joystick setup is the most prominent aspect of the top of the unit. There's a few extra smaller bells and whistles to maintain a streamlined arcade approach whilst still incorporating all the necessary buttons found on a DualShock 4.
There's a switch that converts the joystick to either a right stick, left stick it d-pad. A toggle to determine which console you're playing on (the Razer Panthera is compatible with both PS3 and PS4). The PS button, touchpad, and R3/L3 buttons complete the set that sit above the main stick/button setup in an unobtrusive manner.
Walk like a Razer Panthera
The top panel lifts up with a push of that glowing Razer logo, revealing storage space inside. This is for the connector cable, a dual-headed screwdriver, and a bat-top joystick grip. It's here you can also modify the buttons by switching up the wiring, allowing a deeper level of customisation to make hardcore fighting game aficionados and general fighting enthusiasts alike feel more comfortable.
The important thing of course is in how it handles, and unsurprisingly for a Razer product, it's a highly competent, efficient controller, and the tactile feel of the stick and buttons is oh-so satisfying. The responsiveness of the stick is actually difficult to get used to at first. There's no lag, no inconsistency in context of movement. It just works really, really well. It's easy to look at the intimidating price point and scoff at why you'd spend so much on a mere arcade stick. Yet it's just so refined, so complete, that it shows you pretty much exactly what your money is buying you.
To test it out, I naturally gravitated towards fighters first and foremost. Obviously, and crucially, the stick works like an absolute dream with Street Fighter V , and even with Marvel vs. Capcom Infinite. It worked fine with the likes of Injustice 2, and Mortal Kombat XL as well, but it seems to suit Capcom's style that teensy bit better. Of course that could just be personal preference talking. Even so, moving away from fighting games, I still found it that way.
A Home Arcade Hub
I was curious to try other genres out on the stick, games that are a good fit for an arcade setup. I did this partially because I believed it would be a good test of the Razer Panthera's versatility. Also, I did it to realise a long-held whim.
Taking advantage of the fact I could use the Razer Panthera on PS3, I decided to revisit a few old friends. I've always wanted to play Streets of Rage II with a proper set of arcade controls. Here, I got to do just that, and it did not disappoint. It's a combo I always felt would be right, given the arcade heritage of the game. So it's nice to finally confirm that. Elsewhere, I rolled out Sonic 1 and 2, Golden Axe, and even (ugh) Altered Beast, and yep, all did rather well with the Razer Panthera, though Sonic was probably the illest fit, slightly lacking that exact kind of control needed to get through more hi-octane moments, but still, plenty serviceable.
Final Word
It's pertinently clear that to even consider getting the Razer Panthera, you have to be pretty serious about your fighting games. The fact it works so comfortably with other kinds of retro titles as well is a good secondary incentive though. Of course, it helps that it's an absolutely stellar piece of kit too. If you find your fighting skills hampered by a regular controller, or you simply wish to bring a bit of yesteryear to modern consoles, the Razer Panthera is a standout choice.
You can order the Razer Panthera Arcade Stick SFV Edition from Razer.com.