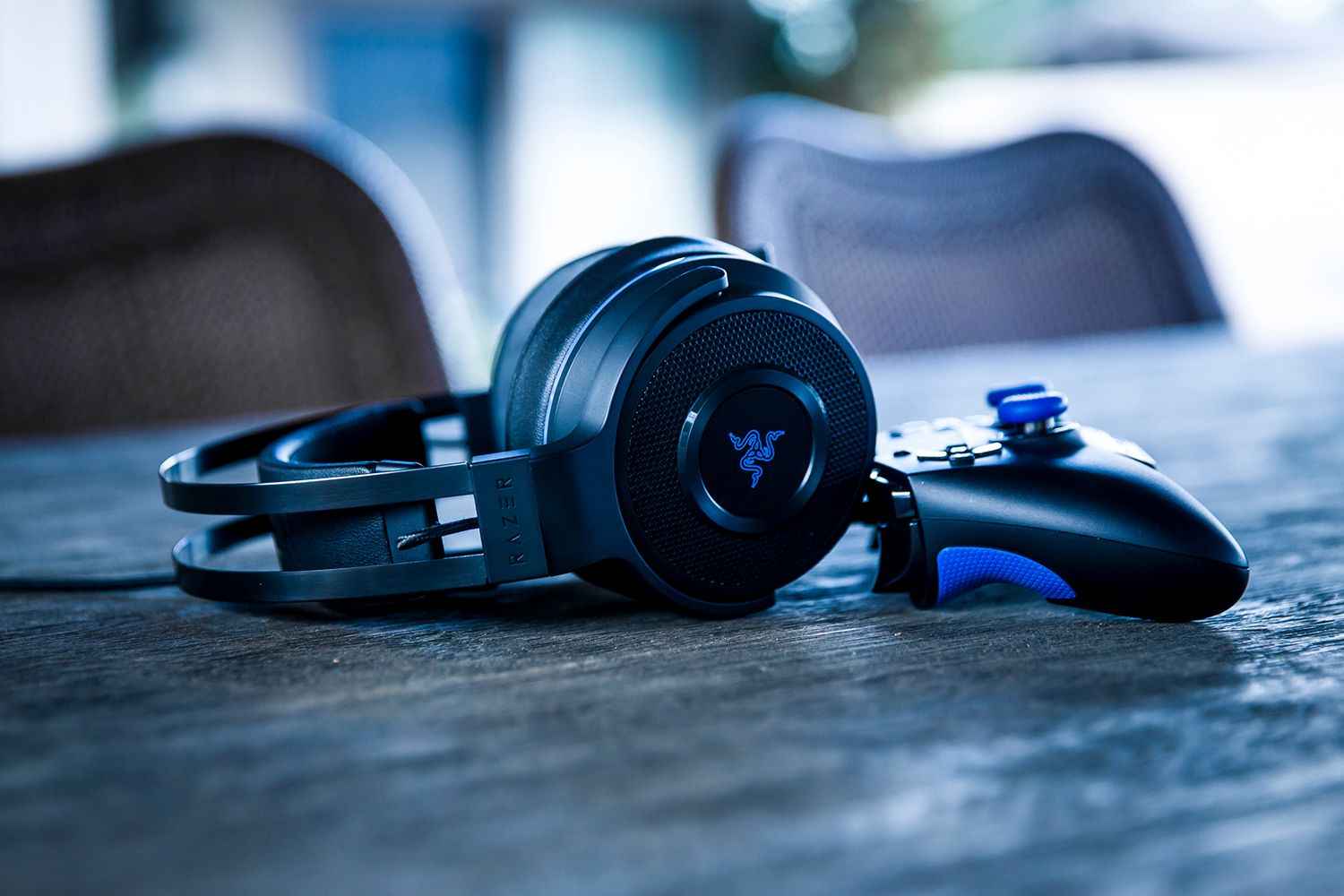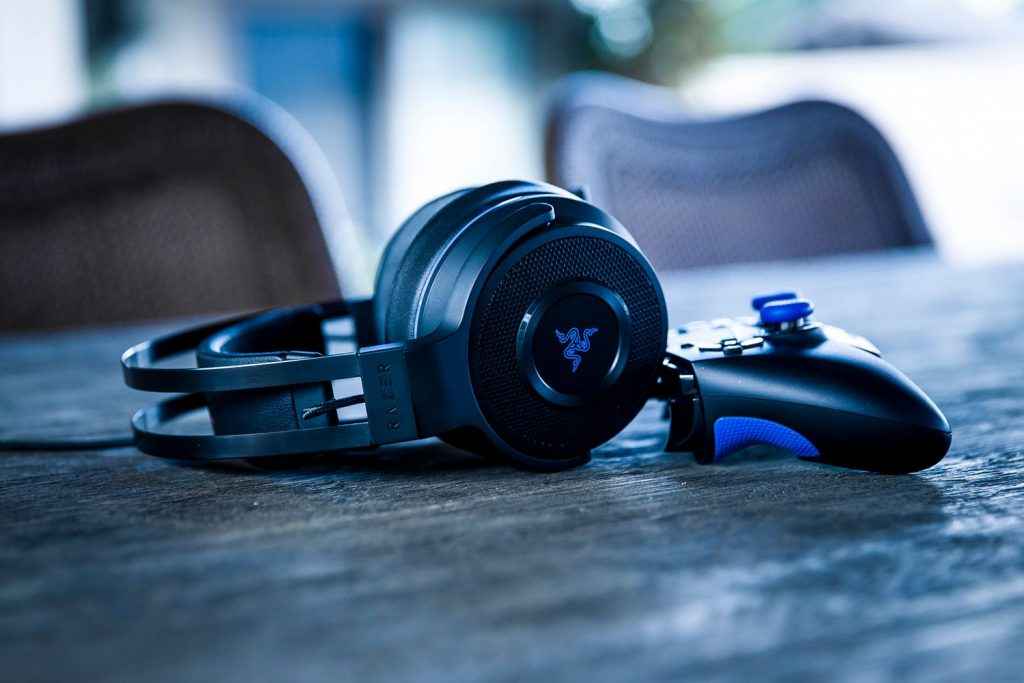 If the most important thing you're looking for in a PS4 gaming headset is the sound quality, then you can't beat the Razer Thresher Ultimate. Also available for the Xbox One and PC, Razer's latest premium headset for PS4 hits that sweet spot of aural pleasure with aplomb, delivering an all-round immersive sound that enriches your gaming experience.
Out of the box, the Razer Thresher Ultimate's understated yet stylish black design is contrasted with the Razer blue band around the cup, the blue Razer logo on the outside of the cans, and an eye-catching arch that runs over the padded headband - this feature means there's no manual adjustment needed as the headband simply pushes up as far as the arch to fit your head. There's also the familiar PlayStation logo just above each cup, while across the band the word 'Razer' is embossed in glossy black.
Like many of Razer's other gaming headsets, the Razer Thresher Ultimate is on the large size, measuring 196mm (W) x 214mm (H) x 104.8mm (D), yet it feels surprisingly lightweight and extremely comfortable to wear. Despite spending a good four-hour session on Call of Duty World War II, the headset felt barely noticeable.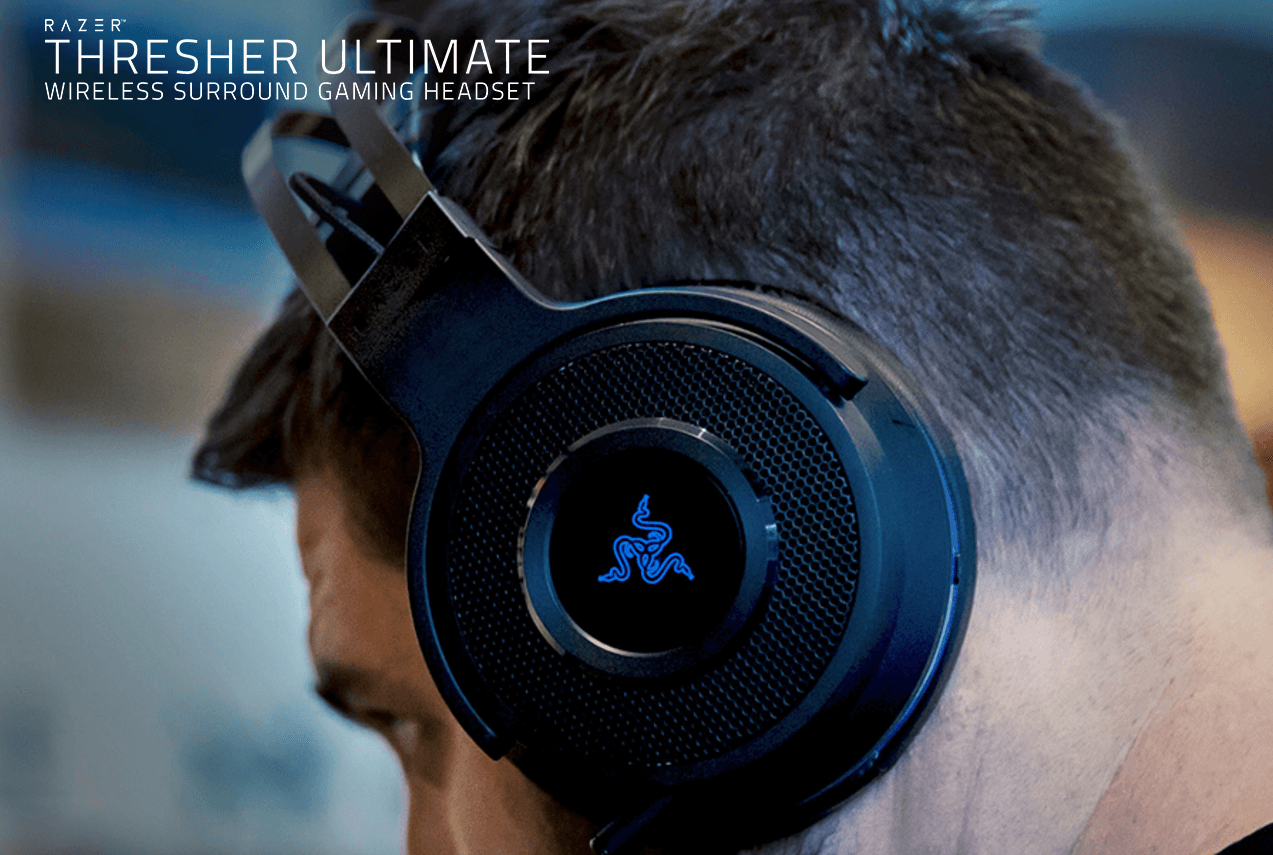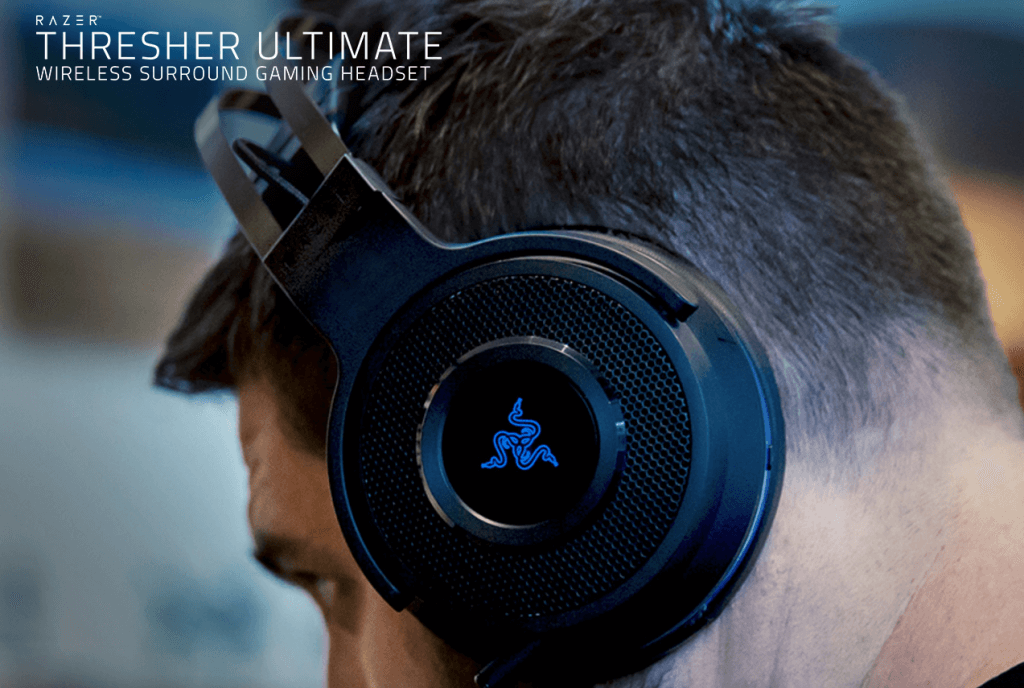 Out of the box, the Razer Thresher Ultimate includes:
Razer Thresher Ultimate headphones
Razer Thresher Ultimate stand
Base station
Two micro-USB cables
An optical audio cable
Instructions
As a wireless PS4 headset, the Razer Thresher Ultimate takes a few minutes to set up, and requires connecting the digital-audio cable and USB lead from an audio hub to your PS4 so you can power it up and use it. The oblong-shaped, black audio hub also features a handy button allowing you switch between PC and PS4 audio seamlessly. With an initial charge of around four hours via USB, we were able to get around 14 hours of game time before having to re-charge again. The flexibility of it being wireless, also means you can carry on chatting to friends in the lobby without interruption while grabbing a drink, popping to the loo, or answering the door. In fact, you can move up to 40 feet away without any loss of sound.
You also get a black plastic stand (approximately 10 inches high) which sits neatly on top of the hub, providing a handy spot for you to rest your cans. Consequently, due to the cables attached from your console to the hub and the 10-inch stand, the Thresher Ultimate is ultimately the kind of headset that you'll keep at home rather than one that you'd carry about to a friend's house or gaming event.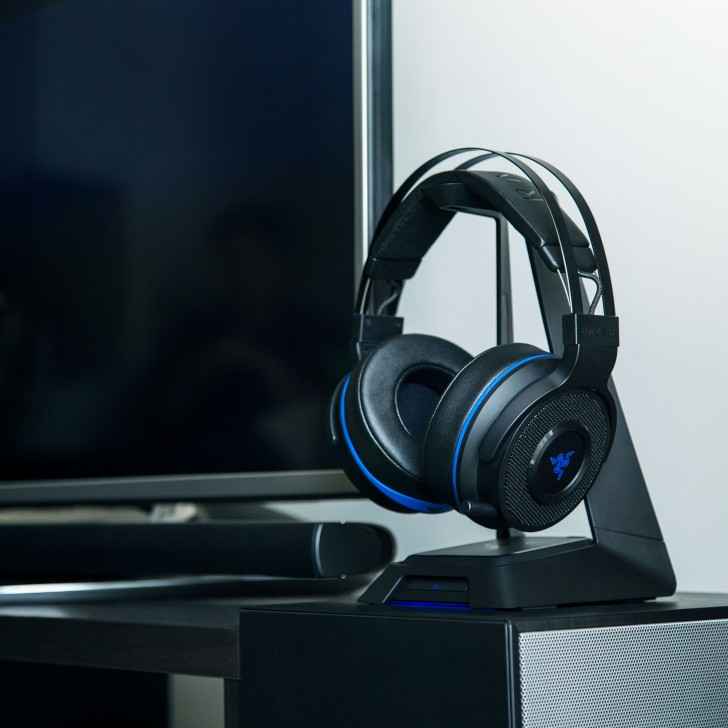 After testing the Razer Thresher Ultimate on a variety of audio experiences – from watching movies on PS4 app Netflix to taking down Nazis in Call of Duty - we really have nothing but praise for its quality, with the 50mm drivers providing an impressively rich sound across the audio spectrum.
From booming explosions – which coupled with the rumble of the DualShock 4 found us physically ducking as tanks shot at us – to crystal clear voices, it strikes that balance between heavy bass and treble which some headsets fail to get right. On the audio hub, there's also a button which you can press to enhance the sound with Dolby Audio Technology 7.1. With this turned on, it pretty much feels like you're sitting in the cinema, and enhances positional audio so you can pin-point that sniper, or hear the rustling of leaves behind you.
On your head, the leatherette padding around the cups feels comfortable, fully enclosing your ears even if you're wearing glasses, and – unlike some cheaper gaming headsets – our ears didn't start to heat-up and sweat after excessive use. It also means there's zero sound leakage from the cups.
The extendable microphone pushes and pulls neatly in and out of the left can, and curves around to your mouth. Checking sound quality with other gamers, they confirmed that they could hear us loud and clear. We also recorded some footage with voice-over and it produced a clear, even sound that has the quality we're looking for when recording gaming videos for YouTube or Twitch.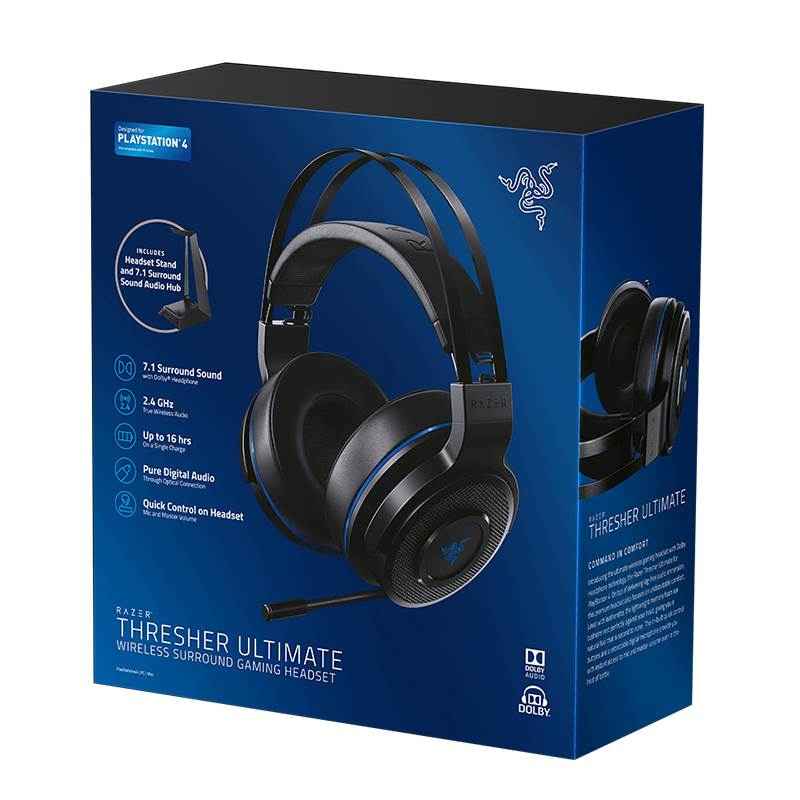 In terms of features, the Razer Thresher Ultimate is fairly basic. There's game volume and chat dials on each cup which are intuitive to use, and the ability to mute the sound, but we were surprised about the lack of a noise cancellation feature – something that we've recently enjoyed with the less expensive Turtle Beach Stealth 700. Consequently, though it does dampen some external noise, you can still hear the humming of a washing machine or a car pulling up outside your house.
In terms of sound quality, however, the Razer Thresher Ultimate is the best wireless PS4 headset that we've had the pleasure of testing out. With Dolby 7.1 switched on it feels like the sounds are all around you and delivers a cinematic experience that immerses you in the action. Retailing at £249.99, it isn't cheap and since we've had the headset we've had numerous friends asking why anyone would spend this much on a PS4 gaming headset. Our answer is simple: just try it and you'll see.
To check out the Razer Thresher Ultimate in more detail, or one of Razer's other PS4 gaming headsets, visit the official site.