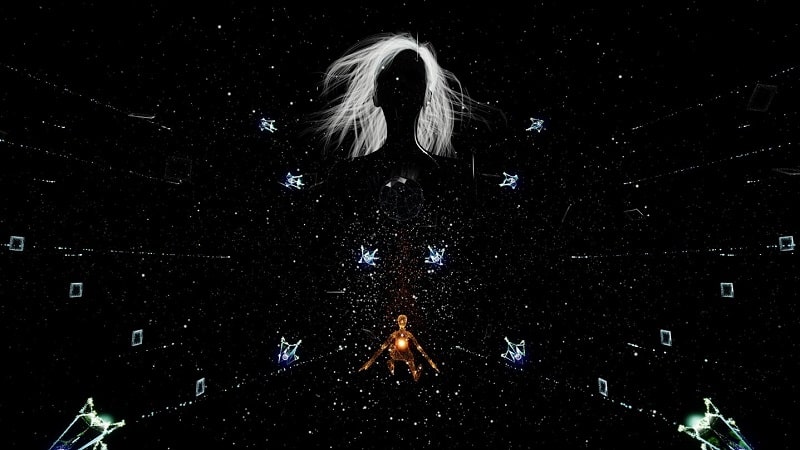 Rez Infinite PSVR2 Review. In both its VR and non-VR forms and even stretching all the way back to the original release on PS2 in 2002, Rez has always been a sublime example of how to comprehensively nail the on-rails, arcade rhythm shooter formula with style and verve. Of course, Rez Infinite is something of an evolved beast that not only remasters the stages of the original Rez on PS2 in VR, but also includes a free-roaming 'Area X' stage that hints at what a potential Rez Infinite 2 (or some such sequel might look like).
Of course in our original PSVR review of Rez Infinite we've already covered at some length just how well Enhance's rhythm shooter translates into VR, so that begs the question – what does the PSVR2 version of Rez Infinite bring to the table? Well, I'm glad you asked.
Rez Infinite PSVR2 Review
---
The Legendary Arcade Shooter Soars On PSVR2
Much like Enhance's other PSVR2 effort Tetris Effect: Connected, Rez Infinite takes advantage of PSVR2's impressive capabilities in a number of similar ways. The most obvious upgrade is the visual side of the equation which sees Rez Infinite on PSVR2 displaying at a super sharp 2000×2040 resolution per eye and running at a buttery smooth 120 frames per second to boot. The net result of this substantial visual upgrade is that Rez Infinite's retro futuristic cyberspace environments, that boast creative nods to everything from Tron to the wireframe shooters of the early 1980s, now look sharper than ever. There's a level of clarity being showcased here that simply wasn't there with the OG PSVR version of Rez Infinite. To be absolutely clear, this is the best Rez Infinite has ever looked.
Rez Infinite also makes roundly impressive use of the PSVR2's Tempest 3D audio capabilities too. Specifically optimised for Rez Infinite's Area X stage that removes the rails and allows the player to freely roam and visually kaleidoscopic realm wrapped up in delirious synaesthesia, PSVR2's 3D audio technology is brought to the fore with aplomb, with the sounds of incoming attacks, enemies and even the world itself swirling around you like a vortex of aural bliss. To say that the Rez Infinite's Area X level is a showcase of the PSVR2's 3D audio capabilities would be something of an understatement to say the least.
Further Reading – New PS5, PS4 Games Release Dates In 2023 And Beyond – All Upcoming PS5, PS4, PSVR2 Games
While Tetris Effect: Connected leveraged the fancy eye-tracking capabilities of the PSVR2 in a fairly subtle way, Rez Infinite instead goes the full nine miles by allowing you to play almost the whole game with just your eyes. Whereas typically you could use the PSVR2's Sense controllers to lock onto enemies and then release to destroy them with an attack, you can use eye-tracking to lock onto enemies and then press another button to unleash an attack to destroy them. What's surprisingly is just how accurate the eye-tracking is in Rez Infinite can be too, effortlessly allowing players to target multiple numbers of enemies very quickly while also providing ample accuracy to target weak spots on any of the game's bosses
Though hugely fun and also a truly legitimate way to rack up high scores that are on par with any other control method, it's also fair to say that this control method won't be for everybody and when longer sessions of Rez Infinite are in the offing without breaks, eye-strain can certainly become a factor if not properly taken care of in advance.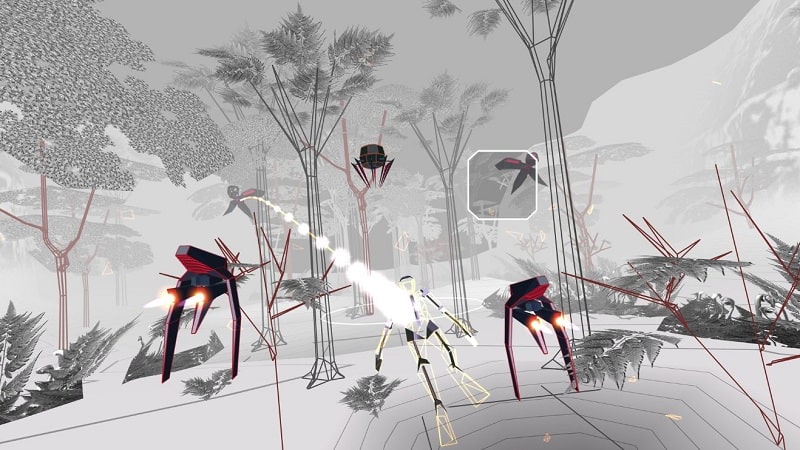 The final new, shiny thing that PSVR2 brings to the Rez Infinite experience from a technical point of view is, somewhat predictably, the implementation of haptic feedback. Translated through both the PSVR2's Sense controllers and the headset itself, every beat and successful hit is now keenly felt like never before, further allowing players to synchronise themselves with Rez Infinite's thrummingly superb soundtrack as they chase down those elusive highest of high scores.
Further Reading – Upcoming PS5 Games – The Most Anticipated PS5 Games Coming Soon In 2023
Despite the original concept releasing back in 2002 and then being augmented for for PSVR in 2016, it's abundantly clear that Rez Infinite hasn't lost a beat in its leap to PSVR2 in 2023. More than twenty years old, destroying enemies at a frenetic pace all the while a pulsating soundtrack creates a thunderous soundscape from which you'll aim to get the highest score possible, Rez Infinite remains an evergreen thrill and there is no better time to get stuck in than right now with its definitive version on PSVR2.
The same notion applies here as it does for Tetris Effect: Connected in that Rez Infinite on PSVR2 is arguably leagues better than its OG PSVR predecessor and confidently makes its mark as one of the best games you can get on PSVR2 right now. With super sharp and buttery smooth visuals, arresting 3D audio, deftly implemented haptic feedback and a brilliant use of PSVR2's eye-tracking capabilities, this is as good as Rez Infinite gets.
Rez Infinite is out now on PSVR2. Owners of Rez Infinite on PS4/PSVR can upgrade to the PS5/PSVR2 version for just $9.99/£9.99.
Review code kindly supplied by PR.