Rising Hell PS4 review. Uniquely vertical, blood-pumping and full of heavy metal guitar shredding, coming from Tahoe Games, Rising Hell on the PlayStation 4 is a retro roguelite that drips blood and oozes character. I have played a demonic handful of roguelites in recent years and yet, there are facets of this title that really make it stand out in this ever-increasingly popular genre.
The story of Rising Hell, as with the majority of roguelites I have played, takes a back seat. After a short pixel-art cutscene you are thrown into the action and that is about all the narrative you get. You initially play as Arok and you have an ungodly ability to slay demons. You must use this power to slay the hordes of Belial and escape hell itself. Come to think of it, I am sure I have tried to escape hell in another rogue title recently. Rising Hell reminds me of Hades in that sense, both roguelites and both require hell to be escaped from.
Rising Hell PS4 Review
---
Rise, Slay and Escape Hell
The gameplay flow and the speedy nature of which Rising Hell plays is its main draw. It's frantically brisk, addictively fluid and the way you ascend each demon-filled stage feels very unique for the genre. In a way, at times, Rising Hell feels more akin to a platform game than a roguelite. As you double jump, wall jump and tackle environmental hazards you will sometimes even forget what kind of game it is, until you inevitably die and have to start from scratch.
Rising Hell's combat system is like melting butter. Once you get used to it, it seeps upward through each stage, in a chain of exploding red pixels. You have three characters that all behave differently but your starting character just uses his fists. What really excels with this system though is the fact that your jump is an actual attack. Sounds weird right? It certainly felt weird initially but then it becomes second nature. You can chain these attacks together too to constantly propel yourself upwards with each bloody corpse like a rocket-powered demon-slaying god.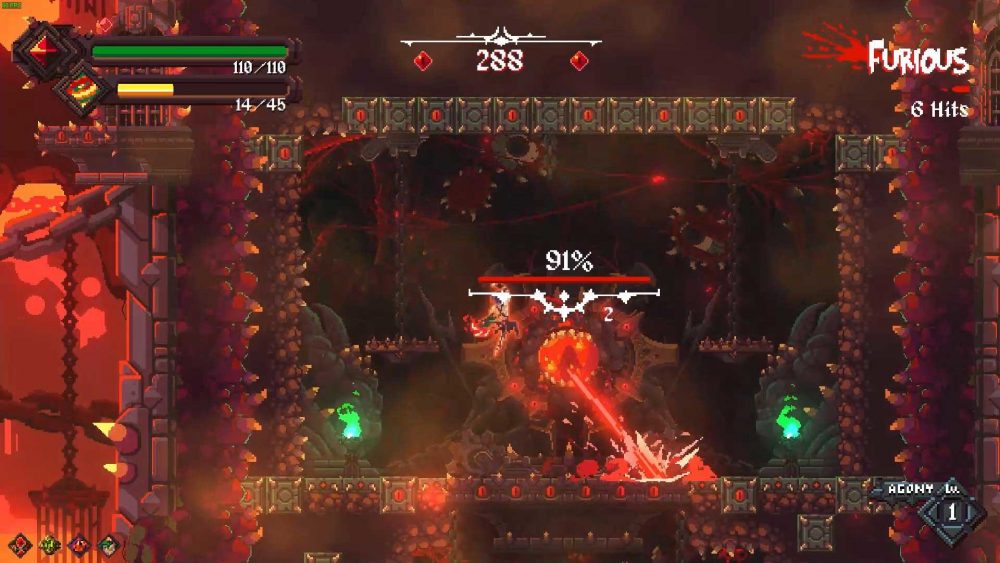 Related Content – The Best Indie Games on the PlayStation 4
Rising Hell Launches You Upwards at A High Pace
You have special upgrades as with any good roguelite but in Rising Hell you also have artefact weapons which only last a small amount of time. Initially, I thought they were based on usage but shortly after I realized that they were time-based. This small but nuanced system drives you forward at a relentless pace to make sure you get the most out of this shiny new murder toy. Stand still too long and it feels like a waste. This further feeds into the speed and fluidity of Rising Hell's gameplay flow, too.
Along with all this crunchy, explosive fluidity, you have upgrades that are similar to other games of the ilk. You usually get to choose between three, normally new techniques, health upgrades, attack upgrades or some other weird way to progress upward through this demon-filled abattoir. Sometimes you can even trade some of your health for currency or some of your currency for health, which adds a small amount of push your luck to the game. Is there an upgrade you really want? Want it enough to sacrifice some health? It's up to you to take the risk.
Some of Rising Hell's levels also add platforming challenges into the mix. Though you get saws pushing you relentlessly upward through the stage to poison-filled rooms, foe example, now and again the game likes to throw a spanner in the works and it always keeps you on your toes. It's the same story with mini-bosses, in between the massive end of level bosses. The game throws these little, but deceptively challenging mini-bosses at you and if your not paying attention they will end you. They may look small but sometimes they can be very deadly.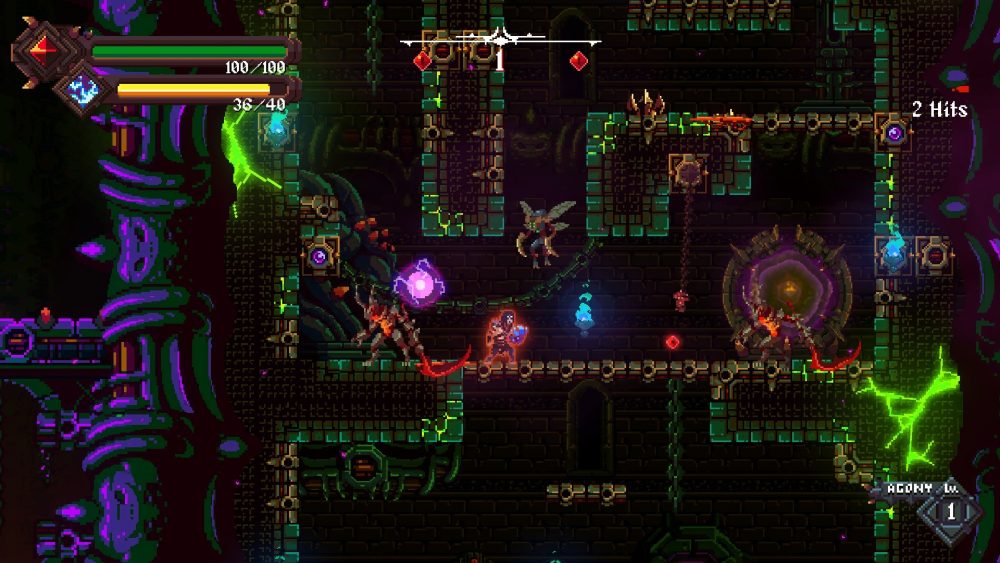 The main bosses are a lot of fun to take on, as they are gargantuan, screen-filling monstrosities that all have attacks to learn and techniques you must discover. Lasers must be dodged, wall attacks must be mastered and using your artefact weapons are key to felling these massive beasts. They were always fun to take on though, even on the tenth time of fighting the first boss, I still had fun doing so. It is a testament to the level of intricacy these bosses possess that they remain fun long after you start.
A Rip-Roaring, Rocking Presentation
I adore the presentation of Rising Hell; it was what first drew me in. I love heavy metal and I love decent pixel-art, so Rising Hell was, for me, a sight and sound blast to behold. The music is brisk, crunchy and wondrous. The animations are smooth and the enemy designs are extravagant. Everything about this game's art direction sings to me, well, it plays guitars to me really but you know what I mean. Your mileage may vary but in my opinion, there are not enough metal soundtracks in games. Give me that thrash!
On a technical level, I had zero issues. Nothing really to report and everything ran as it should. If a game runs well, it's not really talked about but if it is broken, we never hear the end of it. Rising Hell works flawlessly and for that I thank the developers and their QA teams for just making it just work. I feel good performance in games is overlooked a little sometimes, but I was happy to just get on with demon-slaying without having to worry about crashes, poor framerates or other irksome issues.
My only issue with it, and it is nitpicking a little, is the amount of content you have to play. The game is quite short, does not have a massive amount of enemies and layouts and over time, I feel it could get repetitive. Don't get me wrong, there is enough content there to get your money's worth. It's very cheap but compared to the top tier roguelikes but I cannot see myself playing it a hundred hours later like Spelunky 2 or The Binding of Isaac. You do have a challenge mode and lots of unlocks but there is not a mountain of content to drill through like the above-mentioned titles.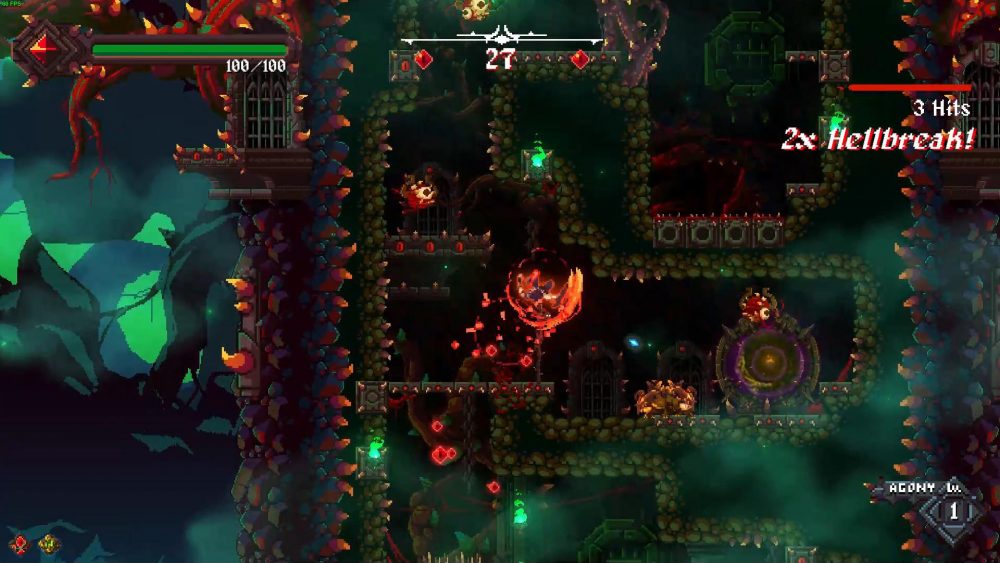 An Enjoyable Riff of a Roguelite
Rising Hell is a guitar-thrashing good time. Its soundtrack is immense and the combat system moreish. The verticality and platforming give it a fresh feel among its peers, which is refreshing. If you are into the genre, you will definitely appreciate what it offers. Rising Hell runs well, looks great and rewards the player with regular unlocks. Just don't expect to run through the game hundreds of times and you will be golden. For the price you pay, you will easily get your money back in blood dripping, ear-pounding, demon-slicing entertainment.
Rising Hell is available now on PS4 and is playable on PS5 via backwards compatibility.
Review copy provided by the publisher.