Salt And Sacrifice Review (PS5) – When developer James Silva launched Salt And Sanctuary, it became so beloved by those afflicted with the FromSoftware bug that it came to be known as "2D Dark Souls".
Jump ahead almost seven years, and we now have Salt And Sacrifice, this time from the combined efforts of James Silva and Shane Lynch. Rest assured for fans of the first game, this sequel carries on that "2D Dark Souls" mentality.
But thankfully, Silva and Lynch go further to create something unique, wickedly creative, and for my money, the best Soulslike game you could play post Elden Ring.
Salt And Sacrifice Review (PS5) – The Best Soulslike To Play After Elden Ring
---
Shiny And New
The immediate expectation for most direct sequels, especially if it is clear that many of the original ground rule set in the first installment will carry on in this new title, is that everything will be improved.
Its an expectation I find wholly foolish, that players should expect animations, art, or assets that were perfectly fine be re-done just for the new game.
My lack of expectations be damned though, because re-doing all of that is what Silva & Lynch decided to do. Everything has been given a fresh ground up re-doing, from all the hand drawn assets, animations, art, and even many of the tools used to create those pieces.
It makes a world of difference comparing the two games, not that the original had any visual issues, you just notice such an amazing bump between them.
I should add that it helps when playing it on PS5, as with even a 2D game like this, enemies and environments are still able to beautifully pop on the screen.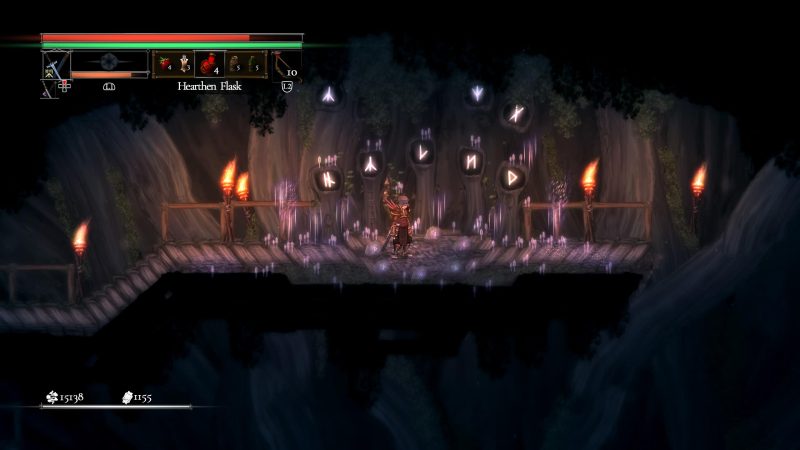 Not that there's much popping colour, mind you, but I find myself constantly looking around in each area, just to get a closer look at it all.
Creature designs actually had me terrified on more than one occasion, with how amazingly horrifying they can be to look at, let alone fight.
The water colour aesthetic and soundtrack make for amazing atmosphere as well, the whole time you're playing. And despite battle tracks for Mage fights being the same, they never fail to get you pumped for the ensuing boss fight.
I really just love everything about the way this game looks. One of my favourite things are many of the little animations you'll do, like gently using your pick axe to mine ore for your weapons.
Same Vibes, Different Dimensions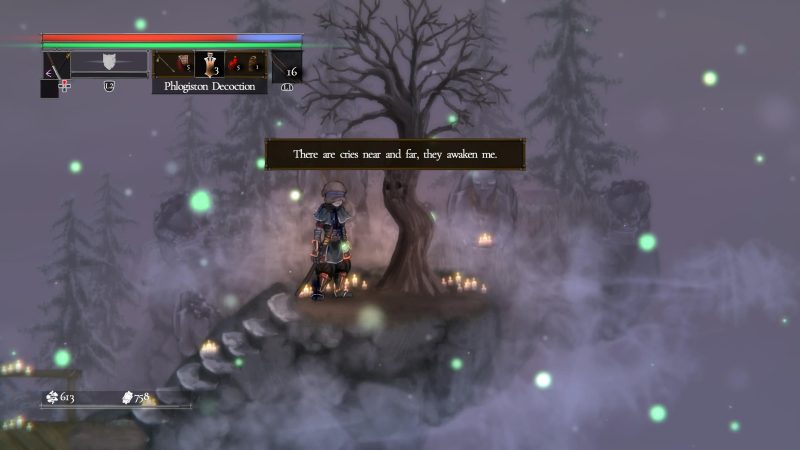 It's uncanny how much Salt And Sacrifice will not just remind you of Elden Ring, if you are playing the two one after the other. But for as much as they can feel similar, what I love most is how much Salt And Sacrifice feels wholly unique.
There are a lot of parallels when it comes to important terms and imagery, but that's basically where the comparison ends. Salt And Sacrifice is much more its own game, with a movement and combat system that is much more enjoyable this time around compared to the original.
I'm a personal sucker for a grapple hook, so anytime I get to use one in a game, there's a pretty sure bet I'll like it. There's a much deeper parry system this time around, making classes more dexterity focused a lot more viable.
But Salt And Sacrifice also never forces you to really stick to the class you start with. Entirely re-specing your character is always an option, thanks to a separation between using salt to level up, and how your stats increase.
Similar to the first game, levelling up merely gives you a skill point to use, to decide which stat to bolster. You can even change your mind after spending a skill point, to refund a stat and put it towards something else.
It feels like there's an incredible variety of ways to play Salt And Sacrifice, rather than needing to stick with a few classes and strategies to find success.
Which, is a major part of why players loved Elden Ring so much. Both games have similar vibes, just based around very different landscapes. It's not all the way there, I'll say, but just as Salt and Sanctuary was "2D Dark Souls," Salt And Sacrifice feels like "2D Elden Ring."
The Hunt Is On
It's not just the works of FromSoftware that heavily inspire Salt And Sacrifice, as its clear that Monster Hunter also played a large role.
When the game begins, you find yourself in the shoes of a criminal, whose crime is of your choosing, acting as a starting gift. Once chosen, you discover that you'll undergo a ritual to put you in a state between life and death, so you can hunt Mages without fear of dying.
Mages are the main things you'll be killing for most of Salt And Sacrifice, besides the other mainline bosses. Mages are all interesting in that they each correlate to some kind of element, and all have different ways in which you can approach them.
You'll quite literally hunt them down, as you'll go from one side of the five main areas available to another, cornering them to go in for the kill, devouring their hearts for power. It's all pretty metal, when you get down to it.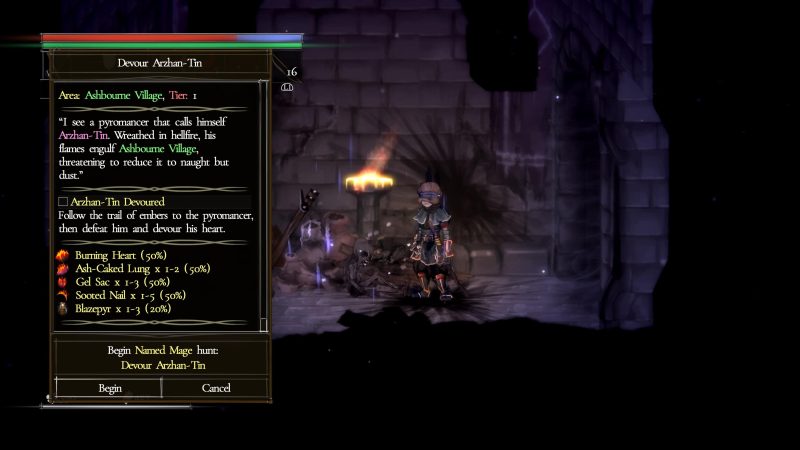 What I really liked about the Mages is how different they felt from other bosses, despite being the kind of boss fight you'll face more than any. Actually chasing a Mage down, and hunting it for both narrative progression and to craft a special piece of armour or a weapon, adds a whole layer of purpose in each hunt.
It's a layer of depth that helped keep the process of hunting Mages go stale, as you start to become proficient at taking them down.
Even without it, I'd still say it would take a long time before you'd be bored of a Mage hunt. The added benefit of hunting Mages means that any concerned effort to clear an area of Mages will also get you to explore the whole environment.
With how good everything looks, I barely noticed the fact that I'd been going through the same order of tasks for each hunt.
The Little Changes Make All The Difference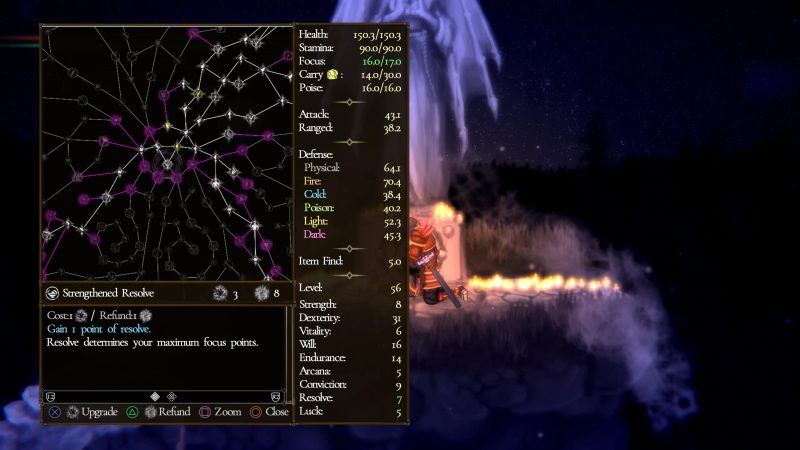 Though Salt And Sacrifice's inspirations are clearly felt, there are little details which almost feel like purposeful fixes on the same mechanic elsewhere. Like when you die, for example.
Similarly to all recent FromSoftware titles, dying means losing your gained experience or salt in this case, and having to trek back to the place of your death to recover it. Thankfully, that last part is more literal than its ever been in a FromSoftware game.
If you get hit off a ledge, and fall to your death, many players familiar with the Souls series would understand they'd need to get back to the aforementioned ledge, to retrieve what's close to being lost. In Salt And Sacrifice, your experience drops where your body lands, period.
So when you fall from that ledge, you only need to find where you fell, and not head straight to the ledge. It sounds like the smallest thing but I can promise you, as someone who adores this style of challenging game, having that extra little difference felt huge.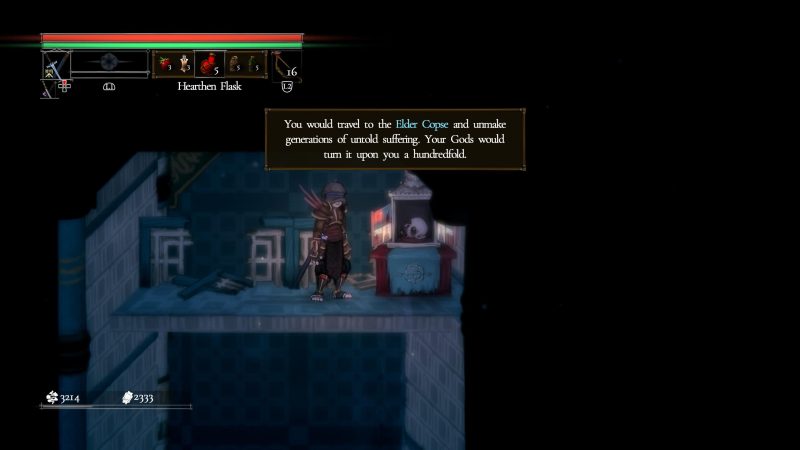 It just always feels like a big relief, when I can pick up my lost salt without having to face the same gauntlet of enemies. And though Salt And Sacrifice lacks any map you can look at, areas are contained enough that it never gets too confusing, and the game will actually direct you to your next Mage when hunting them down.
One change I did not find beneficial however was the inability to warp to a different starting point in any area. You'll always go back to the same starting point, and you're meant to unlock multiple shortcuts to make getting back to late stage areas faster.
It just felt needlessly troublesome, needing to go from the same spawn point every time when travelling between the safe zone hub world, known as the Pardoner's Vale to any of the game's areas.
Hunt Mages, Devour Their Festering Hearts
Salt And Sacrifice is every bit the sequel I could have wanted from Salt And Sanctuary. It improves on the movement and combat in the first game, while adding new and interesting mechanics that give an already deep gameplay system further depth.
The look, feel, and atmosphere are as entirely intoxicating as the desire to hunt Mages for better gear is. I only find points against it regarding a couple of annoyances, and the story not being as intriguing as I could have hoped.
But everything else about your experience with Salt And Sacrifice will draw you into a game world you won't want to leave, with any fans of the Souls games feeling cozy and at home.
For any fans of the first one, I cannot recommend Salt And Sacrifice enough, and for anyone who just got done with Elden Ring, then you're perfectly positioned to pick this up next.
Now if you need me, I'll be on a hunt.
Salt And Sacrifice is now available on PS5 and PS4.
Review code generously provided by publisher.