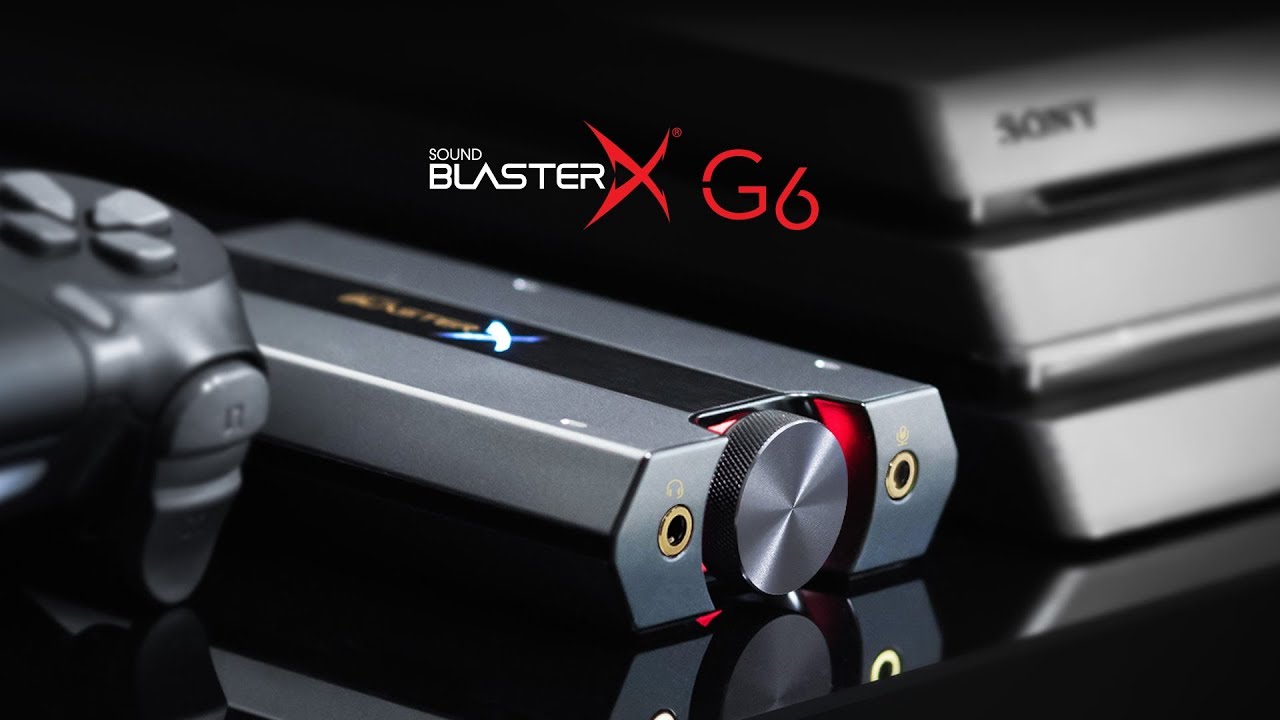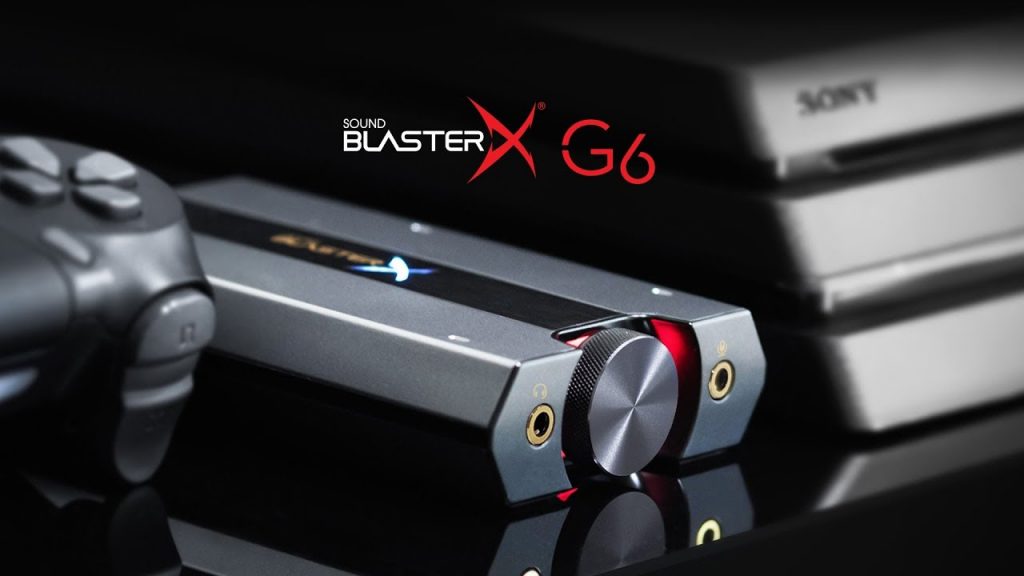 We often focus on acquiring the best visual display for our gaming setups – getting a bigger, better TV or monitor. However, audio is also an important element of our immersion in virtual worlds. The best way to hear every little detail is with headphones or a headset. Yet, even a great pair of cans will be limited without proper sound processing. That's where a sound card like the Sound BlasterX G6 steps in.
The G6 right out of the box
The Sound BlasterX G6 is described on the box as a "hi-res gaming DAC and USB sound card with headphone bi-amp." We'll explain what some of these terms mean later on in this review. In a nutshell, the G6 is a small box designed to make your games, movies, and music sound better. Using a headset or headphones with a console has never been easier this generation, as the controllers of the PlayStation 4 and Xbox One have a standard 3.5mm headphone input jack. The audio quality coming from those controllers, though, leaves much to be desired, being compressed and lacking clarity and spatial processing.
When you first open the G6 box, you are greeted with the device itself, sitting center in a nice, velvet-like mold. The G6 fits in one hand and is surprisingly lightweight, making it portable. Most of the outer-casing sports a sleek gunmetal plastic, with a brushed metal band sporting the Sound BlasterX logo running down the middle. The underside is covered in a black rubbery material to keep the device from sliding around on smooth surfaces.
Overall, the design gives the G6 a premium look, one that appears less like your typical gaudy gaming accessory and more than its $150 price would let on. Inside the box is a digital optical cable, USB cable, and papers, like the instruction manual and warranty information.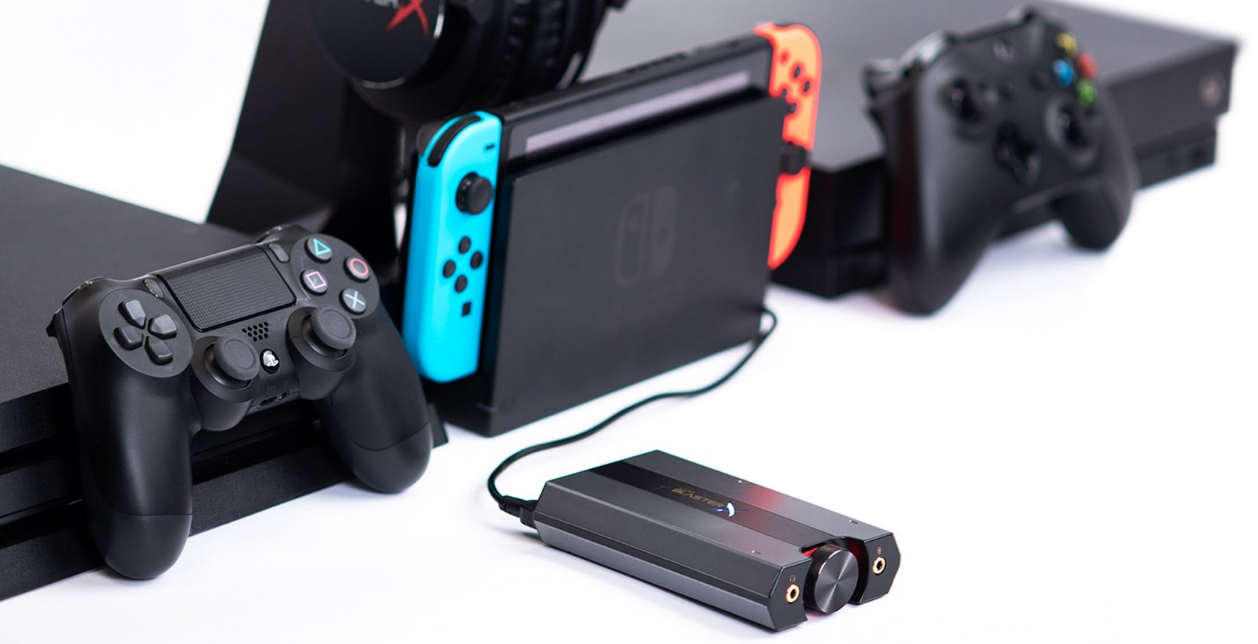 Setting up the G6 is simple and breezy, no matter which device you're hooking it up to – PS4, Xbox One, Nintendo Switch, or PC. For the best sound quality (and Dolby surround sound signal) from PS4, connect the digital optical cable from the console to the G6. Jack in your headphones or headset of choice into the left 3.5mm jack. An external microphone can be used via the right 3.5mm input, if you prefer to not use your headset's mic.
The USB cable from the G6 is plugged into one of the PS4's USB ports to power the G6 and get chat audio. (Alternatively, you can also plug the USB cable into your PC, unlocking some other uses that will be touched on later.) The last remaining port is an audio out, which can output via analog 3.5mm (for a second headset/pair of headphones or speakers) or via digital optical (to a surround sound receiver). A gripe I have with that optical output is that it is a PCM stereo signal, not a Dolby Digital surround signal.
Next-level sound quality
Upon starting a game, I immediately heard a tremendous upgrade in the sound coming from my headset. Everything sounded clearer, with crisper treble highs and boomier, low-end bass. Remember that "headphone bi-amp" part of G6's title? One of the device's features is its Xamp headphone amp tech. A typical headphone amp amplifies the left and right audio channels at once from the same IC (integrated circuit). G6 has a bi-amp that individually amplifies the left and right channels individually. This amp design helps the G6 deliver that cleaner, better defined audio.
Another huge improvement the G6 provides is with spatial surround sound. The G6 supports the Dolby Digital surround sound signal format and outputs simulated 7.1 or 5.1 surround audio. When I listened as I spun the in-game camera while plugged into the controller, the audio was jilted as sounds shifted from my left to right ears and vice versa. While using the G6, what I heard was significantly smoother, so much imagine an audial circle around me.
Not only is this great for better audio immersion, but it's incredibly useful while playing competitive multiplayer titles. I could easily pinpoint the location of gunfire and other sounds in shooters like Call of Duty: Black Ops 4. This directional awareness is especially important in battle royale genre games and modes. Using the G6 allowed me to call out the direction of gunshots ("Enemy fire coming from the north… east it sounds like") in titles like Fortnite and Apex Legends. The device even has a dedicated button for its "Scout Mode," an audio equalizer configuration designed to make it easier to hear sounds enemies make such as footsteps, gunfire, reloading, etc. For the multiplayer gaming, I found the G6 to be one way to really step your competitive edge.
In addition to the "Scout Mode" button, the G6 has a few other physical controls as well. There is a volume knob that can be pushed in to change other levels or mute. A switch on the side is for low or high gain (the setting depends on your headset/headphones). Lastly is a button labeled "SBX" for toggling a custom audio profile on or off. Everything but the volume knob is not very easy to press, as they are either a clicky, very small button or switch. I have had to practically use my finger tips to press these. You hopefully won't be finding yourself needing to hit these buttons while in-game. But if you do, you will probably need to wait till you're waiting to respawn or your character is somewhere safe.
Use the Sound BlasterX G6 with your PC too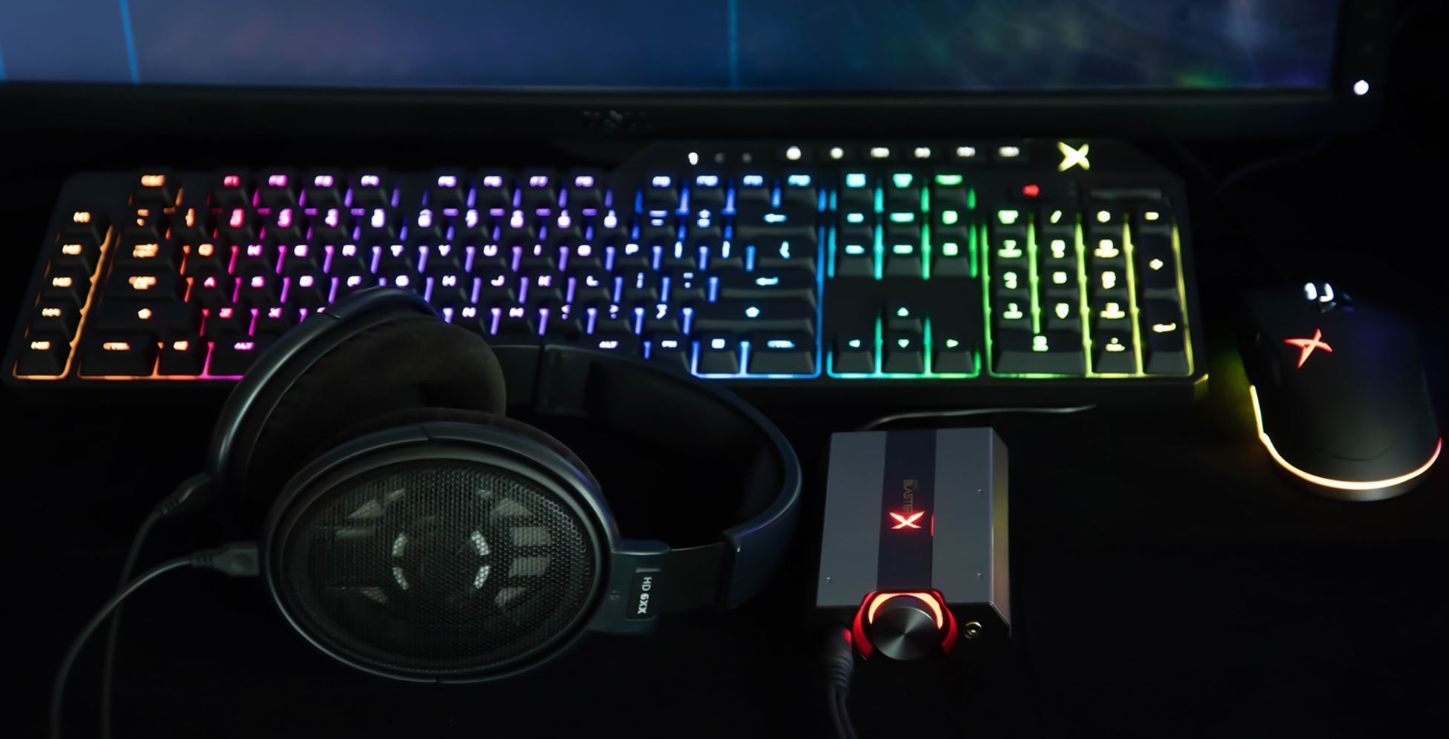 Earlier in this review, I mentioned you could alternatively plug the G6's USB cable into your desktop PC or laptop. One reason to do this is for full customization of the audio settings, including the profile assigned to the "SBX" button. The Sound Blaster Connect software allows the tweaking of a large variety of settings. By default, there are over 20 configured audio profiles, each of which can be tweaked to your liking, or you can create ones from scratch yourself. The G6 continues blasting out the audio coming from your PS4, allowing you to hear how the changed settings or profiles sound in real-time. The settings for your microphone and the G6's lighting can be adjusted from Sound Blaster Connect. There's even a voice changer included in the application.
That brings me to another useful feature of using the G6 plugged into your PC while using it with PS4: the ability to use other voice chat programs while gaming. There were times when I wanted to be playing on PS4, but wanted to chat with friends on Discord, Skype, Facebook, etc, and the G6 allowed me to do that. My mic can be outputting to whatever voice communication platform I was using on PC, and I can hear both my console game audio and PC chat audio. Moreover, this configuration let me listen to music, YouTube videos, or podcasts while gaming on a console with headphones/a headset.
Providing additional bang for your buck, the G6 is technically a hi-res DAC amp. Unless you're an audiophile or aware of the world of audiophile equipment, you may not be familiar with the terms "hi-res audio" and "DAC." Hi-res audio stands for high resolution audio, and is pretty much what it sounds like. Specifically, hi-res audio files exceed the quality heard on, of course, many digital audio files and even CDs. FLAC files are one such type of hi-res audio. DAC stands for "digital-to-analog converter" and is the circuitry that turns (digital) data into the (analog) signal heard in your headphones.
For more information, check out these top high-resolution audio headphones that drive audiophile people crazy in this 2019 list.
Standalone DAC amps are a popular device among audiophiles to get the most out of their music. The G6 functions similar to a gaming mixamp like those with Astro headsets, but doubles as a hi-res DAC amp. I found using it for music (and even movies and TV shows) provides just as wonderful results as it does for gaming. In fact, I have been listening to tunes using the G6 while writing this review, and it's been splendid.
The G6 is a gamer audiophile's dream
Given everything that it can do, the Sound BlasterX G6 is a gaming audio amp that certainly justifies its $150 retail price. If you want to step up the audio of your games (especially for competitive multiplayer), music, movies, and shows, you cannot go wrong with the G6.
A Sound BlasterX G6 unit was provided for this review.