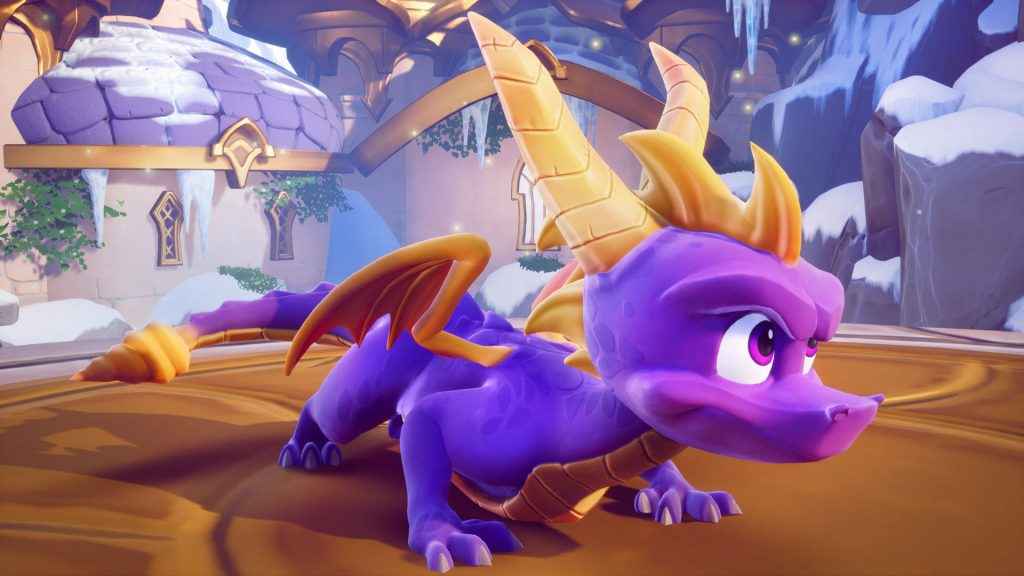 Nostalgia is a curious two-way street – especially when it comes to reviewing a remake of a beloved classic from a different time.
On the one hand, it makes attempts to be objective that little bit harder due to a deep-seated familiarity with something and all the emotions that come with that, but on the flip side it can make you that much more critical if the new product somehow tarnishes the legacy of something you loved growing up. For me, the Spyro the Dragon series is one such example. A set of games from my formative years, the original Insomniac Games-developed trilogy holds a special place in my heart and I can still recall the snap of Stewart Copeland's snare or the zap by which a fairy saves your progress with consummate ease.
So when it was announced earlier this year that developer Toys for Bob was to be tasked with fully rebuilding the first three entries in the purple dragon's catalogue, I eagerly awaited what the end result would be.
Spyro Reignited Trilogy Hits Those Nostalgic Notes
With the resurgence of mascot platformers and the wave of '90s nostalgia currently sweeping large swathes of the population it is surprising that it took Activision so long to realize the potential that lay in its midst. After all, two of gaming's most beloved mascots in Crash Bandicoot and Spyro are within the Santa Monica-based publisher's portfolio – to the envy of many, we suspect – and it took until 2018 to realize the potential of each character's storied history rather than just shoehorning them into Skylanders with overhauled appearances that deviated drastically from their original concepts.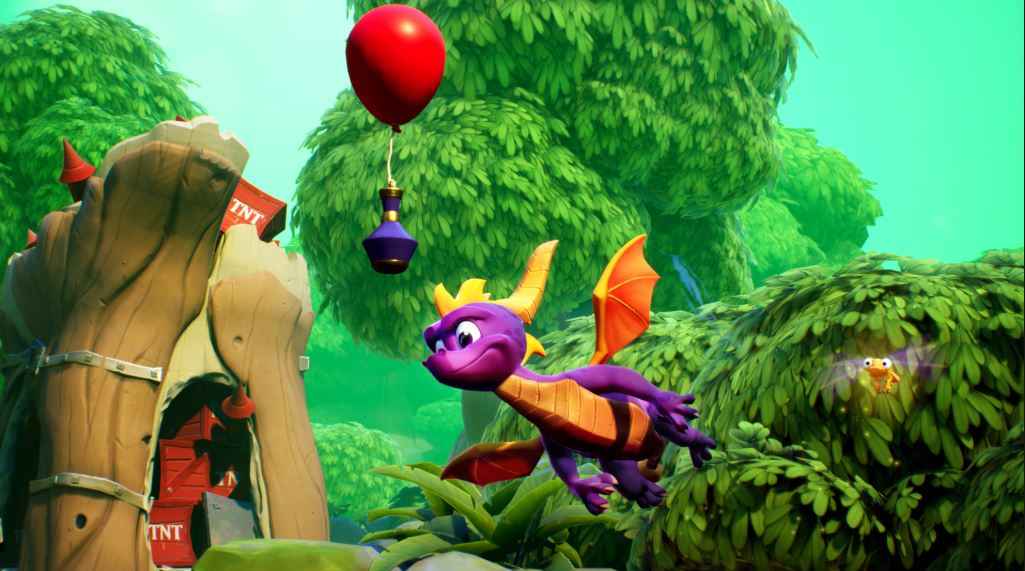 Both characters have weight and resonance with a sizeable subset of folk who have now entered an age where they'll look back fondly on games from their earlier years and it's safe to say that Toys for Bob has delivered spectacularly on its mission to modernize Spyro whilst still staying true to its lineage with the Reignited Trilogy.
It's worth stressing that this remastering effort is meticulously crafted with a level of faithfulness that's rare amongst remakes. Though each game is stylistically different, the level of fidelity follows that trajectory perfectly and each game looks spectacular in its own right. Given the fact that it's a remaster, however, your mileage will depend on your affinity for the original trilogy or even platforming games in general – thankfully the latter two sequels are arguably the two best games in the genre available on the original PlayStation.
Like Crash Bandicoot before it, the jump in quality between the original Spyro and its subsequent sequels is quite staggering – levels become more complex, layered, colourful and dense. Naturally, the effort by which these games are remade accentuates these aspects immeasurably, and the gulf in complexity between the likes of the Artisan World and Sunrise Spring really is pronounced.
Spyro Reignited Trilogy Is Recreated From The Ground-Up
Both Ripto's Rage and Year of the Dragon really speak to a budding Insomniac Games finding its feet following the development of Disruptor and the original Spyro the Dragon, and to see the fruit of their labour so faithfully recreated from the ground up by Toys for Bob will bring a smile to any fan's face. Make no mistake, these are the games in the way your pre-adolescent mind had concocted them, full of whimsical characters and lush, leafy landscapes – complete with gaming's biggest villain in the form of Moneybags, who's at every turn to try and pry some hard-earned gems from your person (or dragon.) Though he doesn't look as snooty, his voice is spot-on, and he's still on hand to put up arbitrary barriers in front of Spyro where possible.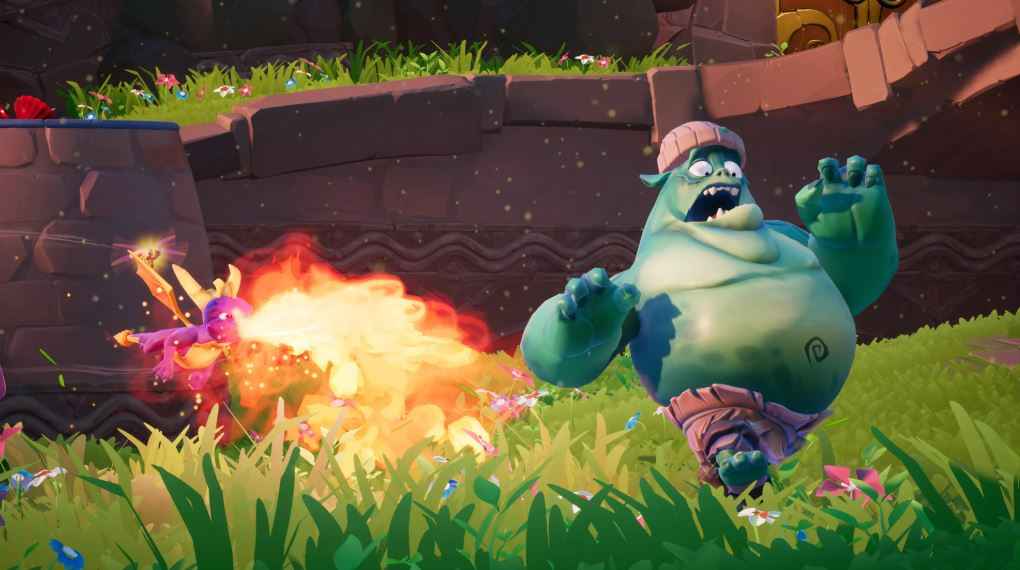 An area of particular fondness from the original trilogy is undoubtedly the soundtracks, too. Composed by Stewart Copeland, the legendary drummer of the band 'The Police', Spyro's music – from the melodic, self-reflective tones of Summer Forest to the bombastic percussion of the main theme – holds a very special place in the hearts of fans and has been treated with due respect in the Reignited Trilogy.
Toys for Bob has opted to give players the choice between a very faithful rearrangement of the original tracks, a dynamic variation that takes into account what sort of environment Spyro is in at any one time, and the original compositions if you so choose to play that way. The uniformity by which all the games play is definitely commendable, too, and there are subtle modern design sensibilities that make the experience more refined.
The changes are a lot more delicate than say, the change in jumping mechanics for Crash Bandicoot, and it's all the better for it. And unlike everyone's favourite marsupial's adventures, you could say that at its core Spyro's gameplay just holds up a lot better than that of its counterpart. It's definitely a more tranquil one, that's for sure.
Though particular care has been taken to painstakingly recreate each game's worlds, characters, and music, there are some rather strange omissions from the overall package that's left us scratching our heads. Firstly, there's no subtitles option, which should be a prerequisite for any game from an accessibility standpoint. It's frankly bizarre that it's not included.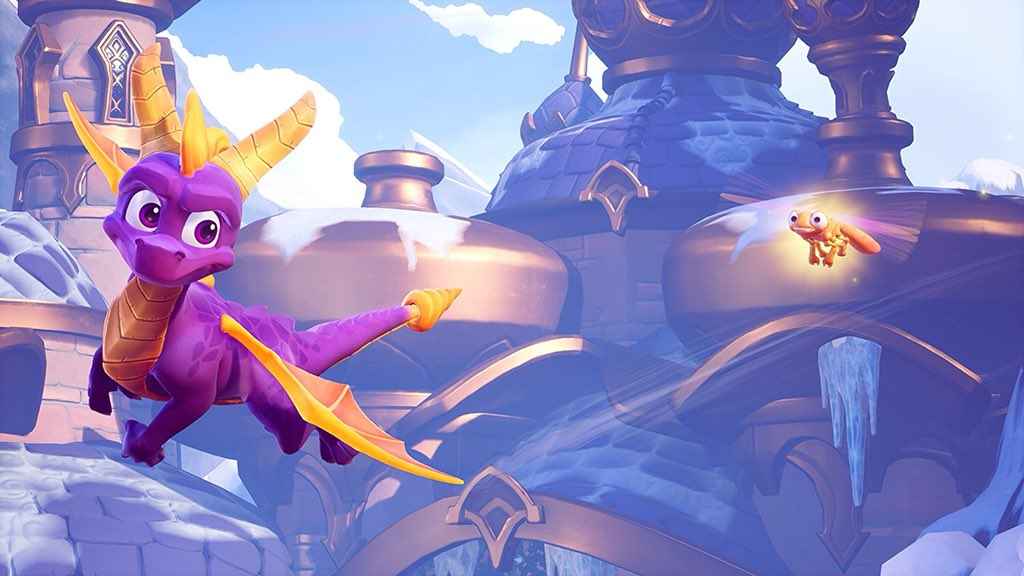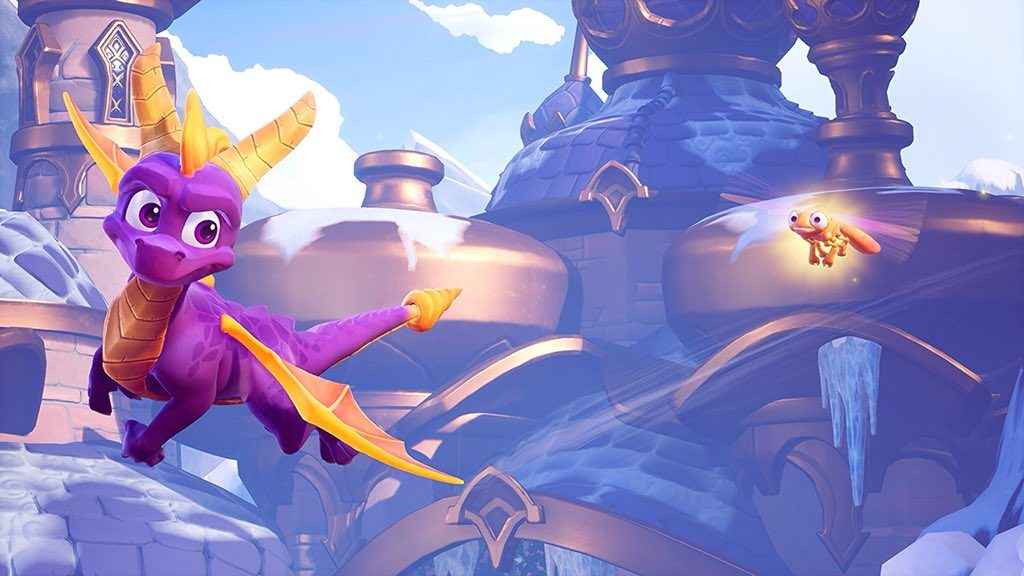 Spyro Reignited Trilogy's Performance
Additionally, for a game that dazzles from a design perspective with its piercing colour palette you'd think HDR support would be a no-brainer, but again, it's conspicuously absent. Performance can be a little spotty, too, particularly in the latter two games where frame-pacing issues tend to rear their head sometimes. It's not a deal-breaker, mind, and it actually isn't all too common, but for a game that surely isn't stretching the capabilities of the systems it's a bit of a surprise that it can't plump for something a little higher than 1440p and 30 frames per second on PS4 Pro. Load times are also a bit of a stumbling block, with them clocking in at roughly double the time of the originals.
Technical and quality of life improvements aside, however, and the Spyro Reignited Trilogy really is a triumph; a blueprint that shows just how to reinterpret the halcyon days of mascot platformers and present them to modern audiences and fans alike. It takes inspiration from Vicarious Visions' work on Crash Bandicoot N. Sane Trilogy and expounds upon it in a semi-open world context, creating an experience that's very much a love letter to the formative games of many people's childhoods and entirely faithful to its subject material. Rest assured, Spyro the Dragon has never looked, or played, better.