Tentacular PSVR2 review. From their infamous, ship-smashing escapades to their odious connections with certain old gods, it's fair to say that gargantuan, mythological sea beasts tend not to have the best reputations. Tentacular aims to change all that by putting players in control of one such creature, albeit one with a heart of gold who not only wants to help the cheerful islanders of La Kalma, but also seek out their origins and understand their place in the world. A mushy, emotional indie darling that is bursting with charm and which puts you in charge of a massive sea creature to solve a variety of physics based puzzles? You betcha. Oh and Tentacular also happens to be a whole heap of fun that everybody can enjoy, too.
Tentacular PSVR2 Review
---
A Thoughtful, Charming Physics Puzzler With Real Heart
So first things first, Tentacular is just heart-warmingly lovely in a way that I completely did not expect. Unfolding in and around the island of La Kalma, an island filled with eccentric and weird (though ultimately) charming folk, Tentacular's combination of bright and colourful retro style visuals together with its whimsical denizens and their unique plights all combine to create what might just be one of the most wholesome games on PSVR2.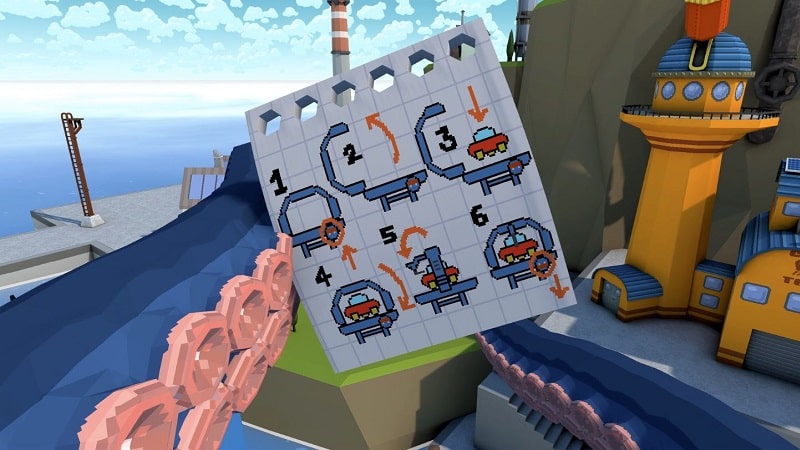 Viewed from a first-person perspective, Tentacular is quite simply about using your massive (and they *are* massive) tentacles to accomplish tasks for the various little folk of La Kalma. Presenting a story campaign that is essentially linked together by roughly ten hours worth of these tasks, Tentacular not only keeps players interested in its succession of increasingly wild physics conundrums, but it also does a commendable job of getting them emotionally invested in the slow burn, heart-warming story of a sea creature that, despite its fearsome reputation and visage, just wants to be accepted and find their place in the world.
Further Reading – New PS5, PS4 Games Release Dates In 2023 And Beyond – All Upcoming PS5, PS4, PSVR2 Games
And what a beautiful world it is too. With its adorably low-poly characters and their weird dialect to the simplistic though colorful environments, not to mention the way that you can interact with those environments too (such as quite literally lifting the roof off of a top of a state building to swear allegiance to the people of the island – I kid you not), Tentacular's world is as cleverly built as warmly charming. Though the saccharine sweet narrative which acts as the emotional anchor for Tentacular's game mechanics is surprisingly affecting, it's notable that the physics based puzzles which serve as the bedrock for its design are equally as compelling.
Being a towering sea creature that looks like it should have its own trilogy of movies, the tasks that you'll be asked to do by the folks of La Karma island are appropriately scaled to your size. One such is example is in Tentacular's tutorial where you must stack up cargo containers in a particular formation before using a boat(!) in a slingshot(!!) to knock down said cargo containers. Other tasks meanwhile have you pulling bandages off your tentacles, helping a mining operation dig into the earth, fixing a lighthouse and much more besides. And though it gets increasingly more difficult, you can always nab a hint mid-play to help you proceed further – though there is a real sense of satisfaction when you solve one of Tentacular's more trickier puzzles on your lonesome.
Perhaps the most noticeable thing about Tentacular is that although you really only have control over two, oversized tentacles, there's still a lot of mastery and challenge that has been baked into the gameplay design. Because you're using tentacles rather than hands, Tentacular makes you think about how you grip objects and manipulate the various objects and elements in the environment. Notably the haptic feedback of the PSVR2 Sense controllers play into this wonderfully too, providing a delicate stream of feedback the tighter you attempt to grip on the various objects and surfaces of La Karma.
Because Tentacular is both extremely streamlined in terms of its inputs (you can move around each scene, though only to a limited extent) and in regards to the easy-to-understand tasks that it asks folks to undertake, Tentacular makes a very compelling case for being accessible to players of all skill levels and even non-players alike. Tentacular really is one of the few PSVR2 titles that is built to be played and enjoyed by absolutely everyone and it should be commended accordingly.
Further Reading – PSVR2 Review – A True Game Changer For High-End VR On Consoles And Beyond
Beyond the trappings of Tentacular's compelling ten hour or so story campaign, Tentacular also provides players with ample incentive to keep playing long after the credits complete their final roll. Not only do trophies and harder difficulty levels provide ample reason to return to La Karma, but the inclusion of a sandbox mode which allows you to construct your own puzzles and seemingly impossible contraptions provides near limitless potential for long-term play for young, old, gamers and non-gamers alike.
Generously awash in heart-warming whimsy and charm, together with puzzles that encourage the sort of playful ingenuity that really captures the imagination, Tentacular is simply great fun that anybody, regardless of skill or age, can easily get stuck into. Tentacular is a true PSVR2 indie gem and a feel-good VR experience that everybody should play.
Tentacular is out now on PSVR2.
Review code kindly provided by PR.