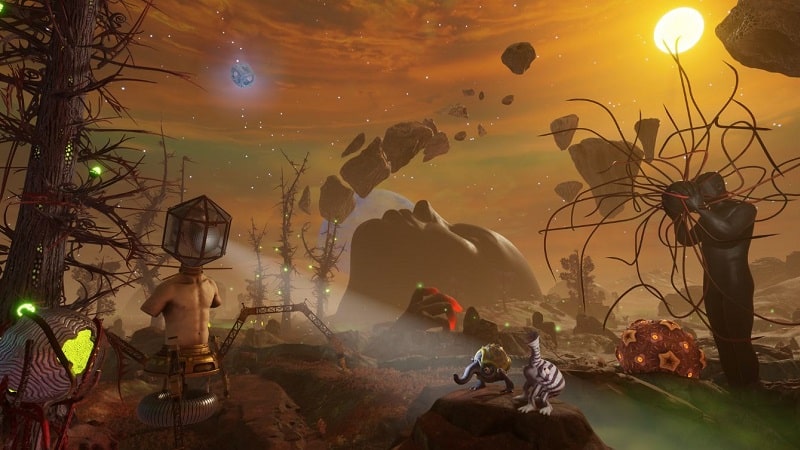 The Eternal Cylinder PS5 review. When ACE Team's bizarre but roundly entertaining survival adventure arrived on PS4 last year, it's certainly fair to say that there was no genre effort quite like The Eternal Cylinder and that fact remains true even today.
Fast forward more than a year and The Eternal Cylinder finds itself making the leap onto PS5, bringing with it a sizable bounty of improvements above and beyond what we saw in the last gen version of the game. With that in mind, though this review will touch on the core gameplay and concepts of The Eternal Cylinder, it will largely be focused on the technical improvements that the leap to PS5 has brought to this most off-kilter of survival adventure offerings. For the full lowdown on every aspect of The Eternal Cylinder's gameplay and concepts, you can catch our original PS4 review here.
The Eternal Cylinder PS5 Review
---
A Welcome Set Of Upgrades To A Deliciously Different Survival Adventure
Following in the footsteps of other PS4 to PS5 upgrades, The Eternal Cylinder ramps up the framerate to a 60 frames per second target, resulting in a much smoother, responsive and ultimately enjoyable experience overall. Alongside the framerate boost that developer ACE Team has provided to PS5 owners, The Eternal Cylinder also displays the action at a razor sharp 4K resolution, helping to improve overall fidelity while also underscoring The Eternal Cylinder's violently colourful aesthetic which recalls Hello Games No Man's Sky in ample measure.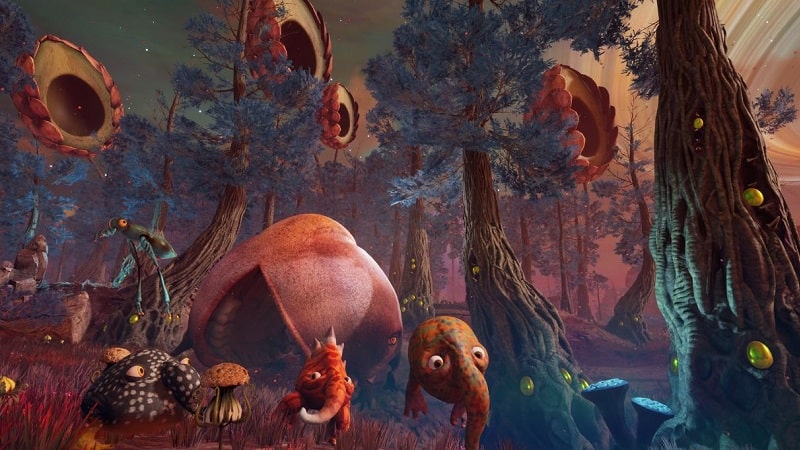 In addition to a much smoother framerate, The Eternal Cylinder's trip to PS5 also brings ray-tracing along for the ride. Though the results of The Eternal Cylinder's ray-tracing implementation bear fruit in terms of improved lighting, the trade off is a steep drop to 1080p resolution and a wildly inconsistent framerate that often takes a plunge during The Eternal Cylinder's busier moments. Because of the substantial performance and fidelity trade off, The Eternal Cylinder is arguably best played with ray-tracing firmly turned off.
Away from the much improved visuals and faster loading times, The Eternal Cylinder on PS5 also makes appreciable use of the DualSense controller too, with Sony's current generation standard controller providing palpable feedback whenever our strangely-snouted and limbed protagonist traverses the terrain, while the adaptive triggers provide the expected levels of resistance whenever special abilities are used.
Further Reading – All PS4 Games That Have Free PS5 Upgrades In 2022 – Next Gen Upgrades At No Extra Cost
Much like ACE Team's other output, The Eternal Cylinder certainly veers towards overt quirkiness to say the least. Tasked with evolving a Trebhum, an unassuming, Q-Bert-like creature so that it can survive a massive cylinder that gradually rolls across the planet, destroying everything in its path, it's certainly fair to say that The Eternal Cylinder is quite unlike any other survival adventure game you've ever played. The Eternal Cylinder's uniqueness is reinforced by a core concept that has our friendly alien creature evolving when they consume certain flora and fauna, causing them to grow in size, sprout extra limbs and gain special abilities that they didn't have before. It's a neat little mechanic that certainly does help to separate The Eternal Cylinder from its genre fellows.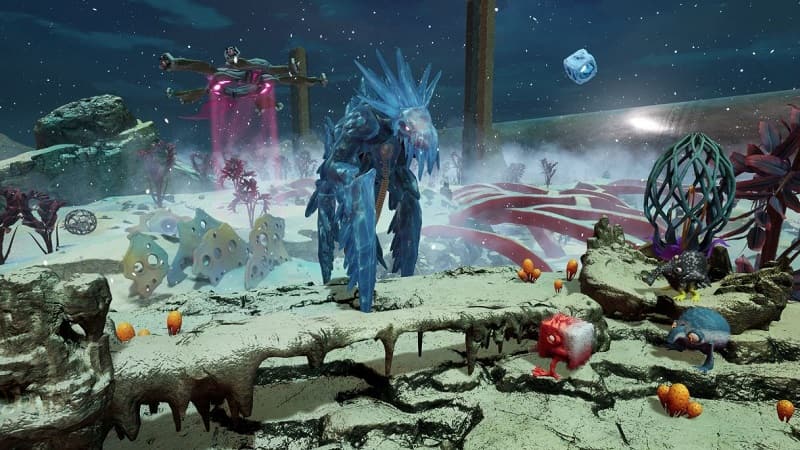 With its whimsical, almost fever-dream like setting, clever evolutionary mechanics and survival focused conundrums, The Eternal Cylinder comes across as some kind of heady combination of No Man's Sky, Q-Bert and often forgotten PC classic, Spore. Beyond the notable technical improvements that the PS5 version of The Eternal Cylinder brings to the table, it's also worth noting that this release also coincides with the free Anniversary content update as well which brings two all new lifeforms for players to avoid and a new fire mutation that, you guessed it, allows our friendly Trebhum to shoot fire at their foes.
The Eternal Cylinder then remains a roundly entertaining survival adventure with a true eccentric streak that runs through every aspect of its design DNA. Equal parts Q Bert and Spore, if you've been sat on the fence regarding ACE Team's excellently off-beat survival adventure offering, now is the time to hop in thanks to this superb PS5 update.
The Eternal Cylinder is out now on PS4 and PS5.
Review code kindly provided by PR.