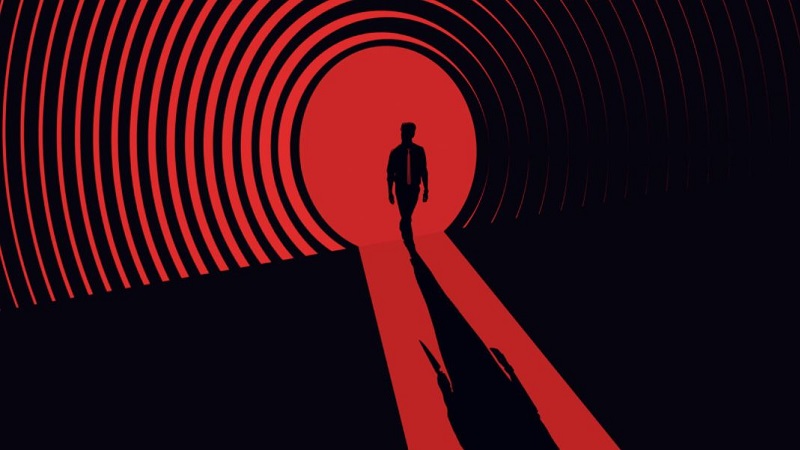 Twelve Minutes PS5 review. With its timeloop murder mystery premise ably anchored by a trio of Hollywood's finest, certainly on the face of it Twelve Minutes would seem to be quite the compelling curio with a lot going for it. Unfortunately, Twelve Minutes heady premise is summarily undercut by some overly frustrating trial and error gameplay, coupled with some poor writing and clumsy controls.
Twelve Minutes PS5 Review
---
A Glossy Timeloop Thriller Undercut By A Range Of Flaws
Viewed from a top down perspective, Twelve Minutes slips players into the well-pressed shirt and polished shoes of an unfortunate fella who is beaten to death by a a cop during a home invasion, but not before said police officer implicates his wife in the murder of her father. So yeah, fun times all around. Where things get especially interesting though, is in the fact that all of this unfolds within a twelve (well, really more like ten) minute window of real time whereupon if you die, or attempt to leave your home, the clock resets and the scenario unfolds again in exactly the same way.
Except that it all doesn't unfold in exactly the same way, because while you cannot take items from one timeloop to the next, you can take across knowledge you've gained from various events and conservations which in turn allow you to peel the wallpaper back, as it were, on the overall mystery, bringing closer and closer to the truth (or at least a version of it – Twelve Minutes has no less than seven different endings).
Unsticking this whole situation however, is the deeply aggravating degree of trial and error gameplay that permeates Twelve Minutes throughout its duration. Don't get me wrong – I'm well aware that trial and error is intrinsic to the timeloop concept in videogames to some degree, but here it feels especially egregious due to the manner in which it has been implemented by the developers.
Firstly, Twelve Minutes makes no attempt to signpost or otherwise wink at the player as to what they should be doing next. While this is admirable from one perspective, in so far as how it would seem to respect the intelligence of the player, the way that events unfold in Twelve Minutes can make it quite unclear exactly what you should be doing at all. Making things worse still, is that when you finally do gain an understanding of what needs to be done next, there's no way of fast forwarding to that particular point in the timeloop to verify your suspicions, beyond being able to speed up the dialogue.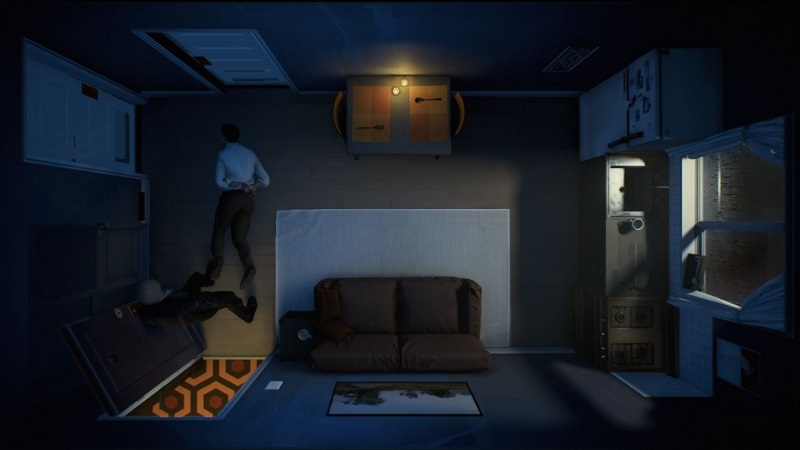 Then there are the clumsy controls. Driven by a relatively sluggish cursor based system that feels deeply rooted in the PC world rather than tailor made for consoles, sometimes it can be real pain to exactly precisely use one item on an aspect of the environment exactly when you need to – though thankfully having time effectively freeze itself when interacting with your inventory does help with this somewhat. Nonetheless, there's an ungainliness about Twelve Minutes controls that just make navigating the environment and interacting with key elements within it far more tedious than it would otherwise need to be.
And then we have the logic, such as it is, of the puzzle solving that Twelve Minutes relies upon to propel its narrative forward. More often than not, solutions that should be obvious aren't, whereas those that seemingly are, turn out to not be solutions at all. When coupled with the extremely stiflingly small size of apartment that the bulk of the proceedings unfold within (there are just four rooms – if you count the clothes cupboard), getting stuck in Twelve Minutes can prove to be a sometimes insufferable affair where dead ends come thick and fast, serving to weigh down the initially intriguing narrative.
Now, I say 'initially' because while the premise of Twelve Minutes does appear compelling to begin with (what's not to like about the notion of a timeloop thriller murder mystery), the writing disappears up its own backside somewhat before long with a range of endings that all seem too convoluted for their own good, and a nihilistic streak that can be a bit unsettling to say the least – watching your pregnant girlfriend die and be tortured in a range of different graphic ways didn't really sit well with me at all.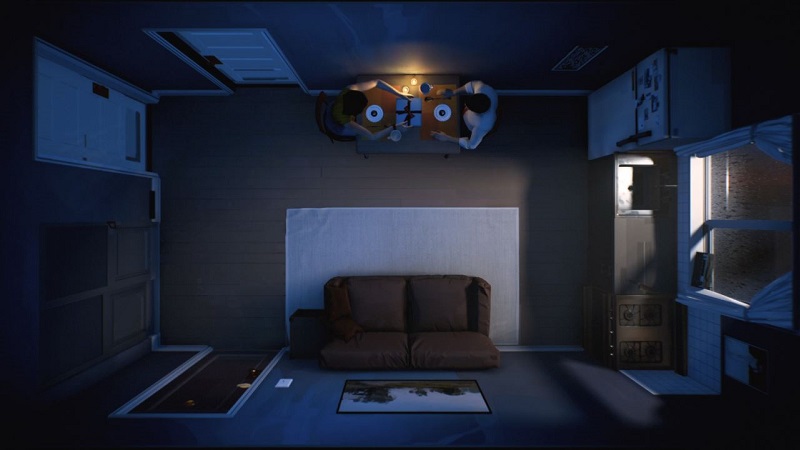 Now it's not all quite so disappointing across the board. The visuals of Twelve Minutes are certainly stylish in their own right, with the top down down visual presentation effecting something of a 'gods eye' style diorama that plays host to the vicious drama that unfurls below. Speaking of presentation, the Hollywood level voice acting triumvirate of James McAvoy, Daisy Ridley and Willem Dafoe all provide entertaining performances, though arguably it's McAvoy's turn as the confused and explosively angry main protagonist that proves to be the highlight of the three.
I really wanted to like Twelve Minutes, but by playing through it multiple times I've come to understand that in order for the timeloop to concept to really work in videogames, it needs time to breathe – both in physical game world terms and also in the various elements that it requires players to solve and master in order to progress. As it is, Twelve Minutes is an undeniably stylish looking and sounding thriller that finds itself summarily undone by poor writing, unwieldy controls and a shoddily frustration execution of its overarching timeloop concept. A shame.
Twelve Minutes is out now on PS4 and PS5.
Review code kindly provided by PR.