In some ways, the WWE 2K series mirrors Daniel Bryan's career in World Wrestling Entertainment.
There've been ups and downs; times of glory and of despair; and, most significantly, an enduring desire and expectation among the fanbase to see them thrive within their respective industries.
Admittedly, the WWE 2K franchise hasn't been held back by an egotistical, out-of-touch billionaire who insists on thrusting his own ideas and opinions on the rest of the world in the face of overwhelming opposition. Nor has it ever quite attained the same level of success in gaming as the world's toughest vegan has in professional wrestling…
Okay, so it's not a perfect metaphor. But the central point still stands.
Much like Daniel Bryan, the WWE 2K franchise has stagnated over recent years, and now finds itself desperately searching for ways to regain that earlier magic.
Unfortunately, much like Daniel Bryan's 2018 return, WWE 2K19 falls a little short of this lofty goal.
WWE 2K19 is a Game Brimming with Content
This isn't for a lack of things to do, however. As, once again, WWE 2K offers up a game absolutely brimming with content.
Universe mode – the perennial favourite of those looking for an immersive wrestling simulator, rather than a WWE-themed fighting game – remains the biggest draw. Thanks in no small part to the handful of relatively minor yet crucial tweaks implemented by developers Yuke's and Visual Concepts in this year's game.
Simple things, like being able to vacate a title, decide the outcome of any match at the press of a button, and assign Money in the Bank contracts to specific wrestlers, help players live out their wrestling fantasies in a far more immediate manner.
While larger-scale changes, like the inclusion of far more realistic and contextually appropriate promo sections, coupled with another remarkably deep roster of superstars, adds a greater degree of authenticity to the experience.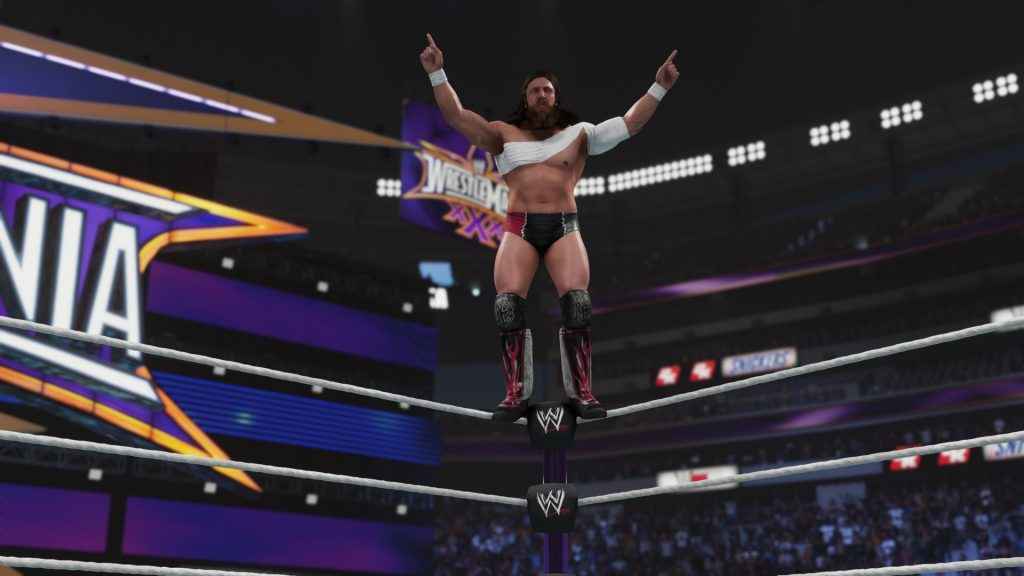 However, as someone who usually makes a beeline for Universe mode at the expense of almost everything else, what surprised me most was just how much I enjoyed both MyPlayer: Road to Glory and the Daniel Bryan Showcase.
Creating a wrestler in MyPlayer was quick and easy, taking only a matter of minutes to complete. Allowing me (once I'd got to grips with the unnecessarily complex skill trees and ability system, anyway) to dive straight into my first match against the obnoxious Mr. CQ, before steadily working my way up to Wrestlemania by way of various local school gyms, NXT, and, eventually, the main roster.
It's certainly fun and introduces a much-needed touch of variety, whether you prefer playing on or offline. However, it's not without its flaws; primarily, the fact that there's no facility to complete MyPlayer as a female wrestler. Which seems rather odd, given that 2K19 features all-women Royal Rumbles for the first time.
Showcase, on the other hand, isn't quite as engrossing as MyPlayer.
But, as a way of letting players relive certain key moments from Daniel Bryan's WWE career, whilst simultaneously gaining a fascinating insight into his time with the promotion (albeit through the obfuscating lens of Kayfabe) it's well worth a playthrough. Especially if you're keen to unlock the game's array of hidden content (character skins, additional manoeuvres etc.) or simply kick the crap out of The Miz.
Alongside series regulars Universe, MyPlayer, WWE Showcase, and the usual suite of online modes, 2K19 features the enjoyable and slightly addictive WWE Towers.
Brand-new to 2K19, Towers functions like Mortal Kombat's arcade mode, tasking players with defeating a string of opponents each of whom is connected by a single theme (the women's revolution, NXT alumni, and the like).
These Towers come in two distinctive flavours: Gauntlet, which must be completed in a single sitting; and Steps, which saves the player's progress after each fight. And are bolstered by daily and weekly challenges that ensure there's always something to do if you can't be bothered with the faff of playing through simulation-heavy modes like Universe and MyPlayer.
A Deep, if at Times Overly Complicated Wrestling Sim
Of course, this embarrassment of riches can only really be considered a boon if the in-ring action itself is engaging.
And, while 2K19 is almost certainly an improvement over last year's offering in terms of gameplay, it's still not quite as entertaining as some of the classic wrestling games of the past.
The increasingly vast array of mechanics – the carry system, contextual minigames, various ways to initiate a grapple, new Payback system etc. – certainly gives players all the tools they need to put together realistic and challenging matches. The problem is, it's all just a bit too fiddly and convoluted.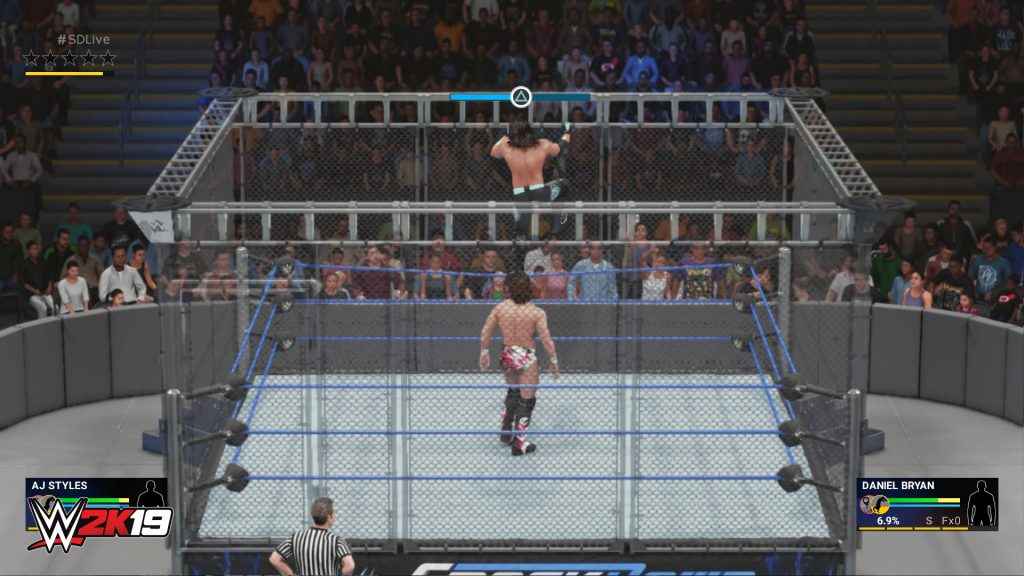 There are so many competing mechanics and systems to master, you can't help but feel the game is inadvertently hostile to newcomers; its lack of playable tutorials seems to demand a certain level of pre-existing knowledge from its players.
To be honest, even as something of a wrestling game veteran, after a few hours play, I found myself wondering if the developers wouldn't have been better served opting for a 'less is more' approach to the mechanics.
That being said, this level of depth and complexity is most welcome when it comes to customisation.
Creating a wrestler and curating his/her move set is a piece of cake; helped immeasurably in certain areas by the new mirror tool and character randomiser. The former especially saving a surprising amount of time when attempting to fashion a matching pair of elbow pads or gloves for your digital avatar.
Designing a bespoke show, Money in the Bank briefcase skin, and set of championship side-plates, meanwhile, is equally straightforward. The intuitive controls and well-explained menu screens belying the impressive intricacy of the game's customisation options. In fact, it's unnervingly easy to find yourself spending 2, 3, 4 hours fiddling with sliders and the minutest of character assets without even realising it.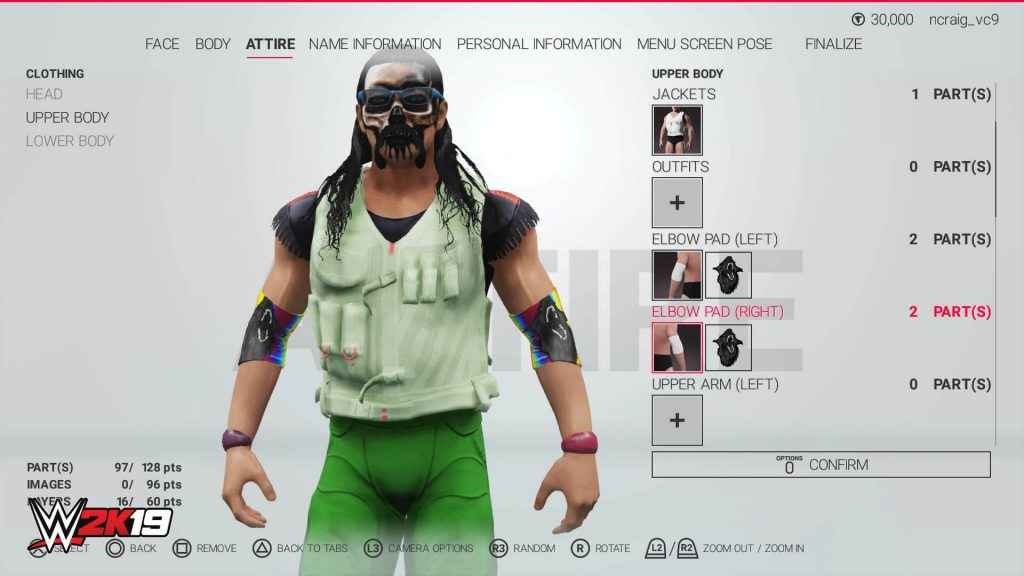 Nevertheless, I do have a couple of criticisms. The relative dearth of options for customising existing WWE performers is probably the biggest. For example, I was left slightly frustrated when I found I could create an alternative attire for Baron Corbin to reflect his relatively new 'Constable' persona, but wasn't able to change his hairstyle. Although the fact that players can't alter the stats of a main roster superstar unless they first purchase a separate DLC expansion is a close second.
On the whole, however, customisation is easily one of the most enjoyable aspects of WWE 2K19.
Smoother and More Responsive
With another bumper roster of performers that'll only increase in size as the player heads over to the Community page to download the guys and girls who didn't quite make the cut for 2K19's standard roster (Ronda Rousey, Bobby Lashley, Tommaso Ciampa, and co.) and tons of modes to enjoy, it was imperative that Yuke's and Visual Concepts build on the somewhat rocky foundations of last year's game.
And it succeeds, in the main. Providing a smoother gameplay experience that marries together comfortably with the game's largely impressive visuals.
Everything from entrances to in-ring character animations have been lovingly rendered, resulting in arguably the most authentic-looking WWE game to date.
True, some of the facial expressions during entrance sequences and certain backstage segments possess that unsettling lifeless quality that's marred more than a few games in the past; not to mention some questionable lip-syncing. But there's a pleasing degree of realism to in-ring animations.
Reaching for the ropes after enduring a bone-rattling spinebuster or rolling sluggishly to the apron for a moment's respite during the final stages of a grueling Royal Rumble match add little touches of authenticity that truly bring the game to life.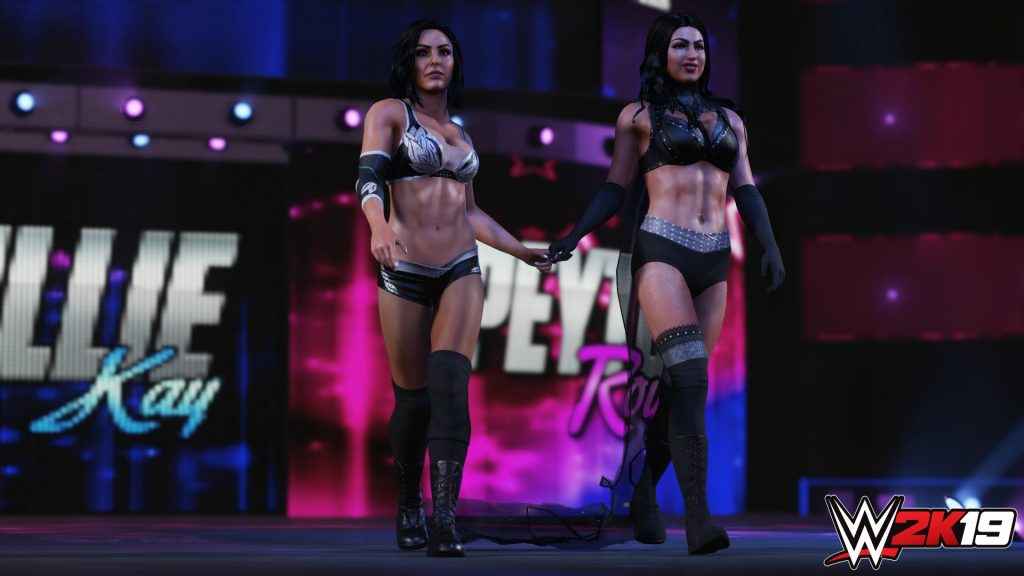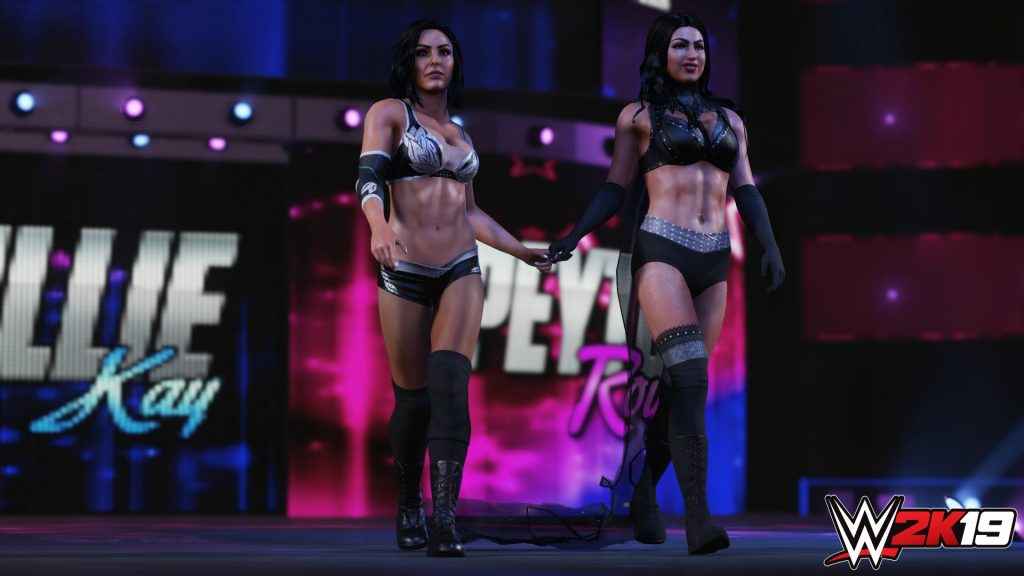 The same can't be said for the commentary and dialogue, however.
Byron Saxton, in particular, is painfully wooden; clearly ill at ease with the process of recording voice lines for a video game. Although he's far from the only one.
Players will also have to endure the occasional incongruous line of dialogue. Cole waxing lyrical about Rusev's devastating Machka kick… even though the Bulgarian Brute is currently lying face down at ringside in a pool of his own blood and sweat, for instance.
Still, the most important thing is that the game runs noticeably smoother than its predecessor.
Sudden frame rate dips and interminably long loading times are a thing of the past, while transitions between cut-scenes and in-ring action are almost seamless.
The overall pace of the gameplay itself, too, is fractionally faster and more responsive. Bringing it ever closer to the look and feel of the real thing – even if it, perhaps understandably, continues to lack the explosive speed and dynamism of its real-life counterpart.
Review code provided by publisher