Sony confirms two new games for E3 line-up
SCEA has confirmed two new titles for their E3 line-up next month outside of such already known appearances as Killzone 2, LittleBigPlanet, and Socom: Confrontation.

The image below shows that two Buzz! games are now on the list, including Buzz! Master Quiz and Buzz! Quiz TV.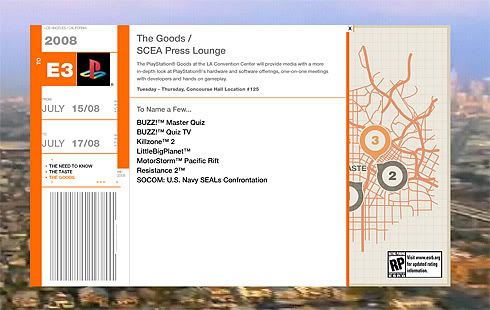 Here is a list of the current confirmed titles for E3:

* Killzone 2 (PS3)
* LittleBigPlanet (PS3)
* MotorStorm Pacific Rift (PS3)
* PixelJunk Eden (PS3)
* Resistance 2 (PS3)
* SIREN: Blood Curse Episode #1 (PSN)
* SOCOM: Confrontation (PS3)
* Buzz! Master Quiz
* Buzz! Quiz TV

No mention of Heavy Rain or God of War 3, though we're sure that Sony will have a few cards up their sleeves.