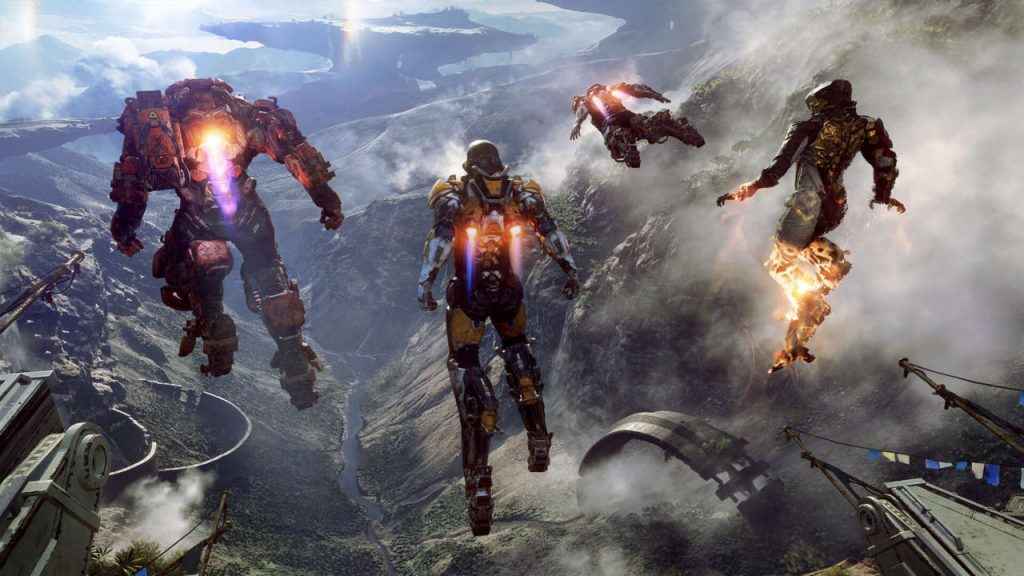 Find out everything you need to know about Bioware's next game, including the Anthem release date and Anthem beta details. Find out all you need to know about the Anthem gameplay, pre-order incentives and the latest news.
Anthem PS4 Release Coming In 2019
Anthem is an online multiplayer role-playing game with a focus on action. Developed by the team that brought us Mass Effect and the Dragon Age games, Anthem puts you in the role of a freelancer as you join up with other players tackling challenges across an alien world. They kit up in exosuits called Javelins and leave the safety their hub Fort Tarsis to protect humanity and explore the unknown. The open-world is ripe for exploration but the environment is hostile with beasts roaming and the threat from the world's armed warriors, called Scars. The story has been written by Drew Karpyshyn, who penned the narrative in Mass Effect 1 and Mass Effect 2.
Anthem Gameplay
There's still a lot to learn about the Anthem gameplay, but we did get to see it in action at E3 2017 when it was running on an Xbox One X., and we're sure to see more at E3 2018. Though the action takes place in a persistent online world, where you can team up with up to four-players, similar to Destiny you'll also be able to play a chunk of the game solo.
The footage below was all shot in-game, and showed off some incredible graphics. The mission shown was called Hell or High Water, in which the player was tasked to 'Rescue Praxley's workers'. There's various exo suits to choose from, which span across different classes.
Anthem Classes
In the Anthem gameplay video, two players choose a Colossus and a Ranger exosuit before heading off into the wilderness. While the Colossus exosuit fits players who like to tank, the Ranger offers a more balanced class. Other classes have yet to be revealed.
The exosuits are fully customizable with each offer a unique playstyle. Equipped with special powers, you can fly, and even explore underwater, as you come face to face with enemies and a range of beasts.
You gain XP for completing objectives and killing enemies with a range of weapon-types. We get to see mortars being used, machine gun variants and a sniper rifle. In a move that's very similar to Bungie's Destiny, you can find rare weapons and item drops. In the Anthem gameplay video, we see them unlock a Legendary Volt Rifle called Jarra's Wrath, which has a range of stats across various attributes including:
Damage
Accuracy
Range
Rate-of-Fire
Ammo
As you move around the game world, you can also expect events to occur at any moment. Shaper storms tear up the environment with ferocious winds and lightning as you head right into the eye of the storm for a side mission.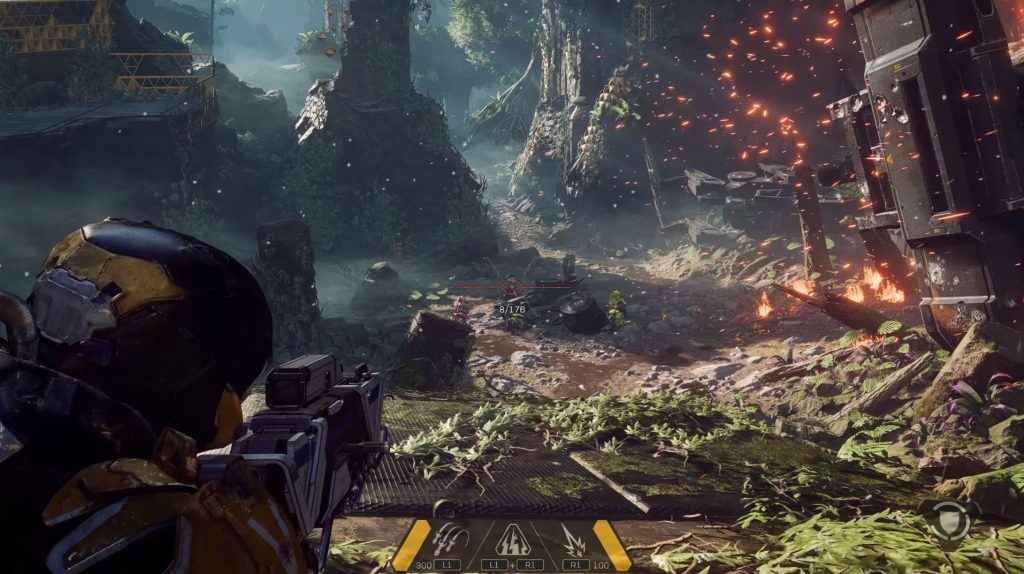 Fort Tarsis will be the game's main hub. This will be the place where you'll be to pick up new quests, organize your equipment and interact with other players without threat before heading back out into the sprawling, deadly landscape. Hopefully, we'll get a closer look at the hub in the Anthem beta, and we'll update the hub with more gameplay details as soon as we get them.
Anthem Release Date
It looks like the Anthem release date will go way past its original Fall 2018 rumor. In a recent financial call, EA's Blake Jorgensen confirmed the game will launch in the last quarter of the year and in the last month of that quarter. EA's financial year ends on March 2019, which is when the game is now planned for release on PS4, Xbox One and PC.
In the same call, he also said:
"We're very excited about the game. It's extremely unique, and I think players are going to really enjoy playing it, but we're careful not to put too large of a forecast in there. And clearly, it will impact this year as well as next year as we not only continue to sell more into the next year but start rolling out the live services associated with that game."
Anthem Beta
Bioware will be server stress-testing with an Anthem beta prior to launch. Presuming they stick to the Fall 2018 release date, we'd expect to see the Anthem beta in the summer, giving players the chance to test out the game.
Anthem Preorder - PS4, Xbox One
You can currently put yourself down for an Anthem preorder for the Xbox One and PS4 versions. The current retail price is listed at £54.99. We presume that they'll also be special editions and collector's editions. Consequently, it may be worth hanging off to see what's announced in the early part of 2018.
Other Anthem News
Electronic Arts are obviously looking to compete with franchises such as Destiny which have proven to be hugely popular, and they've already been talking about a "10 year journey" for the franchise. The game will run on the Frostbite Engine, and the developer is aiming for photorealism. 4K resolution is confirmed for Xbox One X, and we presume it will be the same for PS4.
Check back for more news on the Anthem release date, beta, gameplay and Anthem preorder details as we get them!
For more details check out EA's Anthem website.