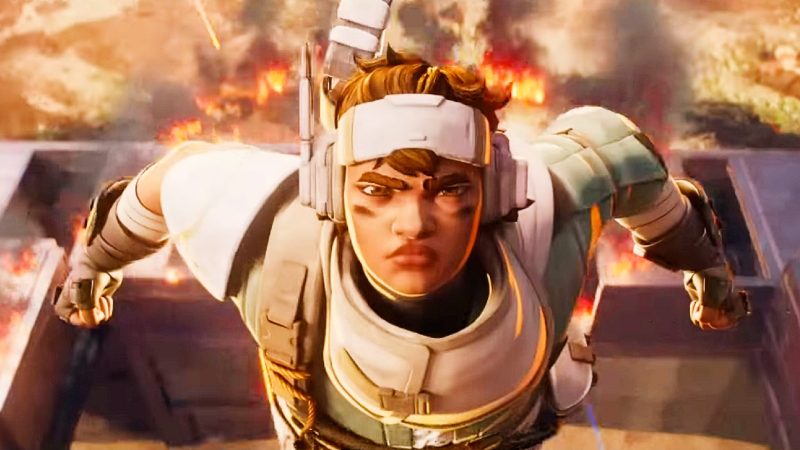 The latest trailer for Apex Legends upcoming Season 14: Hunted shows off some gameplay of the new legend Vantage, and also confirms what was already suggested, that beloved area Skull Town will return to Kings Canyon this season.
Though Vantage's abilities haven't been exactly detailed yet, the trailer today showed them all in action, and her legend profile on the official website gives us their names.
Her tactical is called Echo Relocation, which seems to be her ability to use jump jets to get across the map and to higher vantage points. It also looks like your bat, Echo, plays a part in the targeting.
Vantage's passive ability is called Spotter's Lens, and it looks like it lets her see more information about who she's aiming at, specifically shield type, and legend type.
Finally her ultimate is called Sniper's Mark, which looks to be a specialized sniper rifle, likely with increased damage. It could even be the only other sniper in the game similar to a Kraber when comparing damage per shot.
The trailer also showed off the changes to Kings Canyon, and Respawn also uploaded a new blog post all about the changes to the map, and why Skull Town has returned.
In Season 5, Skull Town and Thunderdome were sunk by a massive explosion caused by Loba. Now that the Salvage operation is complete, the Syndicate has rebuilt the area for the Apex Games. Dredging machines have refilled the space with sand from the ocean floor, and a new battleground has been rebuilt with the iconic skull as its centerpiece.
There are also changes to other points of interest, and map rotation changes. All of these changes, and one of the main goals for the changes to Kings Canyon would be to increase the map's size, to lessen the frequency of early to mid-game third parties.
Skull Town is also now called Relic, after having been rebuilt. The overall skybox and lighting for the map has even been redone, making this version of Kings Canyon truly new.
You can check out the new trailer here.
Source – [Respawn]