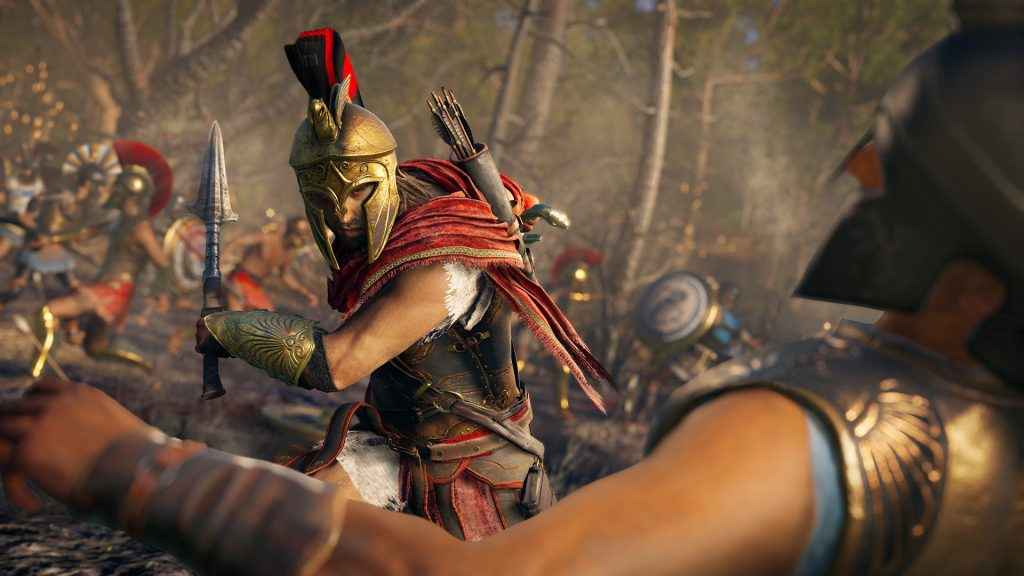 Ubisoft has confirmed the Assassin's Creed Odyssey gear transmog will be arriving as part of the game's next update in a new blog post.
Whilst also providing more information on the game's free story DLC series, known collectively as the Lost Tales of Greece; some shiny new items; and another intimidating mythical creature.
Assassin's Creed Odyssey Gear Transmog – What is it, Exactly?
For those who haven't come across the term before, gear transmog is a form of visual character customisation that allows players to add another layer of gear on top of the first.
What this means in practical terms is that players will be able to equip the strongest weapons and armour available to them underneath their prestige gear, without altering their character's appearance.
In layman's terms, players will no longer have to choose "between having good stats and looking good".
Which is rather handy, really, if they've just come across a particularly snazzy-looking breastplate or helmet, only to find something more powerful mere minutes later.
Lost Tales of Greece
Elsewhere, and with Episode 1 The Show Must Go On launched last week, the recent monthly update also offered us a few tasty details ahead of the release of episode 2, Divine Intervention.
We'd advise stopping here if you want to go into each episode completely blind. But for those who don't, Divine Intervention "will have you meet a mysterious woman who will test your qualities through several divine trials".
As with Episode 1, completing Divine Intervention will unlock additional rewards.
A New Mythical Creature
Arriving in classical Greece on the 13th November, Steropes the Cyclops will be challenging Kassandra/Alexios' skills in a brand-new side-quest called The Lightning Bringer.
The hulking great brute won't be an easy mark, mind. However, bringing him down will reward players with a fancy Legendary Bow.
There's no time limit to this quest. So, players can take as long as they need to prepare.
Items and Features
In addition to the above, two new, exclusive item packs will be coming later this month.
The first, the Odysseus Pack, contains a new gear set, mount, and weapon. While the second, the Odysseus Naval Pack, features a new ship design, crew theme, and figurehead.
"All of these items will be simultaneously available in the Store and at the Oikos of the Olympians. Keep an eye out for them near the end of November!"
Future updates due later this month will also introduce a new level cap, control customisation across all platforms in an effort to increase the game's accessibility options, and an option to pause and resume any temporary or permanent boosters accrued by the player during their adventure through Ubisoft's exceptional action RPG.
Stay tuned for more Assassin's Creed Odyssey over the coming weeks and months.