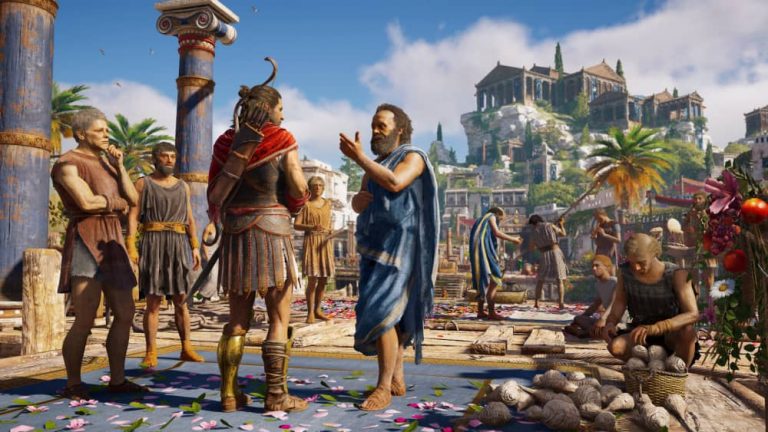 Ubisoft has revealed details on Assassin's Creed Odyssey's September updates, confirming the publisher will roll out a new Lost Tales of Greece episode and, as previously confirmed, the much-anticipated Discovery Tour. Considering Odyssey came out almost a year ago, it's pretty impressive that Ubisoft has kept the updates flowing this long, so fair play to them.
Assassin's Creed Odyssey September Updates
First up, the Discovery Tour: Ancient Greece will arrive on September 10, and like Origins' version before it, allows you to explore the game world free of any restraints. Here's the lowdown:
Discovery Tour: Ancient Greece features 5 Tour Guides – Aspasia, Barnabas, Markos, Herodotos, and Leonidas.
Visitors can interact with more than 300 stations and 30 guided tours scattered across 29 regions.
Tours cover 5 different themes (philosophy, famous cities, daily life, war, and myths). Players will be able to test their knowledge with a quiz after the completion of each guided tour.
Exploration is encouraged with 35 unique avatars and 15 mounts, accessible by progressing through Discovery Tour objectives.
In addition, new items will be made available to Assassin's Creed Odyssey players on September 27, including the Myrmidon Character Pack, which adds a gear set, new mount, and a spear.
Meanwhile, The Lost Tales of Greece: Sokrates' Trial is also out this month, which sees players helping out their old friend, who has been arrested and put on trial. As with the previous episodes, you'll need to reach Chapter 5 in Odyssey's main campaign.
Finally, updates to the Story Creator Mode will be rolled out across the month, with the first one having been made available on September 5.
Assassin's Creed Odyssey was released for PlayStation 4, PC, and Xbox One in October 2018. Read our full review of the game here. The series is currently on hiatus for 2019, but is expected to return in 2020 with a brand new entry possible set in the time of the Vikings.